Daily CEO Update | Caregivers Proudly Support Each Other
Daily CEO Update | Caregivers Proudly Support Each Other
Fellow Caregivers,
The collaboration within our medical community is shining bright on a national stage.
This weekend, we shared a video of our caregivers departing to assist at NewYork-Presbyterian Hospital. They received a hero's welcome upon their arrival. Hundreds are leaving praise for the team across our social media channels. Watch the video from our newsroom service.
The team will spend up to four weeks helping in New York. We are grateful to United Airlines, which donated roundtrip airfare. Another team departs this week for Michigan.
You may have seen our caregiver hero signs in lawns around northeast Ohio. We are handing them out at more locations due to high demand. Our caregivers are proud to support each other.
Having each other's back is at the heart of a recent innovation from our G60 intensive care unit. We call it the "buddy system" for donning and doffing personal protective equipment, used when caring for patients with COVID-19. We are sharing the buddy system in a brief training video.
Cleveland Clinic is a safe environment for our patients and caregivers. We assured this early in the pandemic through our guidelines for PPE, along with other safety measures, social distancing and daily temperature screening.
For caregivers who have become ill with COVID-19, we studied every case and determined they are likely from community spread, due to the absence of clustering in our workplace. When caregivers are ill, we support them with food and medication delivery along with connections to other resources.
Today, we updated our return-to-work criteria for those who are ill based on Centers for Disease Control and Prevention recommendations. Caregivers may return after 10 days have passed since symptoms first appeared, in addition to 72 hours since recovery, as determined by our clinicians.
When returning to work, caregivers are required to wear a cloth mask and work in a nonpatient-facing role for one week, which is an additional Cleveland Clinic precaution.
Caregivers are supporting each other through our giving campaign. One caregiver from Martin Health said this upon donating: "I have been in an administrative role for more than twenty years. I am always blown away by the selflessness of our caregivers. I want to support any who are in need."
You can support your fellow caregivers by making a gift to the Caregiver Giving Program.
I leave you today with a brief story from our new Hero Huddles. After requiring a ventilator for several weeks, a patient at Hillcrest Hospital was able to begin recovering in his room. The caregiver team surprised him with a virtual visit from his wife after 26 days apart.
He immediately shouted, "The love of my life!" And there were no dry eyes in the room.
Thank you for your dedication.

Tom Mihaljevic, MD
CEO and President
Sleep and Shift Work: How to Care for Yourself
Sleep and Shift Work: How to Care for Yourself
With the stress of the Covid-19 pandemic, caregivers can experience both physical and emotional exhaustion. Restorative sleep as a means of caring for oneself fortifies one's reserves. Both shift work and long shifts can be challenging in the best of times. With the added strain of our current environment, it is possible that even those who previously tolerated shift work and long shifts could develop shift work disorder. The American Academy of Sleep Medicine and sleep research provides us with some guidance on how to approach shift work. Here are some important recommendations to improve your sleep and wakefulness on the job.
Protect Against Malicious Enterprise Cybercriminal Activities
Protect Against Malicious Enterprise Cybercriminal Activities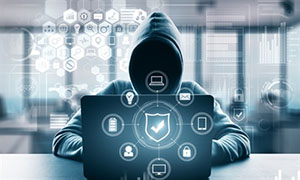 One of the biggest cyber threats for many organizations are cyber threat actors, or criminal states, groups or individuals with malicious intent to steal data or valuable assets for financial gain. These criminals often impersonate trusted entities and thrive on exploiting vulnerabilities, which is especially evident during the COVID-19 global pandemic.
COVID-19 criminal techniques
Phishing emails using Coronavirus or COVID-19 themes in the subject line to lure victims to open an infected file. Review this infographic to quickly identify a phishing email.
SMS Phishing (Smishing) is done via texting apps and typically has a financial incentive, such as government payments and rebates (e.g. stimulus checks). Links within the message can lead to malicious sites.
Malware/ransomware (software designed to damage a computer, server, client or computer network) distribution to lure victims to unknowingly install it.
Apps or clicked links that may lead to phishing websites or downloading malware or ransomware.
Newly registered domain names containing Coronavirus or COVID-19 content.
Increased work from home demand can increase attacks on newly and rapidly installed remote access capabilities.
These "bad actors" take advantage of human emotions such as fear, curiosity and concern to persuade victims to take an action that could expose important professional and personal information. Stay alert and report any suspected or already occurred cyber incidents.
If you suspect a suspicious email, please use the Blue Fish button to report it. Send to phishtanktriage@ccf.org if you don't have the Blue Fish button or are on a mobile device.