Our caregivers expanded skills acquired new roles
Our caregivers expanded skills acquired new roles
As we prepared to care for patients and support each other during the pandemic while some services were paused, we placed caregivers where they were needed most. We recognize caregivers who expanded their skills and stepped into new roles for being flexible as our patients' and organizations' needs changed. We also thank the managers who helped support them during this process.
For many, it provided an opportunity to learn something new.
A mindset to adapt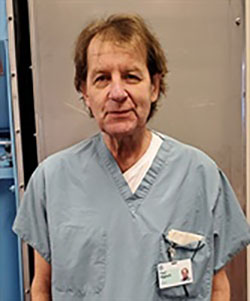 For the past decade, Paul Hagloch has been part of the Environmental Services team at Union Hospital Tuscarawas Ambulatory Surgery Center (TASC). Hagloch has a calming, kind personality — he is quiet and enjoys gardening and riding his bike.
About a year ago, Hagloch was hit by a car while riding his bike to work. He was off work for about a year and returned in February. In March, TASC closed due to COVID-19.
Hagloch expressed that he wanted to help our organization with its response to the pandemic in any way he could. He decided to support the Labor Pool.
Hagloch took on a new role in Linen and Textile Services. He is thriving in his new role and says he appreciates having such a supportive place to work. Kelly Theodosopoulos, Director of TASC Services, stated that sometimes people are "quiet heroes," much like Hagloch.
"I feel fulfilled,"Hagloch says. "Doing my part to provide our patients care during this pandemic helps me feel whole and contribute to healing."
Providing care in areas of highest need
Marina Dotson, RN, joined the Operating Room team at Marymount Hospital in 2019 after spending the first seven years of her career in skilled rehabilitation.
When it became apparent that the perioperative staff was going to be deployed elsewhere in the hospital, Dotson immediately offered to help in the ICU to help meet the need for acute care nurses.
She jumped into the training process both on the unit and in the classroom. Within three weeks she was independently caring for a single patient and within four weeks she had switched from 8-hour to 12-hour shifts, including weekends and taking her own assignments.
"She did all this without having previous inpatient nursing experience," says MaryBeth Houlahan, RN, Nurse Manager. "Marina's passion for nursing and her patients is admirable, and we are very lucky to have her on our team."
Leader takes care of her team
Performing a procedure for the first time on a patient can be a little stressful, but with the right leadership and training, it can be done with ease.
Caregivers at Ashtabula County Medical Center (ACMC) prepped, trained and practiced how to properly prone patients — a procedure never before performed at that facility.
Given it was the first time a caregiver proned a COVID-19 patient at ACMC, the respiratory therapist performing the procedure was a little nervous.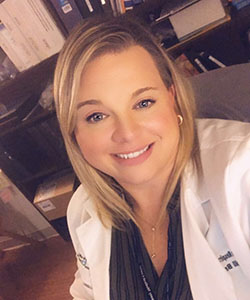 Kelli Brock
Kelli Brock, Manager of Respiratory Care Services, had complete confidence in her.
Brock stayed in the room, coaching the caregiver through the procedure. She built her team member up with knowledge, confidence and encouragement. While maintaining calm, Brock showed her team member how much she believed in her skills and expertise.
By morning, the patient's oxygen levels improved.
"It's their job to take care of our patients. It's my job to take care of my team members and support them," says Brock.
Caregiver helps distribute free meals to our healthcare workers
We all have experienced support and appreciation from the community during the pandemic. Some local restaurants near Cleveland showed their support for healthcare workers by donating meals.
Leaders at Cleveland Clinic Ashtabula County Medical Center (ACMC) needed someone to communicate with the restaurants to coordinate the distribution of meal donations to various units. While Darlene Carlton's role is a nursing administrative secretary at ACMC, she offered to do anything to support our healthcare workers.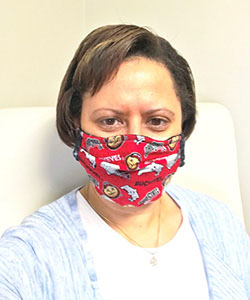 Darlene Carlton
Darlene Carlton took on a "coordinator role," often working in the evening hours to make sure food was appropriately distributed within the hospital and ensure no unit was left out. She ensured businesses were acknowledged for their generosity, while maintaining relationships between Philanthropy and these community partners.
"This experience has been heartwarming," says Carlton. "The overwhelming support from the community is a reminder people are kind and come together in times of need."
The caregivers mentioned above were recognized in a Hero Huddle during our tiered daily huddles — one way we recognize and support caregivers and patients. In the comments below, tell us about an inspiring colleague or share one of your own encouraging experiences.
Prevent the Spread of COVID-19 at Home at Work and in Our Communities
Prevent the Spread of COVID-19 at Home at Work and in Our Communities
As we approach this holiday weekend, we must remain vigilant in taking appropriate precautions to protect ourselves, each other and our families from COVID-19.
The pattern of infection for the majority of caregivers who have tested positive for COVID-19 is supportive of community spread or spread between caregivers. While the spread is low among our caregivers, everyone must continue to do the right thing to protect ourselves and others from becoming infected with the virus.
Practice the following safety measures to protect yourself, our patients, your loved ones and each other's families:
Wear a mask in public areas and when socializing with others in person.
Wash your hands frequently with soap and warm water.
Avoid touching your face.
Practice social distancing at work and home.
Stay home when you are sick.
Every caregiver can maintain the safety of our work spaces and communities by working together to protect the health and well-being of ourselves and each other.
Our Sleep Labs Have Resumed Patient Care
Our Sleep Labs Have Resumed Patient Care
All clinicians with patients who may benefit from the Cleveland Clinic Sleep Disorders Center Sleep Labs may resume ordering Sleep Lab testing through the Sleep Study Smart Set in Epic.
As of early May, the Sleep Disorders Center, part of the Neurological Institute, began testing both adult and pediatric patients again. All appropriate cleaning, screening, personal protective equipment and social distancing protocols are in place to keep caregivers and patients safe.
Sleep Lab sites at the InterContinental Suites, Hillcrest Hospital, and the Courtyard by Marriott hotels in Independence and North Olmsted are currently open.
The Sleep Disorders Center also offers home sleep apnea testing.
Questions on either Sleep Lab sites or home testing? E-mail NISleepCenter@ccf.org or call the scheduling line at 216.636.5860.