We're inspired by our community's support during the pandemic
We're inspired by our community's support during the pandemic
Watch this brief video to learn about some of the donations we've received.
Caregivers make special efforts to recognize, care for two veterans
Caregivers make special efforts to recognize, care for two veterans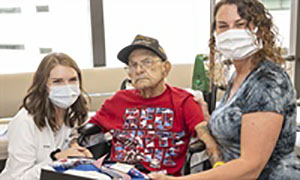 Sometimes a personalized, open conversation can go a long way to connect with patients.
When the caregivers mentioned below learned they were caring for veterans, they made time to recognize them for their service and to learn more about the patients' experiences.
Special recognition for a World War II survivor
As Tara Davis, RN, BSN, a nurse in the G62 unit at main campus, was caring for Guy Mills, he told her stories about his experience at Pearl Harbor during World War II.
"He explained how he served in the U.S. Marine Corps, the U.S. Air Force and the U.S. Navy," Davis says. "I was blown away by how wonderful he was, and how lucky I was for him to share this with me."
Pictured from left to right: Tara Davis, RN, BSN, nurse in the G62 unit at main campus; Guy Mills, patient and World War II veteran; and Tracy Mills, Guy's wife
Immediately after speaking with Mills, Davis shared her appreciation for him and his experiences with Health Unit Coordinator Karen Folley.
"Tara and I looked at each other and said we need to do something to honor Guy," Folley says.
Davis and Folley reached out to Eduardo Mireles-Cabodevila, MD, who shared their idea with Corporate Communications and Marketing.
"The next day, when I received the phone call that informed me he was going to be honored, I was so happy I cried," Davis says.
Paul Kuzmickas, Director of the Ombudsman Department, helped plan Mills's recognition for June 11. Davis helped present Mills with a certificate and commemorative coin. Photos were shared on Cleveland Clinic's social media channels.
Mills and his family were honored with the celebration. From the bottom of my heart," says Davis, "I am thankful to everyone who participated and helped me make him feel special."
As Folley says, "This was a moment of gratitude and thoughtfulness by all during this difficult time."
Personalized care offers patient comfort
When a patient with COVID-19 and pneumonia was admitted to Cleveland Clinic Marymount Hospital, Alexis Smith, RN, from Cleveland Clinic Staffing Resources, Enterprise, prioritized clear and personalized communication with the patient and his family as she began providing care.
"From the moment I first talked to Alexis, I felt so comforted," wrote the patient's son, a caregiver from Cleveland Clinic South Pointe Hospital, who sent an appreciative letter to Marymount. "She gave me such a comprehensive report as to what was going on with my dad at each moment and what the plan of care was going to be."
Smith made time to ask the patient's son numerous questions about his father to learn more about him. Through this interaction she learned about the patient's strong Catholic beliefs, so she found the religious channel on TV and asked whether he wanted to watch it. Smith also offered to sit with the patient while he said his daily rosary.
And, after discovering the patient was a World War II veteran, Smith asked about his experiences.
"I learned that he is an active volunteer at a hospice center at 95 years old," Smith says, "but as I got to know him further, I learned he had been serving our country and his family long before that."
It was the patient's servant leadership that inspired Smith to similarly approach those she serves as a nurse.
"All of this was such a comfort to me and my siblings!" says the patient's son. "I cannot believe my dad is the only patient Alexis treats like this. Someone needs to know what an awesome nurse she is."
The caregivers and their teams above were recognized in a Hero Huddle during our tiered daily huddles — one way we recognize and support caregivers and patients. In the comments below, tell us about an inspiring colleague or team.
For your colleague to be considered, share why your colleague should be celebrated in Hero Huddles during our daily tiered huddles. If your team does not directly participate, speak to your manager, who can share the recognition with the appropriate leader to share in the huddles.