Goodyear Blimp flyover to express gratitude for healthcare workers and first responders
Goodyear Blimp flyover to express gratitude for healthcare workers and first responders
The Goodyear Blimp will be taking a special trip to honor healthcare workers and first responders during the COVID-19 pandemic, weather permitting.
Watch for the blimp from the Cleveland, Akron/Canton and Mansfield, Ohio areas on the following dates:
Monday, June 15
Cleveland area
10:30–10:45 a.m.— Cleveland Clinic Marymount Hospital
11–11:30 a.m. — Cleveland Clinic main campus
12:15–12:30 p.m. — Cleveland Clinic Lutheran Hospital
1:45 p.m.–2 p.m. — Beachwood locations (the Family Health & Surgery Center and Rehab Hospital)
2:30-2:45 p.m. – Cleveland Clinic South Pointe Hospital
Tuesday, June 16
Akron/Canton area
9:30-9:45 a.m. — Cleveland Clinic Akron General
Thursday, June 18
Mansfield area
9:30–9:45 a.m. — Cleveland Clinic Medina Hospital
9:55-10:10 a.m.— Cleveland Clinic Akron General-Lodi Hospital
1:05–1:15 p.m.— Cleveland Clinic Union Hospital
How two teams supported local nursing homes during COVID-19 outbreaks
How two teams supported local nursing homes during COVID-19 outbreaks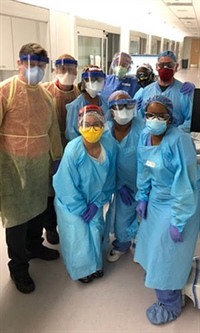 Teamwork and compassion influenced the support that teams from Cleveland Clinic Florida – Weston Hospital and Ashtabula County Medical Center have provided local nursing homes during the COVID-19 pandemic.
Learn more about their collaborative efforts below.
Ensuring safe, high quality care
On a Saturday, Weston Hospital was informed one of the local nursing homes had a large volume of residents with COVID-19. Within one day, a team of caregivers reopened the hospital's Observation Unit and transformed it into a designated COVID-19 unit equipped to care for the 20 patients they expected to be transferred from the nursing home.
Before the patients arrived to Weston, our caregivers were unsure about each patients' specific medical needs. Nneka James, Nurse Manager of the Observation Unit, led her team as they quickly prepared their unit to best care for patients with COVID-19. The set-up included a personal protective equipment station and switching to negative pressure overnight.
When the nursing home transferred 12 patients to Weston the next day, caregivers from James' team were ready to help coordinate the patients' admissions and safely settle them into their new environments.
"The patients were transported to our unit directly," says Mariela Ortiz, a nurse on James' team. "To quickly assess their conditions as a team, we decided to assign each nurse to a specific role. We couldn't do it alone."
Many of the patients required feeding, frequent turning and wound care, in addition to care specific to their COVID-19 symptoms.
"Our teams worked together to delineate roles and responsibilities while also reducing our exposure to the patients with COVID-19," James says.
Hospitalist physicians, led by Frederick Scott Ross, MD, communicated with the incoming patients to determine their plan of care, including discussions about hospice and other end-of-life care options. Noreen Smith, House Supervisor in Nursing Administration, helped her teams work with the physicians to continue providing exceptional care to this vulnerable population of patients.
In the meantime, leaders at the nursing home worked with government officials to create a COVID-19 unit at their facility and implement proper precautions. For this reason, many of the patients who had transferred to Weston could be discharged and recover closer to home.
Contributing to a thoughtful act of kindness
After seeing several patients with COVID-19 arrive to the Emergency Department at Ashtabula County Medical Center from a local nursing home, Jacquie Hummer, RN, and her team wanted to support the nursing home staff in some way.
Hummer, an Emergency Department nurse, and her team, decided to provide a meal for the entire nursing home staff. Hummer helped collect team members' individual donations to pay for the meal.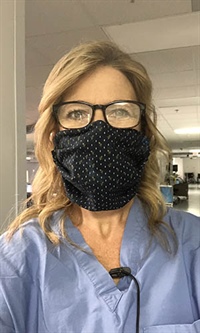 Jacquie Hummer, RN, Emergency Department nurse at Ashtabula County Medical Center
"We knew we wanted to do something for the staff at the local nursing home to let them know we were thinking and praying for all of them," Hummer says. "Knowing we couldn't leave the Emergency Department to help, we did the only thing we could think of in hopes of at least putting a smile on their faces for a moment."
On April 25, the Emergency Department team was able to provide a take-out meal from a local restaurant to nursing home staff members working both shifts that day.
Hummer adds, "Although we wanted to do more, we were happy to at least be able to do a little something for them to make their day better."
The caregivers and their teams above were recognized in a Hero Huddle during our tiered daily huddles — one way we recognize and support caregivers and patients. In the comments below, tell us about an inspiring colleague or team.
For your colleague to be considered, share why your colleague should be celebrated in Hero Huddles during our daily tiered huddles. If your team does not directly participate, speak to your manager, who can share the recognition with the appropriate leader to share in the huddles.
White Coats for Black Lives takes place at 12:30 p.m. on June 12
White Coats for Black Lives takes place at 12:30 p.m. on June 12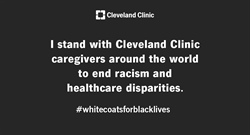 Cleveland Clinic is committed as an organization to ending racism and bias resulting in health disparities.
As an expression of this commitment to stand with our community, patients and fellow caregivers, and in remembrance of George Floyd, you are invited to attend White Coats for Black Lives.
Join your fellow caregivers across the enterprise as we stand or kneel together for a silent reflection on Friday, June 12, at 12:30 p.m. EDT.
Main campus participants will meet outside on both sides of the sidewalks between Euclid Ave. and Chester Avenue on E. 93rd Street (near JJ and the Health Education Campus (HEC)) and between E. 90th and E. 96th streets on either side of Euclid Avenue (near J). If you work at another regional location, view these instructions on where to gather.
If you plan to participate at main campus, please note that a drone operated by Cleveland Clinic's department of media production, will be capturing video.
Please wear your mask. If you have a white coat, wear it if you'd like to. Plan to meet before 12:30 p.m. to be socially distanced. The reflection will begin promptly at 12:30 p.m. and will last for 8 minutes, 46 seconds. Please do not bring any signs.
Caregivers with Cleveland Clinic phones will receive a text message as a reminder at 12:10 p.m., and they will also receive another text at the start and conclusion.
We ask that participation does not affect our mission of providing patient care. We recognize not everyone will be able to attend. If you are unable to attend, consider a pause where you are, if possible, or if not, take some time to reflect either before or after attending to the needs of our patients.
Caregivers arriving to work at main campus after the reflection who had not received thermal scanning should be sure to do so before entering the building. All others can re-enter without further screening. Caregivers at our regional locations will receive additional instructions on how this event is being observed.
If you wish to take photos or video, we encourage you to share them on your own social media channels and use the hashtag #WhiteCoatsForBlackLives. Feel free to use this social graphic if you wish. You may also submit photos to CaregiverCommunications@ccf.org for consideration for internal use.
Thank you for your support of our patients, community and one another.