COVID-19 testing site leader impresses team with compassion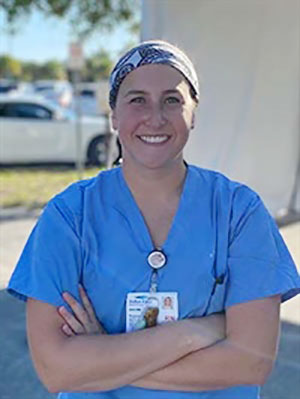 At the onset of the pandemic, Harriet Sparkman, RN, was assigned a new, temporary role. The Clinical Assistant for Cardiovascular Surgical Services at Cleveland Clinic Indian River Hospital moved from her administrative duties to support the hospital's drive-thru COVID-19 testing site. With the change, Sparkman was concerned about potential exposure to the virus and the safety of her family.
One caregiver stood out to Sparkman as she sought reassurance and guidance from others through the process.
Jenn Hulse, RN, BSN, Emergency Management Program Coordinator at Indian River, was assigned to set up and manage the hospital's COVID-19 call system and drive-thru testing site.
"I can't say enough positive remarks regarding Jenn's eagerness, compassion and, most of all, care and concern she has shown all of us while working with her," Sparkman says.
The safety of her team was Hulse's priority. She kept all team members informed of updates and schedules, and ensured they had access to proper equipment.
"Jenn made sure we had plenty of water and stayed hydrated," Sparkman says, "and she helped distribute lunches that local businesses and individuals donated."
As Hulse says, her team members "deserve all of the credit in the world."
"They left their comfort zones and home departments, and they stepped up to offer our community an extremely important service," Hulse says. "They dealt with constant uncertainty, as well as fear for themselves and the health of their loved ones."
According to Sparkman, Hulse is a true Cleveland Clinic hero.
"I am proud to say I work with a person of this caliber who is so dedicated to caring for fellow caregivers," Sparkman says.
The caregivers and their teams above were recognized in a Hero Huddle during our tiered daily huddles — one way we recognize and support caregivers and patients. In the comments below, tell us about an inspiring colleague or team.
For your colleague to be considered, share why your colleague should be celebrated in Hero Huddles during our daily tiered huddles. If your team does not directly participate, speak to your manager, who can share the recognition with the appropriate leader to share in the huddles.