Union Hospital caregivers innovate with patients' best interests in mind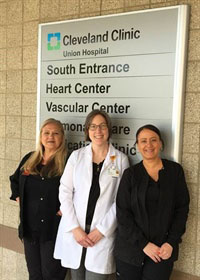 Shortly after we began restricting visitation and access to our facilities at the onset of the pandemic, Cleveland Clinic Union Hospital Anticoagulation Clinic (AC) caregivers identified a need to improve patient access.
The AC serves those who require anticoagulation management in Tuscarawas County and other surrounding Ohio counties. Considering the age of many patients who seek care at the AC, caregivers were concerned the restricted entrances may present challenges when transporting patients into their facility.
"We see the same patients monthly and they become like family," says Lori Clauser, CPhT, Point of Care Technician. "We had to find a way to maintain continuity of care while meeting their level of comfort."
When many individuals began cancelling their appointments, caregivers also sensed some were apprehensive about visiting the AC to receive care amid Ohio's stay-at-home order. For AC patients, missed appointments could lead to clots or bleeds with detrimental outcomes.
"We discussed the possibility of creating some type of 'drive-up care' model, similar to the drive-up prescription pick-up plan we implemented for our outpatient pharmacy," says Hallie McGlumphy, Pharmacy Coordinator at the AC.
The team quickly developed a drive-up AC visit procedure, quality control procedure and a curbside patient tracker. The first visit occurred on March 26.
"We pulled together as a team to provide excellent care for our patients who continued their appointments inside, as well as for those we saw curbside," says Sherri Immel, Receptionist.
Before services at the AC began to reactivate under near normal protocols, caregivers served approximately 30% of the more than 600 monthly AC patient visits curbside.
"Our team saw a need," McGlumphy says, "and they met it unfailingly, no matter the obstacles or weather conditions they faced."
The caregivers above were recognized in a Hero Huddle during our tiered daily huddles — one way we recognize and support caregivers and patients. In the comments below, tell us about an inspiring colleague or team.
For your colleague to be considered, share why your colleague should be celebrated in Hero Huddles during our daily tiered huddles. If your team does not directly participate, speak to your manager, who can share the recognition with the appropriate leader to share in the huddles.