Martin Health Caregivers Support Well-Being of Patient Between Dialysis Treatments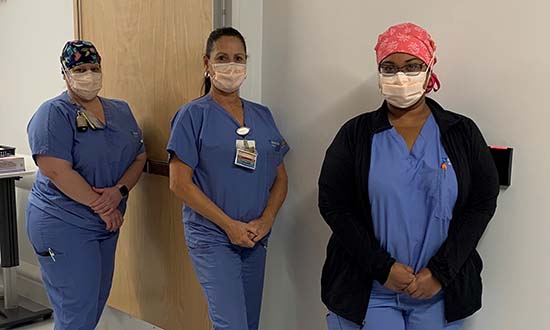 Caregivers at Cleveland Clinic Martin Health's North Hospital became familiar with a patient who frequented their Emergency Department (ED) for dialysis treatments over several years.
The patient had recently tested positive for COVID-19 when a few ED team members noticed he looked weak during one of his visits. Yolanda Genao, Health Unit Coordinator; Johanna Job, RN; Melissa Ryan, RN; and Amy Stabile, RN, spent extra time speaking with the patient to ensure he was taking care of himself.
"Through our conversation, we learned the patient has to depend on people to pick him up and bring him in for dialysis," Genao says. "He has no family members close by, or reliable transportation."
The patient also shared that he lives alone and is unable to leave his home — even to purchase food — because his dialysis and an injury make it challenging to get around. He said he could go hours or days, sometimes, without eating.
Genao and her fellow caregivers were devastated to hear about the patient's struggles. During the patient's next dialysis appointment, they surprised him with groceries.
Genao, Job, Ryan and Stabile all contributed and purchased food for the patient. Now, each time the patient arrives for dialysis, the team makes sure he is able to order a meal to be delivered to his room.
"When this patient arrives, we immediately order his meal," Stabile says. "We also communicate with the inpatient nurses to make sure he gets another meal before he is discharged."
Stabile and her team members agree it is important to listen to patients.
"Take extra time to get to know them and their situation," Stabile says.
The caregivers and their teams above were recognized in a Hero Huddle during our tiered daily huddles — one way we recognize and support caregivers and patients. In the comments below, tell us about an inspiring colleague or team.
For your colleague to be considered, share why your colleague should be celebrated in Hero Huddles during our daily tiered huddles. If your team does not directly participate, speak to your manager, who can share the recognition with the appropriate leader to share in the huddles.