New eye protection options for clinical areas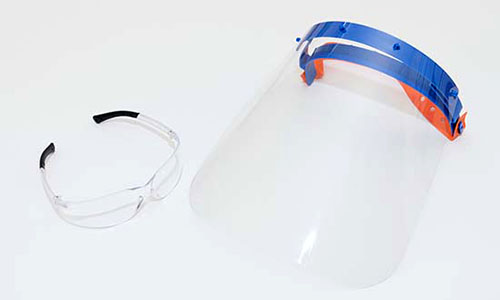 Updated Sept. 2, 2020
We appreciate caregivers' attention to personal protective equipment (PPE) recommendations as we continue to adapt during this pandemic.
Last month, we implemented Universal Pandemic Precautions across the enterprise to reduce caregivers' risk of exposure to respiratory droplets. This helps us maintain a safe environment for patients and each other as we approach flu season and continue to live with COVID-19.
Recent evidence indicates the mouth, nose and eyes must all be protected to effectively reduce risk of exposure. Face masks protect the mouth and nose, while face shields or goggles protect the eyes.
What's changing?
We are aware that for some caregivers or circumstances, face shields may not be tolerable (e.g., certain clinical tasks or medical conditions). As a result, we are now offering two safe eye protection options: face shields (the preferred option) and goggles. Either option, when used while properly wearing a face mask, is safe and effective.
A face shield or pair of goggles is required for any caregiver working in or entering a clinical area (i.e., any setting where patients are examined and/or provided care, treatment or therapy). Masks should continue to be worn properly at all times.
Eye Protection Options
Reusable Face Shield – Preferred

Provides a second layer of mouth and nose protection
Helps prevent caregiver from touching face
Facilitates extended use of mask

Goggles – Permitted

May be more suitable for specific care settings (e.g., Cole Eye Institute, behavioral health)
Does not cover mask, making it even more imperative that masks are worn correctly
What else should you know?
Eye protection kits will be distributed to caregivers who work in or enter clinical areas starting Aug. 28 and continue in phases over the coming weeks to all Ohio, Florida, Nevada and Canada locations. Supply chain will be working with managers, site managers and administrative teams to ensure kits are delivered to you.
The kits include one reusable headband, a disposable plastic shield to insert in the headband, one pair of goggles, carrying tote, instruction guide and infographic. This is a one-time distribution of the reusable headband and goggles.
Disposable face shields will still be available in clinical areas as point-of-use PPE for standard precautions, for caregivers who forget their own reusable eye protection, and for caregivers whose eye protection is damaged or lost.
If a caregiver loses or damages their eye protection, their manager should follow the standard ordering process to replace the equipment.
View FAQs about the new eye protection requirements or find more resources in the COVID-19 toolkit on the intranet. If you have additional questions, please contact your manager. View the Universal Pandemic Precautions for Caregivers SOP.
Thank you for your support of appropriate, safe and effective PPE use as we share important updates during the pandemic. We are grateful for your efforts to keep our patients, one another and our workplace safe.