Daily CEO Update | Update on Resuming Clinical Activities
Daily CEO Update | Update on Resuming Clinical Activities
Fellow Caregivers,
You are demonstrating strength in leadership when it is needed most. Your resilience enables us to do what is right and fulfill our mission.
Because of your great work, we have contributed to the State of Ohio's early success in containing COVID-19. Ohio is seeing the curve of positive cases flatten. This means hospitals have a safe and stable environment to care for patients.
We are working with the governor's office on resuming clinical activities in Ohio. The state indicated conditions have been met for some elective care to begin. At Cleveland Clinic, a task force is analyzing our path to resume surgical cases.
It will be thoughtful, responsible and take place in phases. The safety of patients and caregivers remains our top priority.
We acknowledge the sacrifices made by our patients and communities. Many people have experienced a delay in care for chronic conditions that affect quality of life. By resuming care, we are able to fulfill our mission while protecting our patients and caregivers. In Florida, our leadership team is having similar discussions with the governor's office.
We will continue to steward our personal protective equipment. Its availability is essential to this decision to resume services. As care resumes, we are also working on steps to reintroduce administrative caregivers back to our campuses. I will share more details on all of these plans soon.
You may have heard recent news around serologic, or antibody, testing. Our experts have confirmed there are no effective serologic tests at this time. Because of the low prevalence of COVID-19 infection, even a highly accurate test would still be able to identify those who have been infected only 60% of the time. Cleveland Clinic researchers continue to actively study this area.
Today, 10 physicians and 15 nurses departed for NewYork-Presbyterian Hospital to help our colleagues. (See a photo.) Another group leaves for Detroit next week. Thank you to everyone who expressed interest in filling roles requested by these hospitals.
Heroes have many roles and faces. Paul Hagloch works at our Union Hospital Ambulatory Surgery Center in Environmental Services. About a year ago, Paul was struck by a car while riding his bike to work. He was cared for by his colleagues at Union Hospital and through rehabilitation.
Paul returned to work in February, just as the pandemic would reach Ohio. Weeks later, the surgery center closed as nonessential procedures were postponed. Paul raised his hand to help in the labor pool and accepted a role in laundry. He even offered to volunteer his time.
Paul is one of many quiet heroes whose story is now being told through our new Hero Huddles.
Please know how proud we are of all of you. Your efforts have inspired hope and confidence in public health. Now, we are taking a step toward recovery.
Thank you for being part of our team of teams.

Tom Mihaljevic, MD
CEO and President
Our Caregivers Assist at NewYork-Presbyterian and Henry Ford During COVID-19 Pandemic
Our Caregivers Assist at NewYork-Presbyterian and Henry Ford During COVID-19 Pandemic
In light of the COVID-19 pandemic, we are coming together with other health systems and caregivers throughout the country to take care of families in need.
NewYork-Presbyterian hospital system and Henry Ford Health System in Detroit asked for caregivers, and we answered the call.
On April 17, 10 physicians and 15 nurses boarded a plane headed for Newark, New Jersey, to spend up to four weeks in various New York-based hospitals to address the urgent needs of COVID-19 patients and families.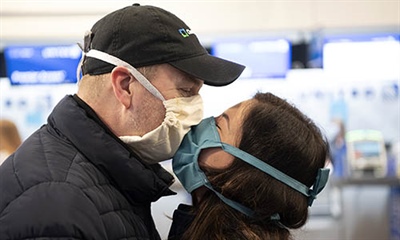 Pictured above: Todd Welsh, MD, kisses his wife Judith Welsh, MD, goodbye as she prepares to depart for New York.
The week of April 20, some of our nurses will travel to Detroit to assist patients and caregivers at Henry Ford.
"To these special physicians, we thank you. Your commitment is humbling and inspiring to all. Your expertise and compassion will make a difference for patients where the needs are greatest," says Chief of Staff Herb Wiedemann, MD.
Executive Chief Nursing Officer Kelly Hancock, DNP, RN, NE-BC, FAAN, echoed this sentiment: "Our nurses have gone above and beyond by assisting our fellow healthcare workers. Their support and compassion throughout the COVID-19 pandemic has been unparalleled."
"These partnerships provide further hope and encouragement that we will overcome the pandemic together," says Hancock.
We look forward to sharing more about what our caregivers are doing to help.
See a full list of physicians and nurses traveling to New York. (We will update with names of those traveling to Michigan next week as information becomes available.)
Hero Signs Available for Pickup Starting Week of April 20
Hero Signs Available for Pickup Starting Week of April 20
We are filled with gratitude for our caregivers who are giving their all to care for patients and communities during the COVID-19 pandemic. To help show our appreciation, we have produced 'Caregiver Hero' yard signs.
The free signs will be available at several locations beginning the week of April 20. Please remember to observe social distancing when picking up signs.
Main campus (for caregivers working at main campus)
Tuesday, April 21, from 7:30 a.m. to 4 p.m., while supplies last
NA1-127, Center for Medical Arts and Photography (CMAP), first floor
Family health center/Philanthropy donation drop-off sites (for caregivers working at other Northeast Ohio locations and the general public)
Wednesday, April 22 – Thursday, April 30, from 9 a.m. to 1 p.m., while supplies last
Locations include:
Akron General Health & Wellness Center, 4125 Medina Road, Akron, Ohio 44333
Independence Family Health Center, Crown Center II, 5001 Rockside Road, Independence, OH 44131
CC Family Health & Surgery Center Beachwood, 26900 Cedar Road, Beachwood, OH 44122
CC Richard E. Jacobs Family Health Center, 33100 Cleveland Clinic Blvd, Avon, Ohio 44011
Pre-operative Surgical COVID-19 Testing Available to Specific Clinical Areas Starting April 20
Pre-operative Surgical COVID-19 Testing Available to Specific Clinical Areas Starting April 20
Starting on Monday, April 20, routine (non-rapid) pre-operative surgical COVID-19 testing will be available to adult and pediatric gastroenterology, general surgery, colorectal surgery, orthopaedic surgery, neurologic surgery, and for Interventional Radiology procedures. (See slidedeck for more information.)
Testing is NOT currently required prior to surgery; testing is performed at the clinician's discretion.
What requesting teams should do when testing for COVID-19 in the outpatient setting:
Inform patients of the need for the test and the process for receiving testing at the Walker Building.
Screen patients for symptoms before they come in for appointments. Note: symptomatic patients should not come for appointments; rather, they should be referred for a virtual visit with a primary care provider or through Express Care On Demand.
Treat each swabbed patient as a Person Under Investigation (PUI) while in the health care setting, or with standard precautions if the patient is going home or to other lodging while the test is pending.
Define the workflow for following up with patients after receiving their test results with consideration for the follow-up needs of patients who test positive for COVID-19.
The initial recommendation was to schedule COVID-19 testing at the end of the pre-operative testing day.
The current recommendation is to schedule testing first (in the afternoon of the day before other TCI testing takes place). Then, clinicians should wait for the test results, which should be available within approximately 13 hours. Afterwards, the patient can proceed to receive other testing as scheduled.
*Please note, as we work through the fluid nature of testing and treatment for COVID-19, our timelines may alter. Thank you for your continued attention.
In-person Interpreting Suspended for Most Patient Cases
In-person Interpreting Suspended for Most Patient Cases
We are suspending all in-person interpreting for patient cases except those involving surgeries and medical procedures.
Interpreting Services will continue to support American Sign Language (ASL) patients through a combination of in-person and video interpreting.
Video (CyraCom Carts) and over-the-phone (CyraCom Phones) interpreting will remain available for all patient cases. Caregivers can continue to request an interpreter for virtual visits by calling:
Scheduled virtual visit: 216.445.7044
Unscheduled virtual visit: 833.746.2550
Caregivers can continue to call the Interpreting Services 24/7 Dispatch at 216.445.7044 for assistance with voice or video interpreting. Caregivers may also send an alpha page to x22939. Please make sure to leave your name with a good call-back number and a member of the interpreting services team will respond to your request within 15 minutes.
Additional information and resources can be found on our Interpreting Service COVID-19 Resource page or requested via email at TellGPS@ccf.org.
CCJM Launches COVID-19 Curbside Consults
CCJM Launches COVID-19 Curbside Consults
The Cleveland Clinic Journal of Medicine launched a new section called COVID-19 Curbside Consults. Authored by clinicians who confront this infection daily, the consults address key questions, issues and concerns, and offer solutions to managing patients with COVID-19. A link to Curbside Consults can also be found in the COVID-19 Toolkit on the intranet.
Our clinical caregivers and researchers are vigorously contributing insights to this new section, accelerating the world's understanding of this disease.