Joint Replacement: Shoulder: Procedure Details
Preparing for your surgery
Except for emergency reasons, your surgery will be scheduled in advance. Knowing the date of your operation, you will have enough time to prepare and plan for any special help you might need following discharge from the hospital. The average length of stay in the hospital for a total shoulder replacement is 2 to 3 days.
It is important to have a partner to assist you with your home exercises following discharge. Your partner should accompany you to physical therapy at least once or twice during your hospital stay.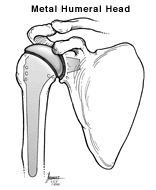 You should discontinue use of any anti-inflammatory medication, including aspirin, 1 week before surgery. Check with your doctor before discontinuing use of any medication.
A series of pre-operative tests will be scheduled 1 to 2 weeks before surgery. They will usually include: blood tests, an electrocardiogram (EKG) or test that records electrical activity of the muscle, a physical examination, a visit with your orthopaedic surgeon and anesthesiologist (the physician that will administer pain medication during the procedure). You will receive your routing schedule by mail.
Most patients spend the night before surgery either at home or in a hotel nearby. They are then admitted to the hospital the next morning. This method of admission is called TCI - "to come in." This allows you to be with your family the night before your surgery. Your surgeon will inform you of your scheduled surgery appointment time and where to go to within the hospital on the day of the surgery.
Anesthesia
You may not eat or drink anything after midnight the day before your surgery. Your anesthesiologist will give you instructions about your daily medications. Some medications may be discontinued because they will complicate surgery and other medications you may need.
Your physician and the anesthesiologist will discuss with you the type of anesthetic that is most appropriate for you. The most frequent form is a regional or block anesthetic supplemented with general anesthesia. You will also be given medications through your IV which will keep you relaxed, comfortable and sedated.
After surgery, most patients are able to eat a regular dinner and walk to the bathroom. Regional anesthesia offers prolonged pain relief after the operation.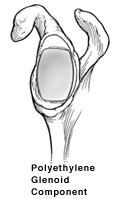 Hospital admission - TCI Center
The morning of your surgery, you will be admitted to the TCI center. Two family members may remain with you until the time of your surgery. Any nail polish should be removed prior to admission. You will be asked to remove all jewelry, glasses, dentures, wigs and contact lenses. No rings may be worn on either hand, and any articles of value should be left home or given to your family members.
The nurses will prepare you for surgery by taking your blood pressure, pulse, temperature and administering pre-operative medications. These medications may cause drowsiness and a dry mouth. An IV or intravenous line for fluid, medication and antibiotics will then be inserted in your arm before transfer to the operating room.
You will be transported to surgery on a cart. Different hospital staff will be asking your name, verifying your identification bracelet and asking you which shoulder will be operated on, right or left. Prior to surgery, please use a marker to write "no" on the non-operative shoulder. This indicates the correct shoulder should any miscommunication occur.
Your family may wait in the designated area, where they can check in with the receptionist. As soon as your surgery is over, your surgeon will call the waiting area and ask to with speak with your family.
Surgery
In the operating room, you will meet nurses, physicians, technicians and anesthesiologists. You will then be moved to the operating table and made comfortable. Your head will be positioned, turned away from the shoulder to be operated on. Sterile surgical draping will be hung to shield and protect the surgical site. The anesthesiologist will remain by your head, monitoring your condition throughout the surgery.
The operating room will be bright and very cool. Blankets are available to keep you warm. Because of the number of people working, the room will seem very busy and somewhat noisy. The surgery will last approximately 2 hours.
Post anesthesia recovery unit
After surgery, you will be transported to the Post Anesthesia Recover Unit (PACU), where you will be cared for by skilled nurses and members of the anesthesiology team. They will monitor your vital signs (blood pressure, pulse and breathing) frequently while you are recovering from the effects of anesthesia. When you awake, you will have a large bulky dressing on your shoulder with a drain and possibly a cooling unit attached. The movement, sensation and temperature of your operative arm will also be checked frequently. An X-ray of your shoulder will be done during your stay in the recovery room.
The minimum stay in a PACU is at least 1 hour. The length of your stay depends on many factors including the effects of anesthesia. Your physicians and nurses will evaluate your condition and determine the best time for you to be released to a hospital room. Your family will not be permitted in the PACU, but may visit when you are assigned to a hospital room.
Post operative hospital stay
After being transported to your room and assisted into your bed, your nurse will evaluate your condition - checking your vital signs, shoulder dressing and the movement and sensation of your hand.
Because shoulder surgery is painful, pain control is very important. For the first 24 hours after surgery you will receive a pain medication regularly and you may have a PCA (Patient Controlled Analgesia) pump.
The drain from your shoulder will be removed by your physician the day after surgery. The bulky dressing will then be removed and replaced with a smaller dressing. Your IV will remain in place for needed fluids, antibiotics and possible pain medication for the first 24 hours after surgery.
During your hospitalization, you are encouraged to get out of bed and move around. You may even begin to use your arm within comfortable limits, performing simple activities such as eating and grooming. Bring loose-fitting clothing with you, as this will make dressing easier.
The physical therapist will help you learn specific exercises and how to continue them after your hospital stay at home. You will also be given written instructions upon your discharge. These exercises are fairly simple and require only a short amount of time.
A successful outcome to your total shoulder joint replacement depends heavily on the meticulous performance of your exercises. Through this structured exercise program, your muscles will be methodically and progressively stretched and strengthened over 1 year's time. The desired effect is the optimal function of your new total shoulder replacement.
In certain situations, prolonged formal physical therapy after hospital discharge may be required. This can be done in outpatient therapy at home. Most patients, however, do not require any formal outpatient therapy.
An occupational therapist will visit you at least once before you are discharged. Your therapist will provide instruction and assistive devices to help you maintain your independence and protect your new shoulder from the wear-and-tear of daily activities.
Physical therapy is the most important component of a successful surgery. The first day after surgery, you will be beginning physical therapy (P.T.) twice each day to perform passive stretching exercises. You and your nurse will need to plan for pain medication and a heating device or ice, one-half hour before therapy, as prescribed by your doctor. This will ease pain and enable you to perform better in therapy. In addition to physical therapy sessions, you will be expected to perform several exercises on your own. Your nurses will remind you about and be available to assist you with these exercises.