Transcatheter Aortic Valve Replacement (TAVR): Additional Details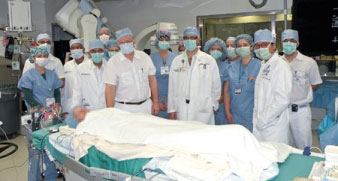 What you should know about TAVR
Transcatheter aortic valve replacement (TAVR) is performed commercially in intermediate-risk, high-risk and inoperable patients with aortic stenosis.
TAVR is performed as part of the PARTNER-3 trial in low-risk patients who are randomized to either TAVR or surgical aortic valve replacement (SAVR).
All patients are carefully evaluated to see whether TAVR or SAVR will provide the best treatment.
Cleveland Clinic has been involved in TAVR research since 2006. We have performed close to 1,500 TAVRs since that time. In 2016, we evaluated approximately 1,000 patients for TAVR and performed almost 400 procedures.
Cleveland Clinic is involved in a number of trials of new valve designs and other devices, all of which are designed to make the procedure safer and more effective in appropriately selected patients.
Regardless of the "less invasive" nature of valve replacement using TAVR, it is important to understand that this is still a major heart procedure and each patient should have a detailed conversation with members of the Heart Team regarding relative risks and benefits on an individual basis.