Pouch Procedure & Recovery: Types of Surgeries
Your doctor should go over in detail what exact pouch procedure you are having. It may be overwhelming at first, but knowing what procedure you are having and how it works will help you understand your surgery and how your digestive system will work afterward.
Total Proctocolectomy, Ileal Pouch Anal Anastomosis
(J-Pouch, S-Pouch, W-Pouch)
Your medical team may recommend that you have your pouch surgery in a few different steps. Everyone's body is different and the amount of surgeries needed is based off of the patient's overall health and condition and what type of pouch they will have. (The gold standard at Cleveland Clinic is a J-Pouch.)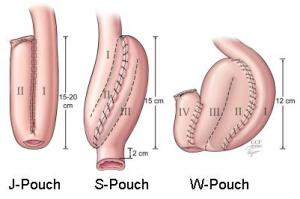 ###
One-Stage Procedure:
The one stage procedure involves removal of the colon and rectum, with the formation of a J-Pouch with ileal pouch anal anastomosis, with no ileostomy. Considered in patients with FAP and select patients who have ulcerative colitis.
Two-Stage Procedure:
To ensure the healing of all suture lines, patients may undergo a two-stage procedure. The two-stage procedure involves removal of the colon and rectum, with the formation of a J-Pouch with ileal pouch anastomosis and loop ileostomy. The loop ileostomy closure is done approximately three to six months later following radiologic imaging to confirm everything has healed.
Three-Stage Procedure:
In patients that are acutely ill (anemia, weight loss), have a high body mass index (BMI), on high doses of steroids (Prednisone), taking immuno-modulators (Imuran, 6MP) and/or biologic agents (Remicade, Humira, Cimzia, Sumponi), or who require surgery to be performed emergently, it may be safer to treat the colorectal disease in three stages. Patients taking steroids, immune-modulators, and/or biologic agents may have a higher incidence of wound infection and may have a higher complication rate.
The first phase consists of removing the colon, leaving the rectum behind, and giving the patient an end ileostomy for approximately six months. (Most patients report feeling considerably better after this surgery.)
The second phase consists of removing the remnant of rectum, creating a J-Pouch, doing an ileal anal anastomosis, with diverting loop ileostomy. The patient will have the diverting loop ileostomy for approximately three months as long as everything has healed. The third phase consists of closing the stoma. This should be a simpler procedure than stage one and two with a shorter duration and faster recovery.
Total Proctocolectomy with an End Ileostomy
###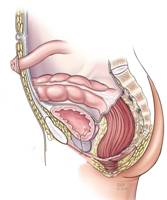 This procedure involves removing the colon and rectum, closing the anus, and giving the patient a permanent/lifelong ileostomy. This may be considered for elderly patients, patients with poor anal sphincters (the muscles in the anus), or patients that don't want a J-Pouch and/or don't mind having an ostomy (stoma).
Looking for more information about stoma care?
Ileal-rectal Anastomosis
This procedure involves removing the entire colon, leaving the rectum behind and connecting the small bowel to the rectum (ileal-rectal anastomosis). This is offered to FAP patients when the rectum is deemed to have few polyps and they will be monitored every six to 12 months with a flexible endoscopy. On rare occasions this is offered to patients with ulcerative colitis. The patient's rectum needs to relatively free of disease and have no dysplasia (pre-cancer) cells on the biopsy. Yearly monitoring with flexible endoscopy needs to done.
Continent Ileostomy (K-Pouch)
This procedure is also known as a K-Pouch. This can be an option if a patient has weak anal sphincters or they have undergone a total proctocolectomy, end ileostomy. The procedure involves using the last portion of the small intestine to create an internal reservoir which is then attached to the abdominal wall by a special ileostomy that can be intubated by a flexible catheter several times a day to release gas and stool. Most patients will wear a small bandage to cover the opening.
Revision of Pelvic Pouch
Pouch revision surgeries are offered for functional and mechanical problems.
Copyright Statement
All information is provided by Cleveland Clinic Ileal Pouch Center.
Information may not be duplicated or used by other organizations or institutions without the consent or acknowledgement of Cleveland Clinic.
Contact pouchcenter@ccf.org for more information.