Overview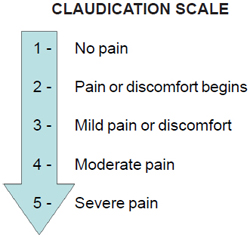 What is peripheral arterial disease (PAD)?
PAD is the narrowing or blockage of the arteries of the circulatory system. PAD occurs in the vessels that carry blood to the arms and legs.
What is Claudication?
Claudication is a symptom of PAD. It is often described as a painful cramping of the leg muscles that occurs when walking. The pain is often noticed in the calf, but may also be felt in the buttocks or thighs. When at rest, the muscles require less blood flow, so the pain typically goes away.
Risks / Benefits
What are the benefits of a walking program?
A regular walking program is important and will help you:
Increase the length of time you are able to walk before needing to rest.
Reduce your leg pain.
Improve or maintain muscle tone.
Lose weight or maintain your weight, especially when combined with dietary changes.
Reduce your risk factors for a heart attack or stroke.
Improve your overall sense of well-being and reduce symptoms of anxiety and depression.
Improve your quality of life.
Resources
Doctors vary in quality due to differences in training and experience; hospitals differ in the number of services available. The more complex your medical problem, the greater these differences in quality become and the more they matter.
Clearly, the doctor and hospital that you choose for complex, specialized medical care will have a direct impact on how well you do. To help you make this choice, please review our Miller Family Heart and Vascular Institute Outcomes.
Cleveland Clinic Heart and Vascular Institute Vascular Medicine Specialists and Surgeons
Choosing a doctor to treat your vascular disease depends on where you are in your diagnosis and treatment. The following Heart and Vascular Institute Sections and Departments treat patients with all types of vascular disease, including blood clotting disorders:
Section of Vascular Medicine: for evaluation, medical management or interventional procedures to treat vascular disease. In addition, the Non-Invasive Laboratory includes state-of-the art computerized imaging equipment to assist in diagnosing vascular disease, without added discomfort to the patient. Call Vascular Medicine Appointments, toll-free 800-223-2273, extension 44420 or request an appointment online.
Department of Vascular Surgery: surgery evaluation for surgical treatment of vascular disease, including aorta, peripheral artery, and venous disease. Call Vascular Surgery Appointments, toll-free 800-223-2273, extension 44508 or request an appointment online.
IVC Filter Retrieval Clinic - to make an appointment, call Vascular Medicine at 216.444.4420. Ask for Dr. Bartholomew in the Filter Retrieval Clinic. Your appointment will include a consultation with Dr. Bartholomew and the physicians who will perform the IVC filter retrieval procedure.
You may also use our MyConsult second opinion consultation using the Internet.
The Heart and Vascular Institute also has specialized centers and clinics to treat certain populations of patients:
Learn more about experts who specialize in the diagnosis and treatment of vascular and arterial disease.
Contact
If you need more information, click here to contact us, chat online with a nurse or call the Miller Family Heart and Vascular Institute Resource & Information Nurse at 216.445.9288 or toll-free at 866.289.6911. We would be happy to help you.
Becoming a Patient
Conditions
Treatment Guides
Diagnostic Tests
Diagnostic tests are used to diagnose your abnormal heartbeat and the most effective treatment method.
Webchats
Our webchats and video chats give patients and visitors another opportunity to ask questions and interact with our physicians.
Videos
Interactive Tools
Resource Links
*A new browser window will open with this link.
The inclusion of links to other websites does not imply any endorsement of the material on those websites nor any association with their operators.
Surgical Outcomes
Why choose Cleveland Clinic for your care?
Our outcomes speak for themselves. Please review our facts and figures and if you have any questions don't hesitate to ask.
Walking Guidelines
Always talk to your doctor before starting an exercise program.
Warm-up for 5 minutes before exercising by walking at a slower pace, just below the speed of walking that causes leg pain.
If you experience chest pain, shortness of breath, palpitations or irregular heartbeats, and/or dizziness, stop exercising and call your physician immediately.
Walk as long as you can with the pain to maximize results.
Cool down after exercise by walking slowly for 5 minutes. You may still have some leg pain during the cool down, but it should be less than what you felt with the exercise.
Within a month, you should notice improvements in the amount of time or the distance you are able to walk before experiencing leg pain. In 3 to 6 months, you should notice maximum improvement in your symptoms.
Your regular walking program will help improve not only your symptoms, but also your overall cardiovascular health.
Walking Program Recommendations
FREQUENCY: You should walk 3 to 5 times per week.
INTENSITY: Intensity means how hard you are exercising. You should walk as much as you can even though you experience leg pain when walking. You can measure the intensity of your walking according to your leg discomfort. You should continue walking to a level of 3 to 4 on the scale to the right. Remember, your symptoms will gradually improve over time.
TYPE: A walking program is most beneficial for people with PAD. However, you will also receive cardiovascular benefits (such as reducing blood pressure, cholesterol and assist with current diabetes control) from any large muscle repetitive exercise such as cycling, rowing or swimming.
DURATION: You should walk for a total of 30 minutes and progress to 60 minutes. Walk as long as you can until you reach a level of 4 on the claudication scale (see box below). When you experience pain that reaches level 3 or 4, stop and rest until the pain subsides, then continue walking. Ideally, your exercise intervals should be at least 5 minutes long. You may need to walk at a slower pace to reach at least 5 minutes of walking without stopping to rest.
Walking Tips
Here are some additional walking tips to help you fit your walking program into your busy schedule:
Take a "walk break" instead of a "coffee break." Get up every hour and take a 5-minute walk.
Don't try to get the closest parking spot; park further away and add more steps to your day. If it's feasible, walk instead of driving to your destination.
Take the stairs instead of the elevator.
Walk on your lunch break.
Take a daily walk with your spouse, child, friend – or even your dog!