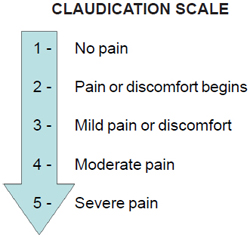 What is peripheral arterial disease (PAD)?
PAD is the narrowing or blockage of the arteries of the circulatory system. PAD occurs in the vessels that carry blood to the arms and legs.
What is Claudication?
Claudication is a symptom of PAD. It is often described as a painful cramping of the leg muscles that occurs when walking. The pain is often noticed in the calf, but may also be felt in the buttocks or thighs. When at rest, the muscles require less blood flow, so the pain typically goes away.