Mitral Valve Repair: Procedure Details
Minimally Invasive Mitral Valve Repair
Cleveland Clinic surgeons are pioneers in the development of minimally invasive techniques for mitral valve repair. Today, the majority of isolated mitral valve repairs can be performed through a 2-3 inch incision on the right side of the chest. In many cases, we can employ the surgical robot and limit incision size to 1 inch.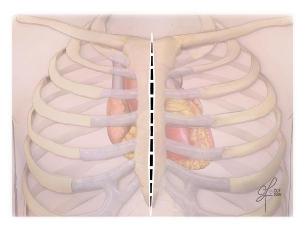 Full Sternotomy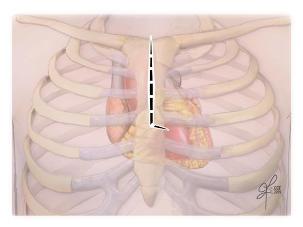 Partial Sternotomy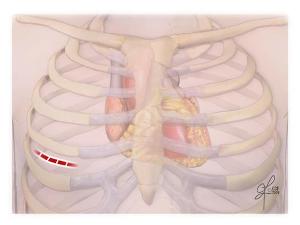 Right Thoracotomy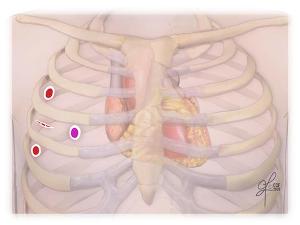 Robotic
Several minimally invasive approaches are available to patients. Minimally invasive approaches may also be used for patients who require aortic valve or tricuspid valve surgery, alone or in combination with mitral valve surgery. In addition, Cleveland Clinic is a leader in percutaneous (through the skin) approaches to mitral valve repair, which may lead to additional treatment options in the future.
Advantages of minimally invasive approaches include faster recovery, less pain, reduced need for blood transfusion and better cosmetic result. We evaluate each patient for robotic and minimally invasive surgery and work with the patient to choose the best and safest approach in each case.
Learn about minimally invasive mitral valve repair: types of incisions, surgical options, photos and videos.
Mitral Valve Repair Surgery — Surgical Techniques
Cleveland Clinic surgeons have been instrumental in the development and application of modern mitral valve repair techniques. Problems with the posterior leaflet are generally corrected by a small series of chords or a small resection of the abnormal portion of the valve. Anterior leaflet dysfunction is managed by creation of new chords or chordal transfer. Anterior leaflet repair techniques are technically challenging, requiring a skilled and experienced surgical team to achieve the best result. All repairs include an annuloplasty, which is a complete or partial ring placed around the circumference (rim) of the valve.
Mitral Valve Posterior Leaflet Prolapse — Valve Repair Surgery
During mitral valve repair heart surgery, triangular resection is the technique used most frequently for posterior leaflet prolapse.
Triangular Resection Mitral Valve Repair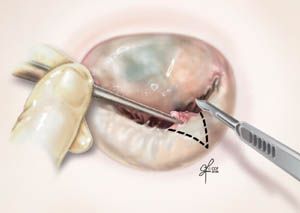 Ruptured chords at free edge of posterior leaflet. Region to be resected is indicated.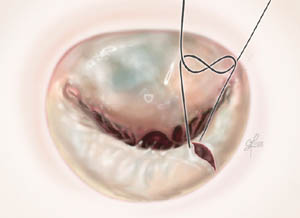 Abnormal segment has been removed. Leaflet edges are sewn together.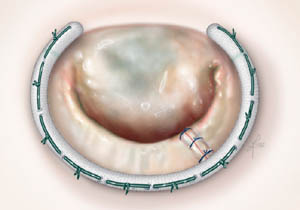 Annuloplasty completes the repair.
Mitral Valve Anterior Leaflet Prolapse — Valve Repair Surgery
When there is mitral valve prolapse of the anterior leaflet, repair is more complex and requires greater surgical expertise. To correct anterior leaflet prolapse caused by a ruptured or elongated chord, we usually create new chords out of Gore-Tex. These Gore-Tex chords generally last forever. A second technique used for correction of anterior leaflet prolapse is chordal transfer, which involves transfer of chords from another part of the valve to the area with abnormal chords. Both techniques provide excellent long-term results for patients.
Gore-Tex® Chord for Correction of Anterior Leaflet Prolapse
Ruptured Chord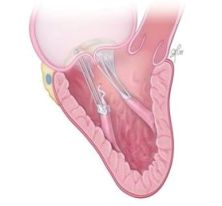 After Chordal Repair
Chordae may be constructed from Gore-Tex® sutures. A Gore-Tex® suture is affixed to the head of the papillary muscle and then passed through the free edge of the unsupported anterior leaflet, providing support.
Long-term durability is excellent. The new chordae do not rupture or elongate.
Chordal Transfer to Treat Anterior Leaflet Prolapse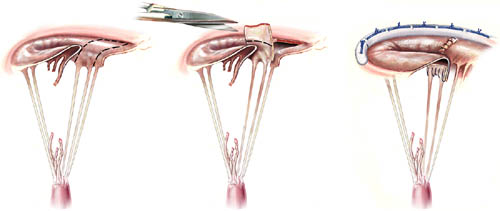 Chordal transfer to correct anterior leaflet prolapse.
Posterior leaflet chordae are transferred to the unsupported free edge of the anterior leaflet. The posterior leaflet is then repaired. A cloth annuloplasty band completes the repair.
Mitral Valve Repair — Special Situations
Mitral Valve Repair and Atrial Fibrillation
Many patients with mitral valve disease have atrial fibrillation, (an abnormal heart rhythm.) For these patients, at the time of mitral valve repair, Cleveland Clinic surgeons perform an ablation (Maze procedure) with the intent of curing the atrial fibrillation. In some patients with atrial fibrillation, a sternotomy (standard) approach may provide the best results.
Previous Mitral Valve Repair with Recurrent Mitral Regurgitation
In rare instances, a mitral valve repair may fail over time. While most surgeons replace such valves, Cleveland Clinic surgeons can frequently re-repair these valves, offering excellent long-term durability and the important advantages that go with mitral valve repair.
Previous Heart Surgery with Recurrent Mitral Regurgitation
Occasionally, a patient who has had previous bypass surgery, aortic valve surgery or other heart surgery develops a new problem with the mitral valve. In these re-operative settings, Cleveland Clinic surgeons can safely and effectively repair nearly all leaking mitral valves.
Mitral Valve Repair for Endocarditis
When infection damages a mitral valve (endocarditis), repair is particularly challenging. Because of their extensive experience with such patients, Cleveland Clinic surgeons successfully repair the mitral valve in the majority of patients who have had endocarditis.
Mitral Calcification
Occasionally, a patient with mitral regurgitation has extensive calcium deposits on the valve leaflets or annulus. The calcium makes repair difficult and requires application of advanced surgical techniques and sound judgment. Cleveland Clinic surgeons have the expertise to ensure excellent outcomes in patients with calcified mitral valves.
Mitral Valve Repair in Women with Breast Implants
We can usually perform a minimally invasive approach in women with breast implants. Working with a plastic surgeon, we remove the right breast implant through a small, cosmetic incision We then repair the mitral valve through the same incision. The plastic surgeon then replaces the breast implant, often upgrading to a newer implant.