Guided Imagery in Heart Surgery & other Procedures: When to Listen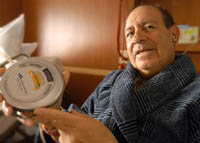 What to bring to listen to your program
Ask your doctor or nurse if you will be able to play your guided imagery program during your procedure.
On the day of the procedure or surgery, please bring a portable CD player with headphones and new batteries. Or, if you downloaded your program to an mp3 player, bring your player (fully charged) with headphones
Please label the CD or mp3 player with your name, patient ID number and phone number.
Before the procedure
Begin listening to the guided imagery program as soon as possible before your procedure.
Listeners are encouraged to confront and work through any feelings of fear, anxiety or negativity.
After listening to the program, people report feeling a strong sense of peace and relaxation.
During the procedure
Most people listen to the program as they are being taken to the procedure room. The program will play continually during your procedure and during your recovery in the recovery room with your portable CD player or mp3 player set to continuous play. Our heart surgery staff is aware of the guided imagery program and will allow you to wear your headphones during the procedure.
People have responded that listening to the program during a medical or surgical procedure helps them to refocus their thoughts away from pain, anxiety and fear. In addition, they have reported waking from the procedure very comforted and less frightened.
During some interventional procedures, the physician will need to speak to you during the procedure. You may be able to listen before, but not during, these particular procedures. Ask your doctor if you will be able to listen to your guided imagery program during the procedure.
After the procedure
Begin listening to the program at any time after your procedure, preferably the morning after your surgery and twice daily during your recovery. You may need your family members, friends or nurse to assist you in putting the CD in the player or turning on your listening device, as you will be drowsy after the procedure.
The more you listen, the greater you will benefit!
You may continue to listen to the program after you are discharged from the hospital for personal relaxation or sleep after the procedure. It is helpful to listen to the program without interruption, if possible.
Family members have also reported a beneficial effect from listening to guided imagery programs to help reduce the anxiety of having a loved one in the hospital or undergoing a surgical procedure.
Patients must understand that guided imagery is not an alternative to medical or surgical treatment, nor is it a cure. Rather, it is an inexpensive, yet powerful way in which patients can actively participate in their health care.
<!-- -->
Guided Imagery Program at the Miller Family Heart & Vascular Institute at Cleveland Clinic
If you are scheduled for a medical or surgical procedure at The Cleveland Clinic Foundation, you may bring your own guided imagery tapes. We also have programs available for download to your computer or mp3 player at home. Your nurse can provide you with information on how to obtain the free audio downloads or you can pick up a card in our Patient and Family Health Information Center located at Q1-2.
If you are scheduled for heart surgery, you will receive information on how to download the audio tracks or you will be offered a complimentary cd during your pre-operative appointment at Cleveland Clinic. This program is optional for patients of Cleveland Clinic.