Print
Male Sling Procedure
---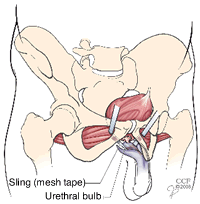 The male sling procedure was developed to help men with urinary incontinence due to sphincter weakness or insufficiency in the setting of prior pelvic surgery including post-TURP (transurethral resection of the prostate) and post-radical prostatectomy. The procedure is proving that this option is probably most satisfactory for men with mild-to-moderate urinary incontinence (2 to 3 pads per day or less). One of the distinct advantages of the male sling is that it can be performed with a fairly short recovery and requires only a small incision in the groin (between scrotum base and the anus). The procedure itself entails placement of a synthetic mesh in the groin area to compress the urethra under it. Most patients have their catheters stay in overnight and can be removed in the hospital in the case of an overnight (23 hour) stay or in the office the next day.
Procedure Details
What does male sling surgery entail?
Prior to surgery, your physician may ask you to have a urodynamic study (testing to assess urinary tract function), complete a 24-hour pad test (to identify the number of pads used and volume of urine leaked), or look inside your bladder (cystoscopy).
The male sling procedure is usually performed on an outpatient basis; however, in some cases, patients are kept in the hospital or surgicenter unit for 23 hours. The sling support or suspension requires permanent sutures in the perineum and may create some pain in the immediate post-operative period. Incisions are made through the perineal tissue (i.e., the urogenital area) to reach the surgical target -- the positioning of a supportive sling (a mesh-like surgical tape) around part of the urethral bulb (the descending tube-like structure of the bladder). By wrapping the surgical tape around the urethral bulb, the sling gently and slightly moves the urethra into a new position that has been shown in and of itself as a method of overcoming urinary incontinence.
Some patients undergoing the procedure have been cured of their urinary incontinence; others have improved (decreasing their daily pad usage).
What happens prior to male sling surgery?
If required, you may be asked to see your family physician or anesthesiologist for a preoperative check up. If necessary, they will do an EKG, blood workup, chest x-ray, and urine tests.
DO NOT TAKE ASPIRIN OR ANY BLOOD THINNING MEDICATIONS 2 WEEKS PRIOR TO SURGERY. This includes medications such as ibuprofen (Motrin®; Advil®); naproxen (Aleve®); and clopidogrel (Plavix®). If necessary, you can take Tylenol® for headaches or pain. Any other medication such as antibiotics, high blood pressure medications, hormone pills, and heart medications should be continued unless otherwise specified.
DIET: CONSUME ONLY CLEAR LIQUIDS THE NIGHT BEFORE SURGERY. This means anything you can see through, such as broth, juices, and jello. This helps keep the bowel clean at the time of surgery and reduces the risks of contamination.
DO NOT EAT OR DRINK ANYTHING AFTER 12 MIDNIGHT THE DAY BEFORE SURGERY. Any medication that must be taken the morning of surgery should be taken with a small sip of water.
Risks / Benefits
What are the risks and complications of the male sling procedure?
Complications of this type of procedure are rare but may occur. They include bleeding and infection (of the mesh or the bone area or public bone), erosion, inability to urinate (retention of urine -- very rare) or recurrent leakage. We do not require routine blood donation before surgery.
Recovery and Outlook
What happens after male sling surgery?
Following your surgery, you may have a catheter exiting from the urethra for a short period of time. The catheter is in place to allow you to empty your bladder as there is often swelling after surgery that makes it difficult to urinate. After the swelling subsides, you will gradually be able to urinate on your own and empty your bladder well. However, your normal pattern of urination may not occur or return to normal for a few weeks. There is no cause for alarm. You can resume a normal diet but limit your fluids to no more than 6 glasses per day.
References:
Sandip Vasavada, MD, Glickman Urological & Kidney Institute. The Cleveland Clinic Foundation, Cleveland, Ohio
© Copyright 1995-2018 The Cleveland Clinic Foundation. All rights reserved.
This information is provided by the Cleveland Clinic and is not intended to replace the medical advice of your doctor or healthcare provider. Please consult your healthcare provider for advice about a specific medical condition. This document was last reviewed on: 10/30/2014