Tricuspid Valve Disease: Management and Treatment
How is it treated?
Medical Management
Your doctor will want to monitor the progress of your valve disease with regular appointments. They may be spaced once a year or more often, if your doctor feels you need to be followed more closely.
Your appointment will include a medical exam. Diagnostic studies may be repeated at regular intervals.
Your physician may prescribe medications to treat your symptoms. These medications may include drugs to treat heart failure or medications to control irregular heart rhythms.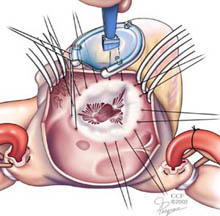 Lanyard and template handle assists with placement of ring
Surgical Management
Tricuspid Valve Repair
When valve disease is severe, it may be necessary to repair or replace the diseased valve. Tricuspid valve repair using an annuloplasty ring is the preferred surgical approach for tricuspid regurgitation and may be performed for primary tricuspid disease or for combined cases with other valve surgery (mitral, aortic). See illustrations to the right. For more information and to view actual surgery, see: Movie: Edwards MC³ Tricuspid Annuloplasty*
When the valve can not be repaired, a valve replacement will be performed. Find more information about tricuspid valve surgery.
Endocarditis prevention
If you have tricuspid valve disease, you are at risk for getting endocarditis, an infection that causes damage to the heart valves (even if your valve has been repaired or replaced with surgery). You will need to follow these guidelines: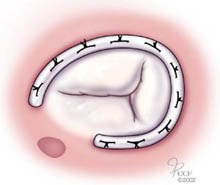 Anatomically correct design conforms to the 3-D tricuspid valve opening.
Tell your doctors and dentist you have valve disease. You may want to carry a card with this information.
Call your doctor if you have symptoms of an infection (sore throat, general body achiness, and fever). Colds and flus do not cause endocarditis. But, infections, which may have the same symptoms, do. So, to be safe, call your doctor.
Take good care of your teeth and gums to prevent infections. See your dentist for regular visits.
Take antibiotics before you undergo any procedure that may cause bleeding:

any dental work (even a basic teeth cleaning)
invasive tests
most major or minor surgery
Check with your doctor about the type and amount of antibiotics you should take. Find more information about Bacterial Endocarditis prevention.
Find a doctor if you have tricuspid valve disease
Find a Miller Family Heart, Vascular & Thoracic Institute Cardiologist or Surgeon who specializes in the diagnosis and treatment of patients with valve disease.