Syncope: Diagnosis and Tests
How is syncope diagnosed?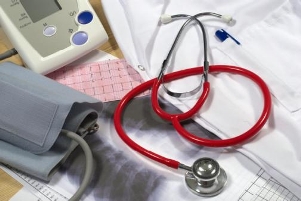 If you have syncope, you should see your doctor, who can refer you to a syncope specialist for a complete evaluation.
The evaluation begins with a careful review of your medical history and a physical exam. Your doctor will ask you detailed questions about your symptoms and syncope episodes, including whether you have any symptoms before you faint and when and where the episodes happen.
You may then have one or more tests to help your doctor determine the cause of your syncope. These tests check things like the condition of your heart, how fast your heart is beating (heart rate), the amount of blood in your body (blood volume), and blood flow in different positions.
Tilt Test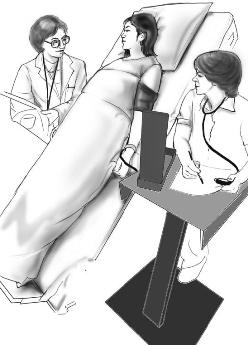 Your heart rate and blood pressure will be measured and recorded while you are in different positions including lying down, sitting and standing.
Tests to determine causes of syncope include:
Laboratory testing: Blood work to check for anemia or metabolic changes.
Electrocardiogram (EKG or ECG): A test that records the electrical activity of your heart. Electrodes (small sticky patches) are applied to your skin to collect this information.
Exercise stress test: A test that uses an ECG to record your heart's electrical activity while you are active. This is done on a treadmill or stationary bike, which helps you reach a target heart rate.
Ambulatory monitor: You will wear a monitor that uses electrodes to record information about your heart's rate and rhythm.
Echocardiogram: A test that uses high-frequency sound waves to create an image of the heart structures.
Tilt table (head-up tilt test): A test that records your blood pressure and heart rate on a minute-by-minute or beat-by-beat basis while the table is tilted to different levels as you stay head-up. The test can show abnormal cardiovascular reflexes that cause syncope.
Blood volume determination: A test to see if you have the right amount of blood in your body, based on your gender, height and weight. A small amount of a radioactive substance (tracer) is injected through an intravenous (IV) line placed in a vein in your arm. Blood samples are then taken and analyzed. The blood volume analyzer system used at Cleveland Clinic can provide accurate test results within 35 minutes.
Hemodynamic testing: A test to check the blood flow and pressure inside your blood vessels when your heart muscle contracts and pumps blood throughout the body. A small amount of a radioactive substance (tracer) is injected through an intravenous (IV) line placed in a vein in your arm and three sets of images are taken.
Autonomic reflex testing: A series of different tests are done to monitor blood pressure, blood flow, heart rate, skin temperature and sweating in response to certain stimuli. These measurements can help your doctor determine if your autonomic nervous system is working normally or if there is nerve damage.
The test results will help your doctor determine what is causing you to have syncope. You may need other tests, including electrophysiology studies, autonomic nervous system testing, neurological evaluation, and computed tomography (CT) scan. Vestibular function testing may be done to rule-out problems in the inner ear. If you need any additional testing, your doctor will explain them and why they are needed.
Getting the test results
Your referring physician will receive a complete report of test results and treatment recommendations. Your referring physician will share this information with you.