Patent Ductus Arteriosus (PDA): Management and Treatment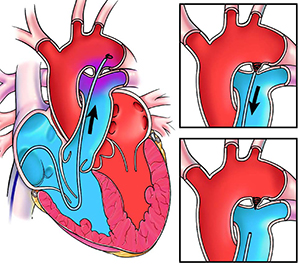 How is PDA treated in adults?
Closure of the defect is generally recommended (as long as advanced pulmonary hypertension is not present) because of the high risk for cardiac complications and early death related to PDA. Closing the PDA can reduce complications, restore normal circulation, eliminate symptoms and reduce the risk of death.
An open surgical procedure was the standard for decades. In this procedure, the surgeon opens the chest and closes the opening with stitches or permanent titanium clips. Today, adult congenital heart disease experts prefer to reserve an open surgical procedure for those patients with large PDAs. More than 95 percent of PDAs can now be closed by catheter-based techniques.
Video-assisted thoracic surgical (VATS) repair is a newer approach for repairing PDAs. This is a minimally invasive technique in which the surgeon operates through a small incision in the chest using video guidance to perform the repair. VATS combines the advantages of a surgical repair with the benefits of a small-incision approach.
Transcatheter occlusion is the least invasive option for closing a PDA and has become the procedure of choice for PDA repair. In this procedure, a single or multiple coils or a fitted plug is delivered to the site of the PDA by a catheter. The device is positioned in the opening between the two blood vessels and released from the catheter. The plug or coil expands to occlude (block) the pathway; the plug device acts like a drain-stopper to block the opening. More than 85 percent of patients have complete occlusion of the defect within one year of the procedure.
Repairing a PDA in an adult is a more complicated procedure than performing the procedure in children. Adults with PDAs should be under the care of an adult congenital heart disease specialist with experience in treating this particular defect. The specialist will evaluate all considerations, such as the size of the PDA, complications related to the PDA and the patient's overall health, to make a recommendation on which approach is most likely to have the best outcome. Today, devices and techniques have advanced to the point that percutaneous closure should be the first choice for almost all patients.