Neck Injuries: On-Field Management of Neck Injuries
To Move or Not to Move: On-the-Field Management of Neck Injuries
Evaluating neck injuries can be one of the most difficult assessments a coach may be asked to perform. Mistakes could result in paralysis or death. It is critical for all coaches to understand and recognize the signs and symptoms of serious head and neck trauma.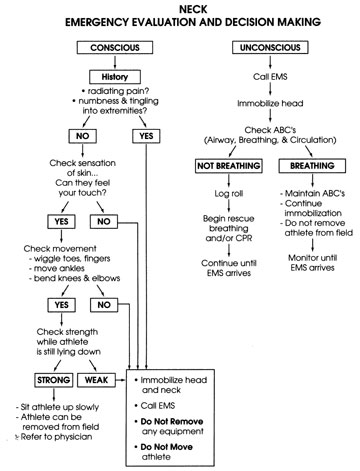 Helmets
If the athlete is wearing a helmet, DO NOT REMOVE IT. When handling an injured athlete who is wearing a football helmet, the caregiver must have a method for freeing the face mask to perform CPR. There are many commercial products available for this purpose. These products are designed to cut the clips that hold the face mask on to the helmet. A sharp utility knife could be used with caution. Cut the two lower clips, and then flip up the face mask.
The Unconscious Athlete
Whenever an athlete is found to be unconscious, assume that the individual also has suffered a neck injury. The athlete SHOULD NOT be moved. Immediately immobilize the head and neck, and assign someone to call EMS (figure 2).

Figure 2
At this point, check the athlete's "ABCs" (Airway, Breathing, Circulation). If breathing, continue to monitor him or her, do not move, and wait for EMS to arrive.