Coronary Artery Disease: Types
What are acute coronary syndromes?
Unstable angina: This may be a new symptom or a change from stable angina. The angina may occur more frequently, occur more easily at rest, feel more severe, or last longer. Although this can often be relieved with oral medications (such as nitroglycerin), it is unstable and may progress to a heart attack. Usually more intense medical treatment or a procedure are required to treat unstable angina.
Non-ST segment elevation myocardial infarction (NSTEMI): This type of heart attack, or MI, does not cause major changes on an electrocardiogram (ECG). However, chemical markers in the blood indicate that damage has occurred to the heart muscle. In NSTEMI, the blockage may be partial or temporary, so the extent of the damage is usually relatively small.
ST segment elevation myocardial infarction (STEMI): This type of heart attack, or MI, is caused by a sudden blockage in blood supply. It affects a large area of the heart muscle, and causes changes on the ECG as well as in blood levels of key chemical markers.
Although some people have symptoms that indicate they may soon develop an acute coronary syndrome, some may have no symptoms until something happens, and still others have no symptoms of the acute coronary syndrome at all.
All acute coronary syndromes require emergency evaluation and treatment.
Collateral Circulation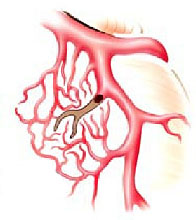 As the size of the blockage in a coronary artery increases, the narrowed coronary artery may develop "collateral circulation." Collateral circulation is the development of new blood vessels that reroute blood flow around the blockage. However, during times of increased exertion or stress, the new arteries may not be able to supply enough oxygen-rich blood to the heart muscle.
What is ischemia?
Ischemia is a condition described as "cramping of the heart muscle." Ischemia occurs when the narrowed coronary artery reaches a point where it cannot supply enough oxygen-rich blood to meet the heart's needs. The heart muscle becomes "starved" for oxygen.
Ischemia of the heart can be compared to a cramp in the leg. When someone exercises for a very long time, the muscles in the legs cramp up because they're starved for oxygen and nutrients. Your heart, also a muscle, needs oxygen and nutrients to keep working. If the heart muscle's blood supply is inadequate to meet its needs, ischemia occurs, and you may feel chest pain or other symptoms.
Ischemia is most likely to occur when the heart demands extra oxygen. This is most common during exertion (activity), eating, excitement or stress, or exposure to cold.
When ischemia is relieved in less than 10 minutes with rest or medications, you may be told you have "stable coronary artery disease" or "stable angina." Coronary artery disease can progress to a point where ischemia occurs even at rest.
Ischemia, and even a heart attack, can occur without any warning signs and is called "silent" ischemia. Silent ischemia can occur among all people with heart disease, though it is more common among people with diabetes.