Chronic Venous Insufficiency (CVI): Symptoms & Diagnosis
What are the symptoms of chronic venous insufficiency?
The seriousness of CVI, along with the complexities of treatment, increase as the disease progresses. That's why it is very important to see your doctor if you have any of the symptoms of CVI. The problem will not go away if you wait, and the earlier it is diagnosed and treated, the better your chances of preventing serious complications.
Symptoms include:
Swelling in the lower legs and ankles, especially after extended periods of standing
Aching or tiredness in the legs
New varicose veins
Leathery-looking skin on the legs
Flaking or itching skin on the legs or feet
Stasis ulcers (or venous stasis ulcers)
If CVI is not treated, the pressure and swelling increase until the tiniest blood vessels in the legs (capillaries) burst. When this happens, the overlying skin takes on a reddish-brown color and is very sensitive to being broken if bumped or scratched.
At the least, burst capillaries can cause local tissue inflammation and internal tissue damage. At worst, this leads to ulcers, open sores on the skin surface. These venous stasis ulcers can be difficult to heal and can become infected. When the infection is not controlled, it can spread to surrounding tissue, a condition known as cellulitis.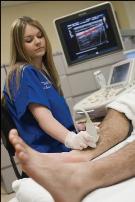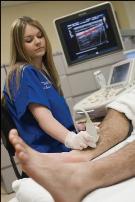 Vascular Ultrasound
CVI is often associated with varicose veins, which are twisted, enlarged veins close to the surface of the skin. They can occur almost anywhere, but most commonly occur in the legs.
How is CVI diagnosed?
To diagnose CVI, your doctor will perform a complete medical history and physical exam. During the physical exam, the doctor will carefully examine your legs.A test called a vascular or duplex ultrasound may be used to examine the blood circulation in your legs. During the vascular ultrasound, a transducer (small hand-held device) is placed on the skin over the vein to be examined. The transducer emits sound waves that bounce off the vein. These sound waves are recorded, and an image of the vessel is created and displayed on a monitor.
Reviewed: 12/15