Carotid Artery Disease (Carotid Artery Stenosis): Management and Treatment
How is carotid artery disease treated?
Carotid artery disease is treated by:
Making lifestyle changes
Taking prescribed medications
Having procedures as recommended
Lifestyle changes
To prevent carotid artery disease from progressing, these lifestyle changes are recommended by your doctor and the National Stroke Association:
Quit smoking and using tobacco products.
Control high blood pressure, cholesterol, diabetes, and heart disease.
Have regular checkups with your doctor.
Have your doctor check your lipid profile and get treatment, if necessary to reach a lipid goal of LDL less than 100 and HDL greater than 45 (your doctor may adjust these goals based on additional risk factors and/or medical history).
Eat foods low in saturated fats, cholesterol, and sodium.
Achieve and maintain a desirable weight.
Exercise regularly - at least 30 minutes of exercise most days of the week.
Limit the amount of alcohol you drink. Excessive alcohol use is defined as drinking more than three drinks per day. (One drink equals 12 ounces of beer or wine cooler, 5 ounces of wine, or 1.5 ounces of 80-proof liquor.)
Manage other risk factors:
Medications
Anti-platelet medications: All patients with carotid artery disease should take an anti-platelet medication to reduce the risk of stroke and other cardiovascular disease complications. The most commonly used anti-platelet medication is aspirin.
Other drugs that work to keep platelets from "sticking together" include clopidogrel (Plavix) and dipyridamole (Persantine), which may be prescribed alone or in combination with aspirin to reduce your risk of stroke. In some cases, the anticoagulant medication warfarin (Coumadin) may be prescribed to thin your blood and reduce the risk of blood clots.
Tissue plasminogen activator (t-PA): A clot-dissolving medication approved by the U.S. Food and Drug Administration (FDA) for the treatment of strokes caused by blood clots (ischemic strokes). Eighty percent of all strokes are ischemic. T-PA only works if it is given within three hours of the start of stroke symptoms.
Treatment procedures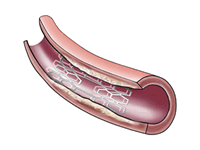 Carotid Stenting
If there is severe narrowing or blockage in the carotid artery, a procedure may be necessary to open the artery and increase blood flow to the brain, to prevent a future stroke.
If you have symptoms related to carotid artery narrowing, you will likely need to have either carotid endarterectomy or carotid stenting to correct the narrowing in the artery and reduce your risk of stroke. Your vascular specialist will evaluate you to recommend the best treatment for your situation.
If you have carotid narrowing without symptoms, your vascular specialist will evaluate your test results and risk status to make a recommendation as to whether medical therapy, carotid stenting or carotid endarterectomy would be the best option.
Carotid endarterectomy is the traditional surgical treatment for carotid artery disease. Carotid endarterectomy has been proven to be beneficial for symptomatic patients with a 50 percent or greater carotid stenosis (blockage) and for asymptomatic patients with a 60 percent or greater carotid stenosis.
Carotid endarterectomy can be performed under general anesthesia (the patient is asleep) or local anesthesia with intravenous sedation. During the procedure, an incision is made in the neck at the site of the carotid artery blockage. The surgeon removes the plaque from the artery and when the plaque removal is complete, the surgeon stitches the vessel closed. Blood flow to the brain is restored through its normal path.
Carotid angioplasty and stenting has been FDA-approved as a treatment option for some patients with carotid artery disease. Please talk to your doctor to determine if you are eligible.
The carotid angioplasty and stenting procedure is performed while the patient is awake, but sedated. During the procedure, a balloon catheter is inserted through a sheath in a blood vessel. With X-ray guidance, the catheter is placed through the blood vessel and directed to the carotid artery at the site of the blockage or narrowing. A specially designed guidewire with a filter is placed beyond the area of blockage or narrowing.
Once in place, the balloon tip is inflated for a few seconds to open or widen the artery. The filter (called the embolic protection device) collects any debris that may break off of the blockage. A stent (a small mesh tube) is placed in the artery and opens to fit the size of the artery. The stent stays in place permanently and acts as a scaffold to support the artery walls and keep the artery open. After several weeks, the artery heals around the stent.
Research has shown that carotid stenting, when used with the embolic protection device, was as safe and effective as carotid endarterectomy in high-risk surgical patients.Recovery from both the carotid endarterectomy and carotid angioplasty and stenting procedures generally requires a one-night hospital stay. Patients often return to regular activities within one to two weeks after these procedures.
Follow-up care
Your doctor will want to see you on a regular basis for a physical exam and possibly to perform diagnostic tests. Your doctor will use the information gained from these visits to monitor the progress of your treatment. Check with your doctor to find out when to schedule your next appointment.