Heart Attack (Myocardial Infarction): Management and Treatment
Special treatments to open up your arteries
Heart attack treatment begins immediately. Once symptoms are identified, call 9-1-1 to set in motion rapid diagnosis and treatment.
Medications
The knowledge gained in the past years regarding acute coronary syndromes and what happens in the artery during a heart attack has helped guide medical treatment. The goals of medication therapy are to break up or prevent blood clots, prevent platelets from gathering and sticking to the plaque, stabilize the plaque, and prevent further ischemia. These medications must be given as soon as possible (within 30 minutes from the start of heart attack symptoms) to decrease the amount of damage to the heart muscle. The longer the delay in starting these drugs, the more damage that occurs and the less benefit they can provide.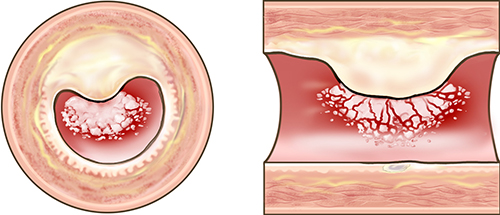 Thrombolytic medications are used to break up clots blocking the artery
Medications given right after the start of a heart attack may include:
Thrombolytic Therapy ("clot busters")
Other antiplatelet drugs
Any combination of the above
Other drugs, given during or after a heart attack lessen your heart's work, improve the functioning of the heart, widen or dilate your blood vessels, decrease your pain, and guard against any life-threatening heart rhythms. Your doctor will prescribe the appropriate medications for you.
Door to Balloon Time
The ACC/AHA practice guidelines suggest a 90-minute goal from the patient's arrival in the Emergency Department to balloon inflation for percutaneous coronary intervention (PCI) procedures unless there is uncertainty about diagnosis or delays associated with informed choice. Since 2002, Cleveland Clinic has decreased door to balloon time, with 48 minutes reported in 2016.
Learn more about our outcomes.
Interventional Procedures
During or shortly after a heart attack, you may go to the cardiac catheterization laboratory to directly evaluate the status of your heart, arteries and the amount of heart damage. In some cases, procedures (such as angioplasty or stents) are used to open up your narrowed or blocked arteries. These procedures may be combined with thrombolytic therapy to open up the narrowed arteries, as well as to break up any clots that are blocking them.
Coronary artery bypass surgery
If necessary, bypass surgery may be performed to restore the heart muscle's supply of blood.