Atrial Fibrillation (Afib): Management and Treatment
How is atrial fibrillation treated?
The goals of treatment for atrial fibrillation include regaining a normal heart rhythm (sinus rhythm), controlling the heart rate, preventing blood clots and reducing the risk of stroke.
Many options are available to treat atrial fibrillation, including lifestyle changes, medications, catheter-based procedures and surgery. The type of treatment that is recommended for you is based on your heart rhythm and symptoms.
Medications
Initially, medications, are used to treat atrial fibrillation. Medications may include:
Rhythm control medications (antiarrhythmic drugs)
Antiarrhythmic medications help return the heart to its normal sinus rhythm or maintain normal sinus rhythm.
There are several types of rhythm control medications, including: procainamide (Pronestyl); disopyramide (Norpace); flecainide acetate (Tambocor); propafenone (Rythmol); sotalol (Betapace); dofetilide (Tikosyn) and amiodarone (Cordarone).
You may have to stay in the hospital when you first start taking these medications so your heart rhythm and response to the medication can be carefully monitored. These medications are effective 30 to 60 percent of the time, but may lose their effectiveness over time. Your doctor may need to prescribe several different antiarrhythmic medications to determine the right one for you.
Some rhythm control medications may actually cause more arrhythmias, so it is important to talk to your doctor about your symptoms and any changes in your condition.
Rate control medications
Rate control medications, such as digoxin (Lanoxin), beta-blockers [metoprolol (Toprol, Lopressor)], and calcium channel blockers such as verapamil (Calan) or diltiazem (Cardizem), are used to help slow the heart rate during atrial fibrillation. These medications do not control the heart rhythm, but do prevent the ventricles from beating too rapidly.
Anticoagulant medications
Anticoagulant or antiplatelet therapy medications, such as warfarin (Coumadin), warfarin alternatives, or aspirin reduce the risk of blood clots and stroke, but they do not eliminate the risk. Regular blood tests are required when taking Coumadin to evaluated the effectiveness. If you are taking warfarin alternatives, regular blood tests are not required. Talk to your doctor about the anticoagulant medication that is right for you.
Lifestyle Changes
In addition to taking medications, there are some changes you can make to improve your heart health.
If your irregular heart rhythm occurs more often with certain activities, avoid those activities and tell your doctor. Sometimes, your medications may need to be adjusted.
Quit smoking.
Limit your intake of alcohol. Moderation is the key. Ask your doctor for specific alcohol guidelines.
Limit the use of caffeine. Some people are sensitive to caffeine and may notice more symptoms when using caffeinated products (such as tea, coffee, energy drinks, colas and some over-the-counter medications).
Beware of stimulants used in cough and cold medications, as some of these medications contain ingredients that may increase the risk of irregular heart rhythms. Read medication labels and ask your doctor or pharmacist what type of cold medication is best for you.
Control high blood pressure.
If you are obese or overweight, achieve a desirable weight.
Control blood sugar levels.
Treat sleep apnea.
Procedures
When medications do not work to correct or control atrial fibrillation, or when medications are not tolerated, a procedure may be necessary to treat the abnormal heart rhythm, such as: electrical cardioversion, pulmonary vein antrum isolation procedure, ablation of the AV node followed by pacemaker placement, or surgical ablation (Maze procedure or minimally invasive surgical treatment).
Electrical Cardioversion: A cardioversion electrically "resets" the heart. Medications alone are not always effective in converting atrial fibrillation to a more normal rhythm. Sometimes cardioversion is used to restore a normal heart rhythm and allow the medication to successfully maintain the normal rhythm. Cardioversion frequently restores a normal rhythm, although its effect may not be permanent. After a short-acting anesthesia is given that puts the patient to sleep, an electrical shock is delivered through patches placed on the chest wall. This shock will synchronize the heartbeat and restore a normal rhythm.

Pulmonary Vein Ablation: Pulmonary vein ablation (also called pulmonary vein antrum isolation or PVAI) may be an option for people who cannot tolerate medications or when medications are not effective in treating atrial fibrillations.
Because atrial fibrillation usually begins in the pulmonary veins or at their attachment to the left atrium, energy is applied around the connections of the pulmonary veins to the left atrium during the pulmonary vein ablation procedure.
Ablation of the AV node: During this type of ablation, catheters are inserted through the veins (usually in the groin) and guided to the heart. Radiofrequency energy is delivered through the catheter to sever or injure the AV node. This prevents the electrical signals of the atrium from reaching the ventricle. This result is permanent, and therefore, the patient needs a permanent pacemaker to maintain an adequate heart rate. Although this procedure can reduce atrial fibrillation symptoms, it does not cure the condition. Because the patient will continue to have atrial fibrillation, an anticoagulant medication is prescribed to reduce the risk of stroke.
Important note: Due to better treatment alternatives, AV node ablation is rarely used to treat atrial fibrillation.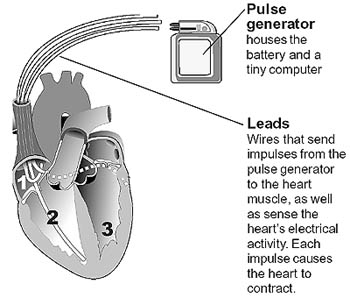 Device Therapy
Permanent Pacemaker: A pacemaker is a device that sends small electrical impulses to the heart muscle to maintain a suitable heart rate. Pacemakers are implanted in people with AF who have a slow heart rate. The pacemaker has a pulse generator (that houses the battery and a tiny computer) and leads (wires) that send impulses from the pulse generator to the heart muscle, as well as sense the heart's electrical activity.
Newer pacemakers have many sophisticated features, designed to help with the management of arrhythmias and to optimize heart rate-related function as much as possible.
The left atrial appendage (LAA) is a small, ear-shaped sac in the muscle wall of the left atrium (top left chamber of the heart). It is unclear what function, if any, the LAA performs. When a patient has atrial fibrillation, the electrical impulses that control the heartbeat do not travel in an orderly fashion through the heart. Instead, many impulses begin at the same time and spread through the atria. The fast and chaotic impulses do not give the atria time to contract and/or effectively squeeze blood into the ventricles. Because the LAA is a little pouch, blood collects there and can form clots in the LAA and atria. When blood clots are pumped out of the heart, they can cause a stroke. People with atrial fibrillation are 5 to 7 times more likely to have a stroke than the general population.
If you are at risk of developing clots in the left atrium/LAA, your doctor may recommend a procedure to seal off your LAA. This can reduce your risk of stroke and eliminate the need to take blood-thinning medication.There are several options and devices available for closure of the LAA, such as the WATCHMAN device. Your doctor will talk to you about the best options for your individual needs.
Surgical Treatment
Certain patients are candidates for surgical treatment of atrial fibrillation. These include patients with one or more of the following characteristics:
Atrial fibrillation that persists after optimal treatment with medications
Unsuccessful catheter ablation
Blood clots in the left atrium
History of stroke
Enlarged left atrium
Other conditions requiring heart surgery
Maze procedure: During this procedure, a series of precise incisions or lesions are made in the right and left atria to confine the electrical impulses to defined pathways to reach the AV node. These incisions prevent the abnormal impulses from affecting the atria and causing atrial fibrillation.
The surgical Maze procedure can be performed traditionally with a technique in which precise surgical scars are created in the atria. It may also be performed using newer technologies designed to create lines of conduction block with radiofrequency, microwave, laser, ultrasound or cryothermy (freezing). With these techniques, lesions and ultimately scar tissue is created to block the abnormal electrical impulses from being conducted through the heart and to promote the normal conduction of impulses through the proper pathway.
Many of these approaches can be performed with minimally invasive (endoscopic or "keyhole") surgical techniques.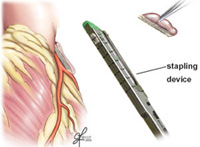 Excision of the Left Atrial Appendage
If a patient has atrial fibrillation and requires surgery to treat other heart problems (such as valve disease or coronary artery disease), the surgeon may perform the surgical treatment for atrial fibrillation at the same time.
Excision or exclusion of the left atrial appendage: During surgical procedures to treat atrial fibrillation, the left atrial appendage is removed and the tissue is closed with a special stapling device, or it can be excluded with a device called the AtriClip. The AtriClip is implanted from outside the heart and stops the blood flow between the LAA and left atrium.