Urinary Retention: Diagnosis and Tests
How is chronic urinary retention diagnosed?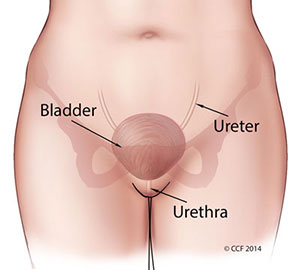 The doctor will ask about your signs and symptoms and how long you have had them. He or she will also ask about your medical history and your drug use. A physical exam of the lower abdomen (belly) may show the cause or give the doctor clues. After this, certain tests may be needed. Men may have a rectal exam to check the size of their prostate.
Your urine may be saved and checked to look for infection.
The amount of urine that stays in your bladder after going may be measured by doing an ultrasound test of the bladder.
Cystoscopy is a test in which a thin tube with a tiny camera on one end is put into the urethra. This lets the doctor look at pictures of the lining of your urethra and bladder. This test may show a stricture of the urethra or blockage caused by a stone or an enlarged prostate or a tumor. It can also be used to remove stones, if found. A computed tomography (CT) scan may also help find stones or anything else blocking the flow of urine.
Tests that use a catheter to record pressure within the bladder may be done to tell how well the bladder empties. The rate at which urine flows can also be measured by such tests.
A prostate-specific antigen (PSA) blood test may be done as a screen for prostate cancer. If the PSA level is raised, a transrectal ultrasound and maybe a biopsy of prostate tissue may also be done.
Your doctor may do certain tests if he or she thinks the retention is caused by a problem with the nerves. One test is electromyography (EMG). EMG uses sensors to measure electrical activity of muscles and nerves in and near the bladder and the urethral sphincter.