Epilepsy Monitoring Units: Pediatric Epilepsy Monitoring Unit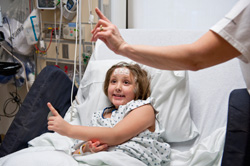 Located in Cleveland Clinic Children's, our self-contained, eight-bed Pediatric Epilepsy Monitoring Unit operates 24 hours a day, seven days a week, and features state-of-the-art, all digital video-EEG equipment. Staffed by nurses and EEG technicians specializing in pediatric epilepsy, the unit is overseen by our team of pediatric epileptologists.
We try to be especially understanding of our young patients' concerns and accommodate them in every possible way. Cleveland Clinic's Pediatric Monitoring Unit is designed especially to meet the needs of children with seizures. Child Life workers are available to help prepare children emotionally for their hospital stay, for all procedures, and if necessary, for surgery.
Learn more about the Pediatric Monitoring Unit:
Epilepsy Monitoring Unit Brochure