Epilepsy Monitoring Units: Adult Epilepsy Monitoring Unit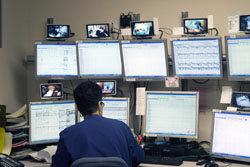 Our newly expanded 14-bed adult Monitoring Unit offers both EEG (electroencephalography) equipment to monitor brain activity and video cameras to record body movements during a seizure. This combined approach gives us a much greater understanding of seizures than would using either technique alone. The monitoring allows us not only to diagnose a seizure problem accurately, but also to design the best possible treatment plan.
Patients are monitored in the unit throughout the day and night. The length of time people spend in the unit varies but usually ranges from three to seven days. Although this leaves little private time, it is the most effective way to study seizures and record information that will help us treat our patients.
The admission process begins when your doctor decides that prolonged video-EEG monitoring would be useful in evaluating your seizures or epilepsy. Your name then will be placed on a waiting list for admission to the unit. As we anticipate discharges, we notify potential patients that space will be available. We try to give patients as much advance notice as possible.
Learn more about the Epilepsy Monitoring Unit:
Epilepsy Monitoring Unit Brochure