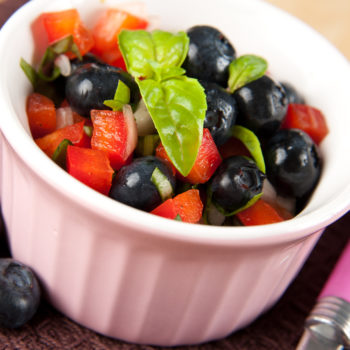 Recipe of the Month from Your Recipe for Wellness
Blueberry Jalapeno Salsa
Blueberries not only provide the perfect sweetness to this salsa but they are a source of disease fighting favonoids and anthocyanins, also this low calorie fruit is a great sourc of fiber, Vitamin C and Vitamin K. Blueberries have been touted as a supreme antioxidant carrier and been shown to be beneficial to your heart, brain, muscle and digestion. Use this salsa to top lean protein or in a salad or grain based dish.
You can feel good about your heart and your waistline too: this recipe is one of our Go! Foods® recipes. Click on the Go! Foods® tab above to learn more!
Recipe Listing
All of the recipes on this page are in PDF format and open in a new window for your convenience and easy printing! Just click on the + sign to view the recipe listing.
(V) - Recipes with (V) denote a vegan option.
Bon appétit!
Appetizers
Having a party? These heart-healthy appetizers are tasty options for entertaining or just snacking!
Roasted Red Pepper Dip and Vegetables
Go! Foods® Recipes - Appetizers
Breakfast
Breakfast is an important part of a heart-healthy diet. Start your day with a high-fiber and/or high-protein breakfast to give you energy, keep you satisfied and decrease your risk of heart disease.
Go! Foods® Recipes - Breakfast
Salads
These healthy and satisfying salads are good for your heart, include nutrient-rich vegetables and fruits, and are part of the Mediterranean diet.
Go! Foods® Recipes - Salads
Soups
Soup is a comfort food, and these heart-healthy recipes will warm you and your family through the winter cold. They are easy to make and great to eat all year round. Soup is also a great choice to prepare for future meals. Make extra and freeze it!
Go! Foods® Recipes - Soups
Side Dishes
These heart-healthy recipes include new twists on traditional recipes and some flavorful, creative side dishes. .Explore new ways to compliment your main course.
Go! Foods® Recipes - Side Dishes
Main Courses
Main course recipes are divided into beef, poultry, pork and vegetarian to give you many options. These delicious dishes are heart-healthy and sure to please your family
Beef
Go! Foods® Recipes - Beef
---
Chicken
Go! Foods® Recipes - Chicken
---
Fish
Go! Foods® Recipes - Fish
---
Pork
Go! Foods® Recipes - Pork
---
Turkey
Go! Foods® Recipes - Turkey
---
Vegetarian
Go! Foods® Recipes - Vegetarian
---
Sauces
Desserts
You don't have to "cheat" to be satisfied. These heart-healthy recipes will satisfy your sweet tooth without all the sugar and fat in many traditional desserts.
Go! Foods® Recipes - Desserts
Drinks
Looking for a refreshing drink for a snack or breakfast? – Whip up one of these heart-healthy smoothies!
Go! Foods® Recipes - Drinks
Sauces and Dressing
Our heart-healthy sauce and dressing recipes will add some great flavor to your dishes!
Go! Foods® Recipes - Dressing
---
Go! Foods® Recipes - Sauces
Reviewed: 06/17