Are soy foods part of a heart healthy diet?
What are soy foods?
Soy foods are made from soybeans. The soybean is a legume, named so because it grows in pods containing seeds (or "beans" as we call them).
Soybeans are an excellent source of high quality protein, which most other legumes lack, making the soybean and its food products a superior protein source for people following a strict vegetarian diet.
This kind of protein is next only to the protein we get from animal foods, many of which contain high levels of saturated fat and dietary cholesterol.
Position of the American Heart Association
Earlier this year, the American Heart Association revised its position on the role of soy protein and isoflavones on cardiovascular health. In contrast to the organization's 2000 report that encouraged adding soy protein to a diet low in saturated fat and cholesterol, the 2006 report highlights newer research findings that indicate neither soy protein nor soy isoflavones have strong cholesterol lowering abilities.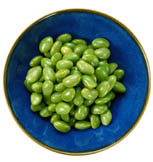 The report analyzed studies that compared the cholesterol-lowering effects of soy protein to milk protein, wheat protein and other animal proteins. The average LDL or "bad" cholesterol-lowering benefit of soy was found to be approximately 3 percent, which was much lower than expected (previous research indicated an 8 percent reduction). Although soy protein appears to have a small impact on LDL cholesterol (a primary risk factor for the development of cardiovascular disease), it still has a number of cardiovascular health benefits. The American Heart Association advocates that eating foods containing soy protein to replace foods high in animal fats may prove beneficial to heart health.
Reviewed: 12/13
Eating soy is a great way to increase your plant protein. Research indicates that including more plant protein in your diet, as opposed to more carbohydrate, has clear cardiovascular benefits, such as lowering blood pressure.
Soy foods are naturally cholesterol-free and low in saturated fat. Animal protein foods high in saturated fat and cholesterol increase your risk of developing cardiovascular disease.
Substituting them with soy a few times each week can help cut saturated fats and reduce your overall risk for disease. See our table of savory soy protein substitutions.
Eating soy-based foods is a great way to boost your fiber intake. Fiber promotes a healthy gastrointestinal system, reduces cholesterol, and is associated with a reduced risk of developing cardiovascular disease. Including fiber-rich soy foods like edamame (green soybeans), black soybeans, soy nuts, soy flour and tempeh in your diet can help you boost your daily dietary fiber.
Soy foods are a good source of polyunsaturated fat. Polyunsaturated fats have a number of heart health benefits, such as lowering cholesterol. Choosing minimally processed soy foods will help you benefit from these heart-friendly fats.
Soy foods contain omega-3 fats, essential polyunsaturated fats. Omega-3 fats are linked to a lower risk of cardiovascular disease.
Soy foods are a great source of vitamins and minerals. B-vitamins, iron, zinc and an array of antioxidants round out the nutritional qualities of soy. In addition, many soy foods are enriched with vitamin B 12 , calcium, and vitamin D to help vegetarians get these much needed nutrients.
Soy foods are a good source of phytochemicals. The phytochemicals in soy are called isoflavones. Isoflavones are currently being studied for their role in preventing postmenopausal bone loss and certain cancers. You can also contact the American Cancer Society for more information at www.cancer.org.
Special note about supplements:
Supplementing your diet with soy isoflavone supplements shows no health benefit and should be avoided. Only whole soy foods are recommended at this time.
Reviewed: 12/13
Although adding soy to your diet may not have a large impact on your cholesterol levels, when combined with other healthy lifestyle strategies, the total impact can be profound. Here is a list of other cholesterol-lowering strategies and the combined potential influence this can have on your risk of cardiovascular disease.
Dietary Change: Reducing saturated fat to less than 7% of calories
Approximate LDL Reduction: 8 - 10%
Dietary Change: Reducing dietary cholesterol to less than 200 mg/day
Approximate LDL Reduction: 3 - 5%
Dietary Change: Losing weight (such as 10 pounds)
Approximate LDL Reduction: 5 - 8%
Dietary Change: Increasing soluble fiber (10 or more grams per day)
Approximate LDL Reduction: 3 - 5%
Dietary Change: Increasing plant sterols (such as Benecol or Take Control spreads, 2 grams/day)
Approximate LDL Reduction: 6 - 15%
Dietary Change: Substituting soy protein for animal protein
Approximate LDL Reduction: 3%
Dietary Change: Reducing saturated fat to less than 7% of calories
Approximate LDL Reduction: 8 - 10%
Potential LDL-lowering estimate: Greater than 20 - 30%
Reviewed: 12/13
Savory Soy Protein Substitutions
Here are a just a few tips on how you can reap the nutritional benefits of soy protein. Bon Appetit!
Instead of a Hamburger or turkey burger
Choose a Soy burger
Instead of Chicken with skin
Choose Marinated baked firm tofu
Instead of a Hot dog
Choose a Soy dog
Instead of High-fat cheese
Choose Soy cheese
Instead of Ground beef crumbles
Choose Textured soy protein
Instead of Butter on toast
Choose Soy nut butter on toast
Instead of Salted, oil roasted nuts
Choose Unsalted, dry roasted soy nuts
Instead of Chili made with black beans
Choose Chili made with black soy beans
Instead of Smoothie made with milk
Choose a Smoothie made with silken tofu or soymilk
Instead of Yogurt
Choose Soy yogurt
Instead of Cow's milk
Choose Soy milk - unsweetened, plain, vanilla or chocolate flavors available
Instead of High-fat appetizers like chicken wings
Choose Steamed and seasoned edamame or miso (fermented soy) soup
Instead of Ice cream
Choose Soy frozen dessert
Reviewed: 12/13
Sample diet
The following sample diet shows you just how easy it is to incorporate more soy into your diet. Give soy a try and enjoy not only its taste, but also the many health benefits that you will receive!
Breakfast:
1 cup cooked oatmeal
8 ounces calcium-fortified plain soy milk (8g soy protein)
1 cup strawberries
Decaffeinated coffee
Snack:
1 medium apple with 1 tablespoon soy nut butter (4g soy protein)
Water
Lunch:
1 soybean burger (10g soy protein) with spinach leaves, tomato and mustard on multigrain bun
1 cup raw vegetables
8 ounces nonfat yogurt
Snack:
¼ cup dry roasted soy beans "soy nuts" (12g soy protein) mixed with 2 tablespoons dried cranberries
Dinner:
3 ounces grilled salmon
1 medium baked potato (with skin)
2 tsp trans-fat-free tub margarine
2 cups cooked carrots, broccoli and cauliflower medley
Nutritional Analysis:
Total calories: 1,650
Total fat: 50g (27% of calories)
Saturated fat: 7g (4% of total calories)
Cholesterol: 70mg
Total soy protein: 34g (remember minimum needed is 25 grams daily)
Dietary fiber: 40g
Some additional soy tips:
Toss firm or extra firm tofu into your favorite stir-fry
Try soy yogurt or soy puddings for a healthy snack
Mix together ice cubes, soy milk and fresh fruit for a tasty smoothie treat
Make a healthy trail mix with roasted soybeans (soy "nuts") and dried fruit
Spread some soy nut butter on whole grain toast instead of peanut butter
Use textured vegetable protein instead of ground beef in recipes like chili or spaghetti sauce
Replace silken tofu for ricotta cheese in stuffed shells or lasagna
Substitute soy-based sausage for high-fat pork or beef sausage at breakfast
Enjoy edamame (green soy beans in the pods) as a refreshing appetizer
Reviewed: 12/13
For more information on soy, visit:
For more information about a heart-healthy diet plan, please contact the Nutrition Program in the Section of Preventive Cardiology and Rehabilitation at 216.444.9353 to schedule a nutrition consultation. Or for an online cardiac nutrition consultation. Or, contact the Department of Nutrition Therapy at 216.444.3046 at the Cleveland main campus or 216.444.3082 at one of the community family health centers. Nutrition Hotline: 216.445.2710.
__A new browser window will open with this link.
The inclusion of links to other websites does not imply any endorsement of the material on those websites nor any association with their operators.*
Reviewed: 12/13
Cleveland Clinic is a non-profit academic medical center. Advertising on our site helps support our mission. We do not endorse non-Cleveland Clinic products or services. Policy