Heart Healthy Recipe Corner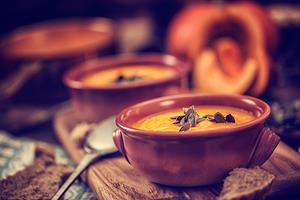 Recipe of the Month from Your Recipe for Wellness
Red Lentil Pumpkin Soup
This is one of my favorite fall soups, it offers a bit of sweet and spice. Pumpkins provide a great source of Vitamin A, flavonoids and antioxidants – lutein, xanthin and carotenes. Not to mention pumpkin is low in calories and high in fiber providing only 50 calories per cup with 3 grams of fiber and 2 grams of protein. The red lentils pack a punch as well, providing a great source of plant protein, fiber and folate. The spices in this recipe, specifically garlic, pepper, cilantro, cumin, and cinnamon have been shown to provide antioxidants and nutrients that may help combat inflammation and aging, improve memory and digestion amongst many other benefits.
You can feel good about your heart and your waistline too: this recipe is one of our Go! Foods® recipes. Click on the Go! Foods® tab above to learn more!
Recipe Listing
All of the recipes on this page are in PDF format and open in a new window for your convenience and easy printing! Just click on the + sign to view the recipe listing.
(V) - Recipes with (V) denote a vegan option.
Bon appétit!
Appetizers
Having a party? These heart-healthy appetizers are tasty options for entertaining or just snacking!
Roasted Red Pepper Dip and Vegetables
Go! Foods® Recipes - Appetizers
Breakfast
Breakfast is an important part of a heart-healthy diet. Start your day with a high-fiber and/or high-protein breakfast to give you energy, keep you satisfied and decrease your risk of heart disease.
Go! Foods® Recipes - Breakfast
Salads
These healthy and satisfying salads are good for your heart, include nutrient-rich vegetables and fruits, and are part of the Mediterranean diet.
Go! Foods® Recipes - Salads
Soups
Soup is a comfort food, and these heart-healthy recipes will warm you and your family through the winter cold. They are easy to make and great to eat all year round. Soup is also a great choice to prepare for future meals. Make extra and freeze it!
Go! Foods® Recipes - Soups
Side Dishes
These heart-healthy recipes include new twists on traditional recipes and some flavorful, creative side dishes. .Explore new ways to compliment your main course.
Go! Foods® Recipes - Side Dishes
Main Courses
Main course recipes are divided into beef, poultry, pork and vegetarian to give you many options. These delicious dishes are heart-healthy and sure to please your family
Beef
Go! Foods® Recipes - Beef
---
Chicken
Go! Foods® Recipes - Chicken
---
Fish
Go! Foods® Recipes - Fish
---
Pork
Go! Foods® Recipes - Pork
---
Turkey
Go! Foods® Recipes - Turkey
---
Vegetarian
Go! Foods® Recipes - Vegetarian
---
Sauces
Desserts
You don't have to "cheat" to be satisfied. These heart-healthy recipes will satisfy your sweet tooth without all the sugar and fat in many traditional desserts.
Go! Foods® Recipes - Desserts
Drinks
Looking for a refreshing drink for a snack or breakfast? – Whip up one of these heart-healthy smoothies!
Go! Foods® Recipes - Drinks
Sauces and Dressing
Our heart-healthy sauce and dressing recipes will add some great flavor to your dishes!
Go! Foods® Recipes - Dressing
---
Go! Foods® Recipes - Sauces
Reviewed: 08/17