New Center to Tackle Alzheimer's Research, Treatment
New Center to Tackle Alzheimer's Research, Treatment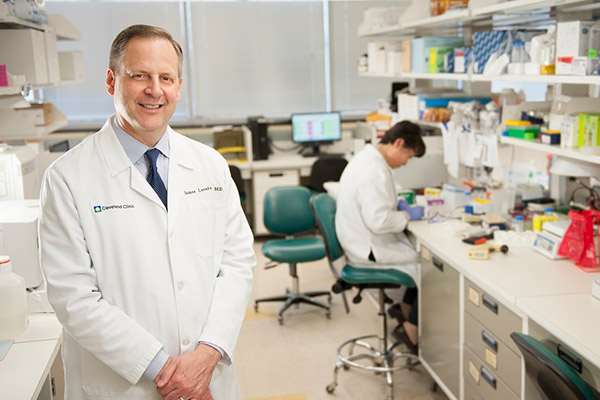 "Old age ain't no place for sissies," the actress Bette Davis famously once said.
She may have had a point, though, because along with old age comes a greater risk for serious health problems, including Alzheimer's disease and other related neurological disorders that have limited treatments and no cure. Today, more than 5.8 million Americans are living with Alzheimer's disease – and that number is expected to nearly triple by 2050.
Center Will Bring Together Area's Top Researchers
The National Institute on Aging, part of the National Institutes of Health (NIH), recently awarded a $4.23 million grant to establish the Cleveland Alzheimer's Disease Research Center, one of just 31 in the U.S. and the first in Ohio. The two-year award will support the development of a regional collaborative focused on accelerating research for Alzheimer's disease and related dementias.

The new multi-institutional center brings together top researchers and clinicians from Case Western Reserve University, Cleveland Clinic, Louis Stokes Cleveland VA Medical Center, the MetroHealth System and University Hospitals. The center is led by James Leverenz, MD, Director of Cleveland Clinic's Lou Ruvo Center for Brain Health in Cleveland.
"If you're going to do research in Alzheimer's and dementia, you can't do it in a single lab or clinic," says Dr. Leverenz, who came to Cleveland Clinic nearly six years ago partly because of the region's institutional strength in neurological disorders. "You need infrastructure. The goal is to have the new center provide the infrastructure to accelerate research and provide the platform for all of the regional experts to work together. You can do little things but without a strong foundation it's very difficult."
No Shortage of Ideas
With Alzheimer's diagnoses expected to surge as the population ages, Dr. Leverenz says much of the center's work will focus on identifying biomarkers, measurable and quantifiable indicators of disease for different types of aging-associated memory loss, to study underserved and unique populations.
"Everyone is now recognizing that Alzheimer's can look different at the start and can be hard to detect," he says. "I think part of the reason we've not been successful with new therapies is that we're not adequately identifying which patient has what disease. We used to see changes in thinking and call it Alzheimer's disease. We're starting to realize that it's a lot more complicated than that."
He predicts the use of biomarkers and genetic testing will impact the way neurological disorders are treated, the same way it has in other diseases. "In cancer we look at where a disease is located. Has it spread anywhere? We look at it under the microscope. We look at the genetics. All of that contributes to why a person might respond to a particular therapy. I think that's where we're going to be with cognitive impairment in older individuals. We expect to find why some people respond to certain therapies and not to others."
However, "Recruitment is always a big issue – finding people to participate in our research," he says. "It's sometimes difficult to find the right individuals to participate."
Dr. Leverenz says the group is taking a look at the inflammatory system, which is now proven to impact cardiovascular disease. "We're very interested in how the immune system plays a role in Alzheimer's," he says. "Prion disease – which includes mad cow disease and Creutzfeldt-Jakob disease – they've been pretty successful diagnosing that with a spinal fluid biomarker that can detect the aggregated protein. We're hoping to see if this new technology can help us detect abnormally aggregated proteins in Lewy body dementia and Parkinson's disease. Our researchers are starting to look for some of those changes in Alzheimer's disease as well."
The center will also investigate how to identify people in the early stages of brain changes in Alzheimer's disease. "We're hoping to detect changes earlier with screening using both regularly administered short memory testing and biomarkers we might develop from a simple blood test. We suspect that there will be an advantage to identifying individuals at high risk for Alzheimer's disease or other memory disorders at the first sign of a problem," Dr. Leverenz says, noting that the sheer economics of Alzheimer's disease will be staggering in the coming decades.
The Ability to Take Chances
Philanthropy is critical to accelerate research and often provides the initial jump start needed to move the research from the idea stage, Dr. Leverenz stresses. "The grants are never quite enough to do everything or to explore new ideas," he says. "Philanthropic support means that I don't have to wait for my next grant proposal to be reviewed, which often is a six-to-12 month process. I can start right away. It allows us to take a few more chances in our research – we can explore novel topics and new ideas."
Diseases like diabetes and HIV used to be a death sentence but today are often manageable, Dr. Leverenz notes. "I think dementia's going to be the same," he muses. "If we can slow things down and if we can improve preventative therapies it would have a remarkable impact.
"It's also worth noting that the day we invent a therapy that impacts the disease itself, that's the day we'll know exactly what's going on in a person with memory loss," Dr. Leverenz says. "We want to be ready for that day and the research we are doing now will provide that foundation."
How You Can Help
You can help make a difference: 100% of your donation to Cleveland Clinic's Neurological Institute will be put to work helping to fund research into treatments and cures for neurological disorders like Alzheimer's disease.
Researcher Helping MS Patients With Mobility
Researcher Helping MS Patients With Mobility
The Ekso GT exoskeleton is worn around the pelvis and legs, hinging at the hips, knees and ankles. With a metal frame and adjustable Velcro straps, the 50-pound robotic device was designed for patients with limited mobility, as it facilitates movements such as walking, sitting and standing.
The Food and Drug Administration has approved the Ekso GT exoskeleton for use by patients recovering from strokes or for those with spinal cord injuries.
Francois Bethoux, MD, Director of Rehabilitation Services at Cleveland Clinic's Mellen Center for Multiple Sclerosis, now wants to confirm whether this device is effective for multiple sclerosis patients, 75% of whom have difficulties walking and completing common daily activities.
"To our knowledge, there has only been one small study to date in the United States that has assessed the use of these devices in MS rehabilitation," Dr. Bethoux says. "We plan to build on that experience in our investigation, with the aim of gauging the feasibility and safety of this technology for gait training in individuals with relapsing or progressive MS who experience severe mobility limitations."
He received partial funding for this research from Joel and Jodi Adelman, Cleveland Clinic supporters who helped purchase the exoskeleton with a $60,000 gift last December. In addition to the Adelmans' support, Dr. Bethoux's study was funded by the Caregiver Catalyst Grants program, created by the Philanthropy Institute in late 2018 as a way to reward the innovation and initiative of Cleveland Clinic's caregivers.
Dr. Bethoux was one of 29 physicians, nurses and other caregivers selected out of 153 applicants to the program. "This project allows MS patients treated at Cleveland Clinic to get access to a unique technology, which is not currently available at other centers, and to the collection of research data, which will contribute to the field of MS rehabilitation."
Five patients have participated in the study so far, though their progress has yet to be reviewed. "This is the first step in a line of research," Dr. Bethoux says. "Now caregivers can see which patients are best fit to receive treatment."
How You Can Help
Please make a gift: You can help put the revolutionary ideas like Dr. Bethoux's into action by supporting Catalyst Caregiver Grants. 100% of gifts are pooled and directed to fund ideas that will make a positive impact within one year.
Building on a Decade of Accomplishment in Las Vegas
Building on a Decade of Accomplishment in Las Vegas
In just 10 years, Cleveland Clinic Lou Ruvo Center for Brain Health in Las Vegas, has earned a global reputation for neurodegenerative disease care, research and education.
Much has changed since the Lou Ruvo Center for Brain Health opened in 2009. A decade ago, for example, only researchers could scan individuals to observe brain changes; now, MRI and PET/CT are approved for clinical use, and the Lou Ruvo Center for Brain Health deploys these technologies daily to offer greater clarity of diagnosis.
The center also conducts prevention trials for people at risk for brain disease; offers risk-reduction programs such as HealthyBrains.org, where visitors from around the world sign up to receive free online brain health self-assessments; and has provided more than 41,000 visits to no-cost education and support programs for family caregivers.
In October, Tom Mihaljevic, MD, CEO and President of Cleveland Clinic, traveled to Las Vegas to help celebrate the 10th anniversary of the Lou Ruvo Center for Brain Health. Among the activities, Dr. Mihaljevic had a candid conversation with several family caregivers and learned firsthand how the center fills a need for their families and for the community. Later, in his remarks to a gathering of supporters, he quoted one of the caregivers who said that music therapy stimulated his wife's memory and "gave him his wife back, if only for 15 minutes."
Dr. Mihaljevic also shared the families' hopes that additional funding would expand patient and family support services.
Philanthropy always has played an important role in supporting the work of the Lou Ruvo Center for Brain Health. Nevada businessman Larry Ruvo founded the Lou Ruvo Center for Brain Health in honor of his late father who had Alzheimer's disease, and also founded Keep Memory Alive, an organization that supports the center in its treatment of Alzheimer's, Lewy body and frontotemporal dementias, movement disorders such as Huntington's, Parkinson's and multiple system atrophy, and multiple sclerosis.
"A decade of Cleveland Clinic Lou Ruvo Center for Brain Health was made possible through generous donors who believed in our mission," Larry Ruvo said, "and now we are calling on them again to help us set our sights on long-term sustainability."
Noting the tremendous progress that has been made, Marwan N. Sabbagh, MD, Director, Cleveland Clinic Lou Ruvo Center for Brain Health, asked supporters to imagine what can be done in the next 10 years. "These possibilities are accelerated by your philanthropy and by the infrastructure provided by Cleveland Clinic."
Added Dr. Mihaljevic: "I'm calling on your legendary generosity. Help us put an end to Alzheimer's, Parkinson's and dementia forever. We can make it happen. Right here, in Las Vegas."
How You Can Help
Keep Memory Alive's 24th annual Power of Love® gala will take place March 7, 2020. This extraordinary event, honoring legendary singer, songwriter and musician Neil Diamond, celebrates life and raises funds for Cleveland Clinic Lou Ruvo Center for Brain Health's programs and services. Make plans to join the party!