Grandson's Cleveland Clinic Florida Experience Creates a Circle of Gratitude
Grandson's Cleveland Clinic Florida Experience Creates a Circle of Gratitude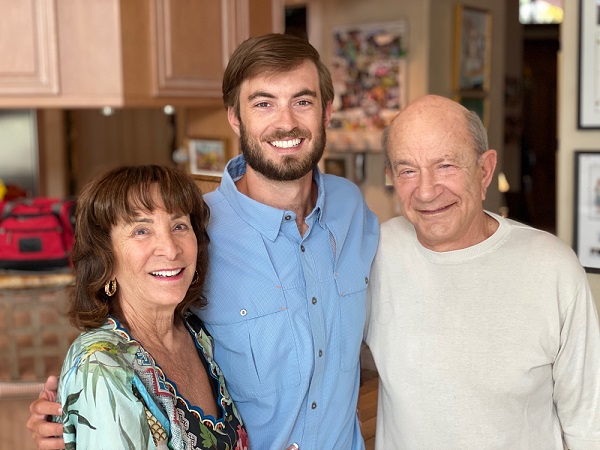 "Genuine" is the way 22-year-old Drake Menten describes the Cleveland Clinic Florida caregiver who demonstrated sincere compassion when he checked in for his first-ever hospital procedure.
Having never had a medical procedure, let alone being put under anesthesia, Drake was in the waiting room on the day of his procedure pacing from one foot to the other. He was there alone, due to COVID-19 visitor restrictions, with no one from his family to distract him with conversation, when Kelli Clinton, a front desk caregiver, took notice of him.
Wanting to offer support to the young man, Kelli's motherly instincts took over, and she approached Drake and said, "If you get nervous, you tell them to come get me and I will be there for you." Kelli even went the extra mile to call his mother for permission to assist him in the room if necessary, and to let her know he would be in good hands.
Drake didn't end up calling Kelli that day, but he was amazed by her sweet gesture and concern for him. He believes she went above and beyond her job to help him feel comfortable.
"She even offered to hold my hand," recalls Drake. "It was an out of left field experience. Everyone there was so nice and doing their job perfectly, but Kelli really stood out. Since my mother couldn't be there with me, I really appreciated her concern for me; it was so heartfelt. She made my experience unique."
Drake's grandparents, Debbie and Peter Menten, are longtime supporters of Cleveland Clinic Florida and were thrilled to learn that he had the kind of extraordinary experience that motivates them to continue giving back to the organization.
"Drake called me when he returned home from his outpatient procedure," recalls Debbie. "He knows I'm involved philanthropically with Cleveland Clinic Florida, and he said, 'Grandma, I just wanted to tell you that everyone there was really nice, but there was one lady there who is special. She picked up on the fact that I might have been nervous, since I was pacing around the waiting room, and she made me feel like I wasn't alone.'"
Touched by Kelli's empathy toward her grandson, Debbie felt compelled to make a gift in her honor to Cleveland Clinic Florida. She also recognized Kelli with a Caregiver Hero award for her compassionate and outstanding care.
The Caregiver Hero program provides grateful patients with an opportunity to honor a caregiver who has made an impact on their patient experience. Caregiver Heroes are recognized with a lapel pin and hand-delivered written tribute.
"I have a 20-year-old son," says Kelli. "I thought about the fear he would feel if he was having this procedure alone without any support. I also wanted to assure his mother that he was receiving the best possible care for his first experience. My goal is to always provide exceptional care and the best experience for my patients so they know there really is someone who cares."
"It's especially wonderful to know that people care about people," says Debbie. "You never know when the little thing that you do, even by just being a kind person, can cause a ripple effect in someone's life. I wanted to make sure Kelli's supervisor was aware of her superior care, so I recognized her with a Caregiver Hero award."
Kelli's genuine act of compassion reminded Debbie and Peter of the exemplary caregivers who treated Debbie's sister at the Maroone Cancer Center, located within the Egil and Pauline Braathen Center in Weston. They decided that the Maroone Cancer Center would be the perfect recipient of their gift in Kelli's honor.
A few years ago, the Mentens were inspired to recognize 10 other caregivers with Caregiver Hero awards, making donations in their names in appreciation for the excellent level of care they have received at Cleveland Clinic Florida.
Honor a Caregiver
You can make a tribute or gift on behalf of a physician, nurse or any member of the Cleveland Clinic Florida team who has made a positive impact on your healthcare. For more information, please contact your philanthropy team at a Florida regional hospital:
Cleveland Clinic Weston Hospital Caregiver Hero program: 954.659.6238
Cleveland Clinic Martin Health Guardian Angel program: 772.223.5634
Cleveland Clinic Indian River Hospital Grateful Patient program: 772.226.4960
Grant Awarded to Recruit Minority Science Students
Grant Awarded to Recruit Minority Science Students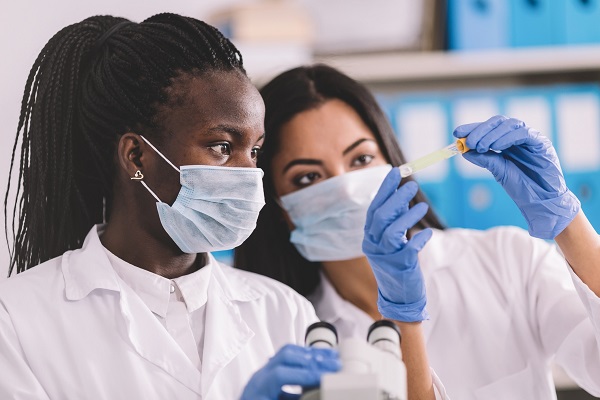 At a time when the national conversation is focused on closing racial equity gaps, two of Cleveland's anchor institutions have been awarded grant funding that will help them make significant progress toward this important goal.
Cleveland Clinic Lerner Research Institute (LRI) and Cleveland State University received a five-year, $1.2 million T32 training award from the National Institutes of Health to recruit underrepresented minority PhD students and underrepresented students in the science and technology workforce.
The award will support a collaborative initiative involving the joint graduate school programs of the two institutions. Specifically, the grant will fund the recruitment, education and laboratory training of five PhD students per year over the next five years, building a pipeline of minority scientists in the Cleveland area. Christine Moravec, PhD, of LRI, and Meredith Bond, PhD, of Cleveland State, are co-principal investigators on the grant.
Creating a Diverse Workforce
The grant comes amid the backdrop of a broad national call for diversity and inclusion and underscores the role universities and hospitals have in doing more to create equal access to opportunities and resources.
"At Cleveland Clinic, inclusion is one of our core values. A program like this serves as an example of how we can infuse much-needed diversity into our research community," says Tom Mihaljevic, MD, CEO and President of Cleveland Clinic. "By bringing together individuals with different experiences and perspectives, we can capitalize on the diversity of thought that can lead to innovative approaches to address complex scientific questions. Along with our academic partner, we can work towards building a more robust scientific workforce reflective of the community at large and address long-standing structural racism that leads to healthcare disparities."
According to the National Science Foundation, African Americans, Hispanics and Native Americans make up about 31% of the U.S. population but represent only 13% of those receiving doctorate degrees in science and engineering.
"Historically, there has been a lack of diversity in the scientific workforce, yet studies have shown that diversity increases creativity, promotes higher-quality problem-solving and enhances innovation," says Dr. Moravec, cardiovascular research scientist and Director of Research Education and Training at LRI. "This grant will enable our institutions to work together to broaden the diversity, backgrounds, experiences and perspectives of those entering STEM fields and the biomedical research workforce."
Dr. Bond, Dean of the College of Sciences and Health Professions at Cleveland State, agrees. "This program is unique because students will benefit from the diverse student culture at Cleveland State while training in labs at CSU and at the top U.S hospital in the nation for cardiovascular care," she says. "The successful outcome of this grant will be 15 to 20 PhD candidates from underrepresented backgrounds, sharing the resources of both CSU and Cleveland Clinic, and joining the ranks of STEM professionals."
Neighbor to Neighbor Campaign Tackles Healthcare Disparities
Neighbor to Neighbor Campaign Tackles Healthcare Disparities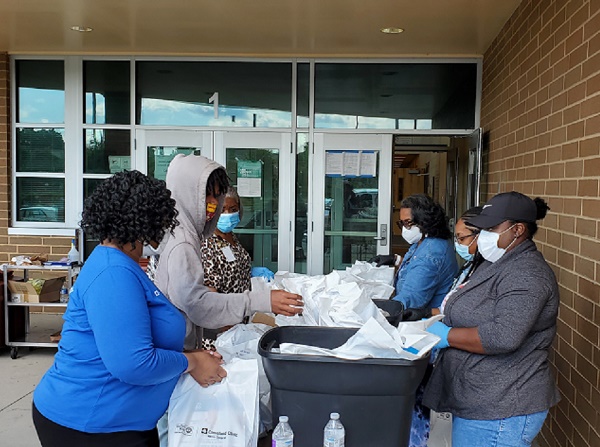 In Summit County, many residents, specifically those in the most vulnerable and lowest socio-economic segments of the population, live without basic healthcare because it is not readily – or easily – accessible.
The COVID-19 pandemic has laid bare the disparities in healthcare access and outcomes for communities of color. While Black Americans represent 15% of the population in Summit County, 24% of individuals infected with COVID-19 are Black American.
Cleveland Clinic Akron General caregivers witness the impact of healthcare disparities daily while serving patients at the hospital, community health centers, and at partner organizations such as Faithful Servants Care Center, ACCESS shelter and Haven of Rest.
"Great disparities in healthcare access exist here in our own backyard," says Brian Harte, MD, President of Akron General. "Many of our neighbors live without healthcare basics, like primary care and pregnancy wellness. Residents of Summit County and the City of Akron rank lower than Ohio and the U.S. on key health indicators and social determinants of health. We must increase our efforts to change this situation."
Shrinking the Access Gap
Akron General is taking steps to meet these challenges with its launch of a new fundraising effort called Neighbor to Neighbor, with the goal of making healthcare more accessible for underserved populations in Summit County.
The hospital's leadership teams and board developed a bold vision for shrinking the access gap in the community and addressing the medical complications of racial and socioeconomic disparities. The Neighbor to Neighbor priorities include new initiatives, expanded programs and a compassionate approach to reaching out to the community.
The focus of programming will work to address health inequalities identified in Akron and Summit County as urgent: infant mortality, chronic disease management and early treatment for cancer. The fundraising effort will create or expand:
A COVID-19 testing site, in partnership with United Way, at 676 South Broadway in downtown Akron, along with outreach to Black residents.
Community health programs such as the Minority Men's Health Fair and Centering Pregnancy.
Education of the next generation of family physicians with an emphasis on social determinants of health and retaining those physicians to serve in the heart of Akron.
Expanded support for patients, such as frequent follow-up calls from social workers and nurses, at Akron General's Center for Family Medicine.
Resources from Akron General and collaborations with community organizations will underpin these efforts over the next three years. The Akron Community Foundation quickly contributed to the campaign, making it possible to provide COVID-19 care kits with masks, hand sanitizer and educational materials at Akron Public Schools lunch distribution sites.
However, to fully realize the potential of this vision, philanthropic support is needed from Summit County residents who share the belief that access to healthcare is a necessity and creates thriving families and communities.
A Vital Role for Donors
As a nonprofit organization, Cleveland Clinic relies on philanthropy as a crucial link between current success and future medical breakthroughs. Operating income alone cannot support all needs at all facilities, and philanthropy fuels critical patient programs, capital priorities and research efforts.
Because 100% of contributions to Akron General stay local, there is an immediate local impact. Gifts to Akron General also influence patient care programs, discoveries and innovations beyond Summit County, changing outcomes for patients and communities at Cleveland Clinic locations around the world. Conversely, the programs, training and care supported by donors in other parts of Cleveland Clinic translate to care for Akron residents as well.
"Tackling healthcare disparities is a community priority, and we are most effective when we are collaborating and leveraging each other's strengths," says Theresa Carter, past board president of the Akron General Medical Center.
How You Can Help
Your compassionate support can help save lives in underserved communities in your own backyard. Give today and make an impact onhealthcare disparities in Summit County.
Video Producer is Back in Business
Video Producer is Back in Business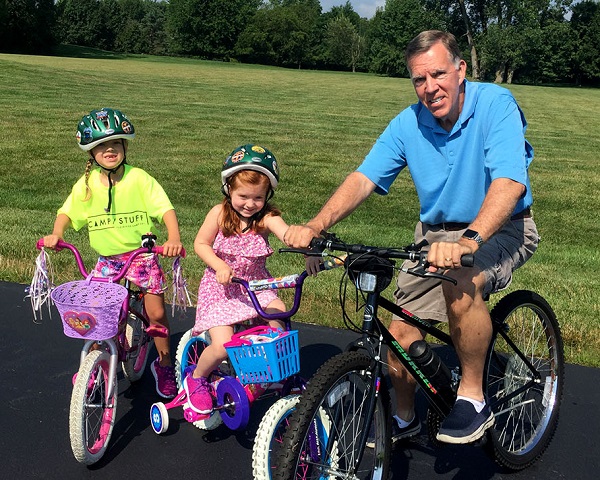 Every morning, as Steve Brandenburg was waking up, he'd try to convince his brain to continue sleeping. For a few precious seconds, his right hand would remain still. However, the human brain doesn't stay quiet for long.
As thoughts and images entered his mind, an uncontrollable twitching and movement would return. And another day of dealing with the severe, nonstop tremor in his right hand would begin.
"I'd wake up and say to myself, 'Don't think of anything.' Because as soon as my mind is working, the tremor starts immediately," says Steve, a 69-year-old grandfather of two who owns and operates a video production company in Westerville, Ohio. "The muscles are twitching all day and flexing. My arm is exhausted by the time I get to bed."
Diagnosed in 2018 with a movement disorder called essential tremor and, later, with the neurological disorder Parkinson's disease, Steve initially noticed the tremor in his right hand while brushing his teeth. Over time it worsened, making it difficult for the right-hander to hold anything in his dominant hand or control a computer mouse when editing a video.
"When the tremor started, it was very slight," Steve explains. "But by the time I was diagnosed with Parkinson's, it had become a real and constant nuisance. The tremors only stopped when I was asleep."
Medication or Deep Brain Stimulation?
Today, however, Steve is living an almost tremor-free life. In December 2019, he underwent deep brain stimulation (DBS) at Cleveland Clinic. A four-hour surgical procedure, DBS involves implanting electrodes in the brain that deliver electrical impulses to correct the abnormal brain cell activity that causes symptoms, such as Steve's right-hand tremor.
According to Benjamin Walter, MD, Steve's neurologist at Cleveland Clinic's Center for Neurological Restoration, medications to help control essential tremor and Parkinson's disease work in about 50% of patients. For the remainder, surgical therapies such as DBS become attractive options.
"Patient goals are really important to us," Dr. Walter says. "We focus on what they want and how their condition affects their ability to live a quality life. So, we always strive to make sure the therapies chosen align with their reasonable expectations."
Steve tried a number of medications with limited success. They also caused some unpleasant side effects. When his hometown neurologist told him he possibly could be a candidate for DBS, he applied for consideration at two hospitals specializing in it, including Cleveland Clinic.
Sean Nagel, MD, the Cleveland Clinic neurosurgeon who performed Steve's procedure, explains it this way: A directional lead carrying the electrodes is inserted into the subthalamic nucleus, a section of the brain where all major movement symptoms of Parkinson's disease – including tremor – are located. The lead is connected to a small, battery-powered pacemaker, called an implantable pulse generator, under the skin in the chest. It controls the electrical pulses that stimulate the affected area of the brain.
"For most of our patients, including Steve, we awaken them for part of the surgery so we can evaluate the effectiveness," Dr. Nagel says. "That gives us superior outcomes and keeps our [surgical] revision rate very low."
Steve recalls that when he was brought out of sedation in the operating room, he immediately noticed his tremor had stopped. Dr. Walter, who attended the surgery, asked Steve to perform various movements – such as tapping his fingers and sticking out his tongue – and to speak certain phrases while he controlled the amount and direction of the electrical current to ensure it was pinpointed in the correct portion of the brain.
"At one point, Dr. Walter asked me to name the months of the year, backwards, starting with December," Steve recalls. "By the time I got to June, my jaw was locked and I couldn't speak. I heard someone say, 'I think we've found the upper limit.' And the next thing I remember, I woke up in post-op. I was home the next day."
"You Gave My Life Back to Me"
After the surgery, Steve had five follow-up visits with Dr. Walter and his staff to further calibrate the placement and amount of the electrical current in his brain. For example, Steve noticed while he could easily hold a water glass in his right hand and move it side to side, he couldn't do the same movement holding a coffee mug without the tremor resuming.
He spent one of the follow-up sessions holding a coffee mug and moving it, while Dr. Walter found the right setting to stop the tremor. With that movement now under control, Steve rarely even thinks about Parkinson's disease because his one symptom – the right-hand tremor – is practically eliminated, no matter where or how he moves his hand and arm.
A remote control device allows him to choose among three settings to increase or decrease the amount of electrical current, depending on his situation or stress level. Steve is able to wirelessly recharge the battery in his implantable pulse generator by wearing a charging collar draped around his neck.
Steve is now back to work, shooting and editing video productions, tremor-free. He even produced a short video thanking Drs. Nagel and Walter and the entire Cleveland Clinic team.
"You gave my life back to me," Steve says in the video. "I'm forever grateful to you for what you have done. … I want to thank you from the bottom of my heart for making such a difference in my life."
How You Can Help: The Neurological Institute is a national leader in treating and researching the most complex neurological disorders. Your gift to the Neurological Institute's Chairman's Innovation Fund will help advance leading-edge endeavors in neurological care, including deep brain stimulation research.