Dogs Bring Joy to Patients at Cleveland Clinic Children's
Dogs Bring Joy to Patients at Cleveland Clinic Children's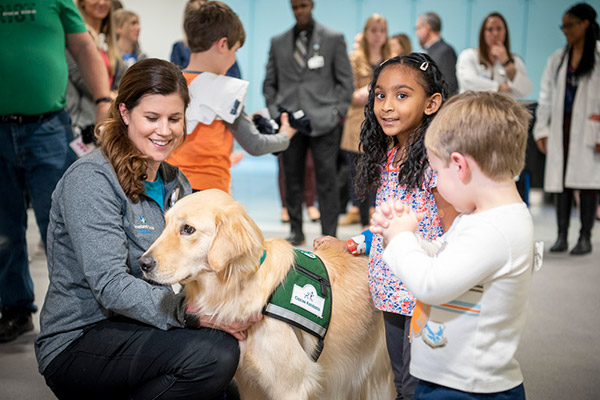 Spending time in the hospital is difficult for any child, even more so when a furry friend is left at home. For 5-year-old Ava, a patient at Cleveland Clinic Children's, the hardest part of treatment is being away from her two dogs, Toby and Benji. As a way to comfort her and other children missing their pets, Cleveland Clinic partnered with Dunkin' Donuts to hire Kid, a 2-year-old golden retriever and trained facility dog.
Founded in 2006, the Joy in Childhood Foundation is the philanthropic component of Dunkin' Donuts and Baskin-Robbins. Its mission is to give simple joys to kids battling hunger or illness. Since last December, when the Joy in Childhood Foundation launched the Dogs for Joy program, 11 children's hospitals have received service dogs across the U.S., thanks to the combined donations of generous Dunkin' customers. Cleveland Clinic Children's was the first hospital to be awarded funding from the program.
"Dogs impact every person in a hospital, not just pediatric patients," says April McGonnigal, Senior Manager of the Joy in Childhood Foundation. "People and dogs are like bees to honey."
Unlike most service pets, these facility dogs are considered full-time employees who work 9-5, Monday through Friday, and play a critical role in a child's treatment. A few of their key responsibilities include keeping children calm during medical procedures, encouraging them to get out of bed and teaching them how to take a pill.
Cleveland Clinic's friendly retriever is a comforting presence for Ava, who says she enjoys petting his soft fur. At their first meeting, she giggled when he licked her slippers.
Cleveland Clinic caregivers learned about the Dogs for Joy program before it officially launched and were eager to participate from the get-go. "Kid is the first dog we have in a Child Life program and will be a valued member of our team," says Karen Murray, MD, Chair of the Pediatric Institute. "He will allow children to receive treatment easily and comfortably."
During his off-hours, Kid stays with Molly Gross, a Child Life Specialist. "Kid and I have only been working in the hospital for about two weeks, but I have already seen firsthand how much joy he has provided to everyone he encounters," she says. "I have the best seat in the house, as I get to watch each and every smile that comes along his way."
The Dogs for Joy program embodies Cleveland Clinic's motto "Patients First," as Kid's sole purpose is to comfort and encourage children in treatment. In him, pediatric patients have a caregiver and a friend.
How You Can Help
Your gift to Cleveland Clinic Children's Child Life Services gives pediatric patients the comfort, joy and encouragement they need during treatment – and is deeply appreciated by their families and caregivers.
Could Exercise Become a Prescribed Treatment for Parkinson's?
Could Exercise Become a Prescribed Treatment for Parkinson's?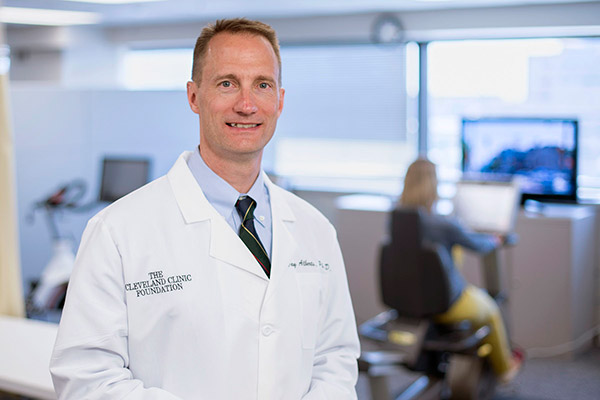 Following back surgery a few years ago, Jay Alberts, PhD, wasn't thrilled about not being able to cycle outside with his cycling group. The group was more than simply exercising, it was part of his community as they often stopped and socialized over a coffee or the occasional doughnut.
Dr. Alberts had to start cycling again slowly, at a low intensity on a stationary bike in his basement. He decided to try an online cycling community to help with motivation and rebuilding his fitness. To his surprise, he enjoyed meeting other virtual cyclists from around the world and they started to fill in the community gap he was experiencing. He then wondered if there was a way to replicate this community exercise feeling for Parkinson's disease patients.
You see, Dr. Alberts is Cleveland Clinic's Vice Chair of Innovation at the Neurological Institute and is known worldwide for his research related to exercise, cycling in particular, as a therapy for patients with Parkinson's disease.
Dr. Alberts, who holds the Edward F. and Barbara A. Bell Family Endowed Chair, recently was awarded a five-year, $3 million grant from the National Institutes of Health to conduct a multi-site clinical trial to study the long-term effects of aerobic exercise on slowing the progression of Parkinson's disease.
The grant is funding a partnership with fitness technology company Peloton® to provide a customized indoor cycling studio experience for patients in the clinical trial. The partnership will work, says Dr. Alberts, because, "with thousands of monthly subscribers, Peloton knows how to deliver content. And we know how to develop content. It is a perfect relationship that has the potential to help patients globally."
This means that patients across the country can participate in the study, not just those who live near Cleveland.
Improving Symptoms, Slowing Progression
An earlier trial found that eight weeks of consistent cycling improved motor function in Parkinson's disease patients, says Dr. Alberts. "Now the next question is, can we use exercise to slow the progression of the disease? If there's a way that we can slow it by a couple of points every year, that would have a major impact on the treatment, the quality of life for individuals and even the economics of treating the disease."
Dr. Alberts says this study will generate a tremendous amount of data that potentially can help doctors use a patient-specific "exercise prescription" to attain optimal outcomes for patients. In the trial, Cleveland Clinic and the University of Utah will recruit 250 patients with Parkinson's disease who will be randomized to a high-intensity home exercise program using Peloton cycles or usual and customary care (UCC) group. The exercise participants will be instructed to work out three times a week for 12 months, while the UCC group will be instructed to engage in their normal activities. The exercise and control groups will undergo identical motor and non-motor evaluation protocols at enrollment, 6 and 12 months.
By analyzing the data that is collected from the patient in the trial – heart rate, power, cadence, age, stage of disease, and more – doctors will understand the frequency and intensity of exercise needed to develop a specific exercise program for each patient.
With outcomes proven by the study, patients will be further empowered, says Dr. Alberts. "Currently, when a Parkinson's patient asks what they should do for exercise, the typical response is: do whatever you like," he says. "While we certainly want the patient to engage in exercise they enjoy, that's a little like recommending to someone who wants to do an Ironman Triathlon that they should just swim, bike and run. I hope the outcomes will provide physicians with a guide to prescribing patient-specific exercise protocols that are effective. If we get to that point, I am confident that Parkinson's patients will be compliant."
Expanding the Study
Dr. Alberts and his team also are trying to determine if prescribed exercise could benefit other health problems.
"If you have a stroke, you have to relearn how to do activities," he says. "If that relearning process is dependent upon having these elevated levels of neurotrophic factors – proteins in the brain – and if exercise can increase them, then it can prime the brain for remodeling or relearning."
He recently completed an assisted-exercise clinical trial of female patients with obesity. "Patients who are obese will start exercise programs but often will quit," he explains. "First of all, it's hard. But second, they don't have the 'runner's high' or the reward associated with it. If we can put them on a stationary exercise bike and assist them to not make it quite so hard, and if we can – based on other data—change the neurotrophic factors and give them a little bit of that joy or reward, then maybe over time they will stick with the program."
Integrating Technology into Healthcare
Dr. Alberts says there are three phases to the work he's doing with his team. First is the use of technology to gain a better understanding of the disease, by collecting data and creating measures that eventually will help with diagnosis, disease tracking and management.
The second phase is to use exercise as a treatment. "If we can develop a true exercise prescription for PD patients, that would be revolutionary," he says. "It would empower patients in new ways, which is exciting."
The third phase will use augmented reality and other, more sophisticated technology including telemedicine and the Microsoft HoloLens to help patients around the world access medical care.
"My mantra is, 'Technology in service of health,'" Dr. Alberts says. "We are developing technology that empowers patients and facilitates the work of medical providers – in the sense that we're not just creating technology for the sake of creating technology, but rather developing technology to address specific problems faced by patients or caregivers."
How You Can Help
Your support is vital to help Cleveland Clinic researchers discover new therapies and treatments for devastating neurological impairments like Parkinson's disease.
Granddaughter's Rare Condition Spurs Family Gift
Granddaughter's Rare Condition Spurs Family Gift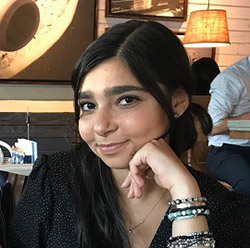 Sophie Herschman has spent most of her 22 years in hospitals, experiencing debilitating pain of an unknown cause. After being misdiagnosed several times when she was in high school, she was correctly diagnosed with Ehlers-Danlos syndrome a few years later, right before seeking treatment at Cleveland Clinic. This diagnosis marked the beginning of a long and demanding medical journey: "Taking care of Sophie was my full-time job," her mother, Kate Herschman, says. In spite of the challenges she's faced, Sophie has remained resilient, as she attends her college of choice and intends to pursue her career dreams.
EDS is a genetic condition that affects connective tissues in the body. Notable symptoms include hypermobile joints, unusually thin skin and excessive bruising. The disease is extremely rare, as one in 20,000 people has the most common type of EDS – and there are 13 different mutations. Sophie has hypermobile, or loose, joints as well as cardiovascular EDS, which causes frequent shortness of breath and lightheadedness.
Patients diagnosed with EDS frequently have chronic pain, but pain is only one of their many symptoms. Celebrities such as Sia, Lena Dunham and Jameela Jamil have the disease, along with thousands of other people, reminding Sophie that she isn't alone in her medical struggles.
"I thought my body and my life were falling apart," Sophie says. "I internalized people not believing my disease, and my Cleveland Clinic care team made me feel understood."
Kate says she's impressed by the quality of treatment her daughter received, and the manner of her medical staff. "When it comes to Sophie's doctors, we're very lucky," she says. "They're kind and patient with her, especially the orthopaedic caregivers."
Due to hypermobility, many patients have frequent surgeries, as their joints are fragile and prone to dislocation. Since being diagnosed with EDS, Sophie has undergone 14 orthopaedic surgeries. "EDS is real pain," Kate says. "Sophie knows what pain is."
Hoping to ease some of the pain and make a difference in the lives of Ehlers-Danlos patients and their families, Sophie's grandparents, Ken and Amy Rogat, made a generous gift to Cleveland Clinic's Orthopaedic & Rheumatologic Institute.
"If Sophie and people like Sophie can live a better life," Amy says, "that's more important than anything I can buy or own."
Together, Ken, Amy and Sophie's paternal grandparents, Jerry and Sheila Herschman, have pledged $165,000 in honor of Sophie to create a coordinated care program for EDS patients: "For our granddaughter, it's whatever it takes," Jerry says. "We hope (our gift) helps people in the future, even though it may not reverse anything for her."
Sophie hopes her story brings awareness to EDS, and that her family's generosity improves the lives of Ehlers-Danlos patients. "I'm really excited about these gifts," she says. "I'm blessed to have the care team I do, and I want to help other people find that."
How You Can Help
Your generosity furthers research and new treatments for diseases like Ehlers-Danos syndrome.