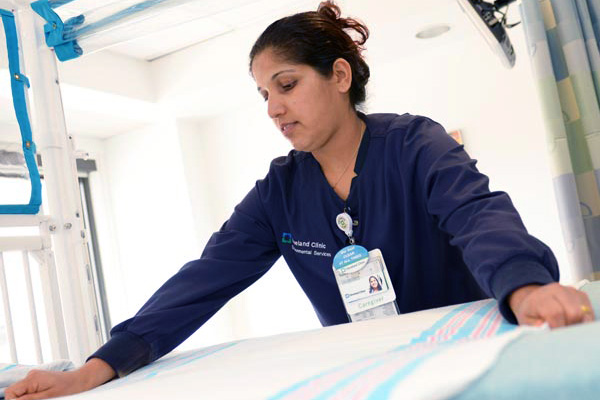 Keeping your facilities clean and safe directly impacts patient satisfaction scores, CMS reimbursement and bottom-line operating costs. Engage your employees to deliver high-quality environmental services. Let Cleveland Clinic Experience Partners show you the way.
For your environmental services to meet cleanliness and compliance standards, your operation needs a direction to follow and your staff needs to be empowered to make a difference. Cleveland Clinic Experience Partners offers experts who specialize in identifying and correcting gaps in service levels, productivity, employee engagement, patient safety and expenditures.
Helping Your Organization Become Efficient & Effective
Let us help you create programs and processes that:
Identify and focus on key performance drivers for HCAHPS.
Implement ES care paths including standardized procedures and process improvements.
Utilize tools and processes to improve patient experience, productivity and employee engagement.
Achieve operational savings by managing supply chain, reducing waste and optimizing labor.
Reduce HAI risks to ensure patient safety.
Sustain results through hardwiring processes and ongoing use of scorecards.