Summary
Summary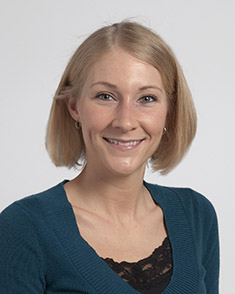 Erica R. Yates, MSN, RN, ACNS-BC, CRRN, is a board-certified adult clinical nurse specialist and certified rehabilitation registered nurse at Cleveland Clinic main campus. An expert resource for her colleagues, Yates serves as a clinical leader, incorporating evidence-based practice into the daily care of patients. Yates joined the Cleveland Clinic team in 2011, and shortly after, became a clinical nurse specialist. Previously, she served as a clinical nurse for four years at Cleveland's University Hospitals' Case Medical Center and as a student nursing technician within oncology at Summa Health Systems in Akron, Ohio.
Dedicated to ongoing professional development, Yates is a member of the National Association of Clinical Nurse Specialists, Academy of Medical Surgical Nursing, The National Society of Collegiate Scholars and the Golden Key International Honour Society. Additionally, she has presented regionally within hospital, academic and national industry conference settings. Yates is a 2007 recipient of the Kent State University College of Nursing's Judith Hollander Bess Award for Academic Excellence.
Education
MSN, Kent State University, Kent, Ohio, 2011
BSN, Kent State University, Kent, Ohio, 2007
Certifications
Board-Certified Adult Clinical Nurse Specialist (ACNS-BC), American Nurses Credentialing Center
Certified Rehabilitation Registered Nurse (CRRN), Association of Rehabilitation Nurses
Contact Information
Cleveland Clinic
9500 Euclid Avenue / M80
Cleveland, Ohio 44195
216.445.2207
yatese2@ccf.org
Leadership
Leadership
A clinical leader, Yates not only serves as an expert resource, she also actively educates other caregivers within her unit by assisting with staff skills development and presenting new information related to patient care. One of her primary leadership responsibilities is to assist in maintaining The Joint Commission and Centers for Medicare and Medicaid Services standards. Yates is also co-coordinator of the Geriatric Resource Nurse (GRN) program, in which she educates nurses throughout the health system on providing evidenced-based care to geriatric patients.
Clinical Practice & Teaching
Clinical Practice & Teaching
Clinical Practice
Yates is a clinical nurse specialist in acute rehabilitation and adult epilepsy, with additional expertise in medical-surgical nursing.
Teaching
On a daily basis, Yates serves as a mentor to her nursing colleagues, often encouraging others to also become nursing mentors and champions. In addition to clinical advice, she educates and assists the nurses on her unit on possible options for career growth and development. Additionally, she has served as a preceptor for graduate students and new registered nurse graduates.
Research & Publications
Research & Publications
Yates has presented on numerous topics surrounding her clinical expertise, including the role of the clinical nurse specialist in difficult patient situations, identifying and caring for patients with seizures, and coping skills for rehabilitation. Additionally, she is the principal investigator on a research study, entitled "From the Patient's Perspective: Experiences of Adult Patients on the Epilepsy Monitoring Unit." Yates will act as co-investigator in an upcoming study designed to examine how bedside nurses view themselves as leaders.
Professional Involvement
Professional Involvement
Member, National Association of Clinical Nurse Specialists
Member, Academy of Medical Surgical Nursing
Member, The National Society of Collegiate Scholars
Member, Golden Key International Honour Society
Honors & Awards
Honors & Awards
Nursing Research Fund Award, Cleveland Clinic, 2013
Employee of the Month, University Hospitals Case Medical Center, 2010
Judith Hollander Bess Award for Academic Excellence, College of Nursing, Kent State University, 2007