Summary
Summary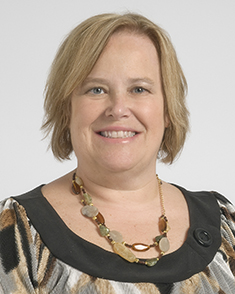 Cynthia J. Willis, DNP, MBA, RN, CMSRN, is senior director of nursing education for Cleveland Clinic's Office of Nursing Education and Professional Development. With expertise in curriculum design and development, adult learning theory and continuing education and competency, Willis serves as the coordinator and administrator for the health system's nursing education initiatives and activities. In her role, she is responsible for the growth, competency, development and clinical education of inpatient nursing staff, ensuring that nursing practice at Cleveland Clinic is evidenced-based and supported through professional practice standards. Additionally, she manages the new graduate nurse residency program for emergency nurses, which has resulted in increased retention of new graduates since its launch in 2014.
Willis has been a nurse for more than 35 years – the last 20 of which she has spent in nursing education. In addition to her current position, which she has held since 2002, Willis also serves as an adjunct faculty member for Ohio University's RN-to-BSN program. One of her many career accomplishments includes the development and creation of Cleveland Clinic's Vascular Access Resource Nurse (VARN) program, designed to empower bedside nurses by giving them the authority, knowledge and skills to facilitate best practice in vascular access. As a lifelong proponent of nursing education, Willis has encouraged 70 percent of her nursing team staff members to enroll in a master's degree program.
Education
D.N.P., Walden University, Minneapolis, Minnesota, 2015
M.S.N. and Health Care Education Certificate, Regis University, Denver, Colorado, 2007
M.B.A., Cleveland State University, Cleveland, Ohio, 1990
B.S.N., Bowling Green State University, Bowling Green, Ohio, 1986
R.N., Mansfield General School of Nursing, Mansfield, Ohio, 1979
Certifications
Certified Medical-Surgical Registered Nurse (CMSRN), Academy of Medical-Surgical Nurses
Advanced Cardiovascular Life Support (ACLS) Instructor, American Heart Association
Certified Basic Cardiac Life Support (BCLS), American Heart Association
Contact Information
Cleveland Clinic
9500 Euclid Avenue / HSB-111
Cleveland, Ohio 44195
216.444.4671
ciwill@ccf.org
Leadership
Leadership
Knowledgeable on healthcare change and evidence-based nursing practice, Willis's leadership style is one that actively supports ongoing learning, professional development, skill advancement and teamwork. Through her leadership, she has worked to develop enterprise educational efforts such as nurse-driven Foley removal protocols that resulted in a system-wide standardization in the specimen collection process. She plans and organizes medical-surgical and critical-care nursing seminars as well as nursing simulation events and often lectures on Cleveland Clinic's professional nursing practice model. Additionally, Willis was instrumental in helping both Cleveland Clinic Fairview and Hillcrest Hospitals achieve the American Nurse Credential Center's Magnet® status.
Clinical Practice & Teaching
Clinical Practice & Teaching
Clinical Practice
Willis is a certified medical-surgical registered nurse (CMSRN) who has experience in a variety of clinical specialties, including orthopedics, oncology, surgical nursing and geriatrics.
Teaching
Willis is a clinical educator to nurses throughout Cleveland Clinic working to ensure nursing practice is evidence-based and supported through professional practice standards. As a caregiver within the Office of Nursing Education and Professional Development, she conducts annual needs assessments for Cleveland Clinic's continuing education and competency programs. Additionally, Willis has been an adjunct faculty member for Ohio University's RN-to-BSN program since 2007, teaching courses on gerontology, cultural diversity, community health and family nursing.
Research & Publications
Research & Publications
Willis regularly lectures on Cleveland Clinic's professional practice model. Throughout her career, she has also been involved in various research studies, such as Nurse's Knowledge of Heart Failure Education Principles, which was conducted to determine nurses' knowledge of heart failure (HF) self-management education principles. Willis is currently conducting a research study on experienced nurses who are new to critical care by examining the use of self-learning modules compared to simulation. Additionally, she frequently contributes articles to Cleveland Clinic's annual report. Honors & Awards
Honors & Awards
Lifetime Achievement Award Winner, Cleveland Clinic, 2014