Summary
Summary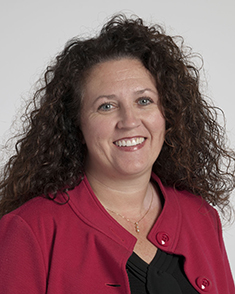 Anita J. White, MSN, RN, APRN-BC, CCRN, is a clinical nurse specialist (CNS) for the medical intensive care unit at Cleveland Clinic's main campus. A dedicated member of the American Association of Critical Care Nursing (AACN), White has served the organization as program chair and past-president for the Lake Erie chapter, leading the chapter to receive two national AACN awards. With expertise in chest pain, she has also led the coordination of chest pain center accreditation for three hospitals, producing positive results in all three hospitals and earning gold-level recognition from the American Heart Association for two hospitals.
With extensive experience in critical care, White has served as a critical care CNS at Cleveland Clinic Fairview Hospital, a critical care nurse educator at EMH Regional Medical Center in Elyria, Ohio, and a critical care staff nurse. Her professional experience also includes organizations such as Lorain County Community College, Mount Sinai Medical Center, University of Kentucky's Chandler Medical Center, and the Lester E. Cox Medical Center in Springfield, Missouri. Throughout her career, White has fulfilled additional roles such as chest pain coordinator, cardiology CNS, care coordinator, nurse supervisor, school nurse and staff nurse. She also has experience teaching in the higher education setting as an adjunct faculty member and clinical assistant for Lorain County Community College.
Education
MSN, The University of Akron, Akron, Ohio, 2007
BSN, Missouri State University, Springfield, Missouri, 1987
General Studies, Evangel College, Springfield, Missouri, 1984-1985
ADN, Lorain Community College, Lorain, Ohio, 1983
*Currently enrolled in D.N.P. program at Case Western Reserve University
Certifications
Certified Critical Care Registered Nurse (CCRN), American Association of Critical Care Nurses
Board Certified Adult Clinical Nurse Specialist (ACNS-BC), American Nurses Credentialing Center
Basic Cardiac Life Support (BCLS), American Heart Association
Advanced Cardiac Life Support (ACLS), American Heart Association
Contact Information
Cleveland Clinic
9500 Euclid Avenue / HSB 111
Cleveland, Ohio 44195
216.636.2173
whitea2@ccf.org
Leadership
Leadership
White is a focused leader, who places emphasis on quality and process improvement initiatives. She has a special interest for preventative nursing in the critical care setting and is heavily involved in progressing the nursing critical care environment both within Cleveland Clinic and the healthcare industry. Not only is she a member of organizations such as AACN and the National Association of Clinical Nurse Specialists, she is a published author and addresses audiences throughout the country, educating on various topics, from effective clinical rounding to pulmonary hypertension.
Clinical Practice & Teaching
Clinical Practice & Teaching
Clinical Practice
White is a clinical nurse specialist in the medical intensive care unit. In addition to critical care, her clinical expertise also includes cardiology, chest pain, pulmonary hypertension and acute liver failure.
Teaching
A past adjunct faculty member and clinical assistant in the area of medical-surgical critical care, White taught nursing students at Lorain County Community College for many years. Her faculty presentations include topics such as NCLEX state board review, acute coronary syndrome, continuous renal replacement therapy, advanced hemodynamics, sedation in the critical care setting, drugs and titration, care of the bypass patient, neurology and mechanical ventilation, among others. Additionally, White has taught review courses for Cleveland Clinic CCRN's on topics such as the renal system.
Research & Publications
Research & Publications
A contributing author in the cardiovascular section for the textbooks Nursing for Wellness in Older Adults and A Nurse's Toolbook for Promoting Wellness, White has contributed much knowledge to the healthcare industry throughout her career. She has presented posters on topics such as door-to-balloon at the American College of Cardiology, the CNS role formalization and implementation regional survey for the Northeast Ohio Clinical Nurse Specialist organization and a critical care orientation program for the Ohio Organization for Nurse Executives. She has also presented on the topics of pulmonary hypertension at the National Infusion Nurses' Society Convention and acute liver failure to the local AACN chapter.
Professional Involvement
Professional Involvement
Member, American Association of Critical Care Nursing
Member, National Association of Clinical Nurse Specialists
Member, Society of Critical Care Medicine
Past Member, Society of Chest Pain Centers
Volunteer, AACN Ambassador, and Member, Program Committee and Board, AACN
Past President and Past Program Chair, Lake Erie Chapter, AACN
Member, Sigma Theta Tau International Society of Nursing
Honors & Awards
Honors & Awards
President's Award, American Association of Critical Care Nursing, 2008