Summary
Summary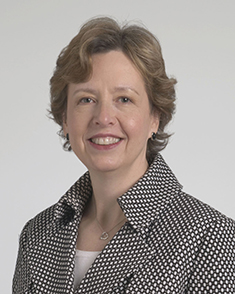 Monica M. Weber, MSN, RN, CNS-BC, FAHA, is director of professional nursing practice for Cleveland Clinic's Stanley Shalom Zielony Institute for Nursing Excellence and Magnet® program manager for Cleveland Clinic main campus. As director of professional nursing practice, Weber manages the integration of nursing policies and procedures, excellence programs and shared governance. Her responsibilities surrounding the Cleveland Clinic main campus Magnet program include providing guidance in the areas of quality patient care, nursing excellence and innovations in nursing practice. In 2013, she helped the organization achieve its third consecutive American Nurses Credentialing Center (ANCC) Magnet recognition.
Weber began her career at Cleveland Clinic in 1981 as a staff nurse in cardiovascular intensive care and has spent most of her time within the organization, having also served in varying clinical nurse specialist roles, as an infection control practitioner and patient safety officer. Her professional experience also includes Cleveland's University Hospitals and MetroHealth Medical Center, Pennsylvania's Hospital of the University of Pennsylvania and Temple University Hospital, and Hackensack Medical Center in Hackensack, New Jersey. Throughout her career, Weber has been influential in the healthcare industry. She has received a number of professional awards, is a national and international presenter and has published several peer-reviewed articles in nursing and medical journals. A board-certified clinical nurse specialist, Weber has also served as an adjunct professor and clinical instructor at two Ohio-based schools of nursing.
Education
M.S.N., University of Pennsylvania, Philadelphia, Pennsylvania, 1988
B.S.N., Vanderbilt University, Nashville, Tennessee, 1981
Credentials and Certifications
Board Certified Clinical Nurse Specialist (CNS-BC), American Nurses Credentialing Center
Certified Critical-Care Registered Nurse (CCRN), American Association of Critical-Care Nurses (Emeritus, 2002)
Contact Information
Cleveland Clinic
9500 Euclid Avenue / P32
Cleveland, Ohio 44195
216.445.6549
weberm@ccf.org
Leadership
Leadership
With more than 30 years of nursing experience, Weber is a leader in patient care safety strategies. She is an integral member of Cleveland Clinic's enterprise-wide patient safety committee and has worked diligently to develop and refine the role of the nursing patient safety officer, which is designed to support bedside nurses in meeting national patient safety goals and other patient-safety initiatives. Leading the ANCC Magnet re-designation application and information gathering process as well as a number of other Magnet-related initiatives for Cleveland Clinic main campus, Weber has been influential in guiding Cleveland Clinic main campus in its quest for ongoing ANCC Magnet recognition. Cleveland Clinic main campus was initially recognized as a Magnet hospital in 2003..
Clinical Practice & Teaching
Clinical Practice & Teaching
Clinical Practice
Weber's clinical expertise lies within the areas of critical care and cardiothoracic intensive care, as well as patient safety and infection prevention.
Teaching
Throughout her career, Weber has been a mentor and coach for new nurses and nursing students. As part of her current role, she offers nursing student observation opportunities. Additionally, for two decades Weber actively taught nursing students at the following institutions:
Clinical Instructor, Medical and Surgical Nursing, Case Western Reserve University, Francis Payne Bolton School of Nursing, Cleveland, Ohio Adjunct Faculty, Adult Health and Illness Nursing, Ohio State University, Columbus, Ohio
Research & Publications
Research & Publications
Weber is an avid public speaker and presenter, having presented both nationally and internationally on topics such as infection control and prevention, patient safety and emerging infectious disease. She has consulted for healthcare organizations such as King Fahad Hospital in Riyadh, Saudi Arabia and Dar al Fouad Hospital in Giza, Egypt. Additionally, she has published several peer-reviewed articles in nursing and medical journals and has served as an item writer for the ANCC as well as an abstract reviewer.
Research
2010. Co-Investigator. What is in a Name? A Survey to ascertain Cleveland Clinic's Main Campus RNs Ability to Distinguish between Nursing Research, Evidence-based Practice, and Quality Improvement.
Presentations
"Stronger Together: Partnerships Improve Outcomes" at the 2013 Annual Nursing Education Conference; Rosalyn, New York; September 2013.
"Magnet Recognition Program®: What Do I Need to Know?" at the American Academy of Ambulatory Nursing, Cleveland Chapter; Cleveland, Ohio; April 2013.
"Follow the Yellow Brick Road: Nurse Pathways/Career Development" at the 2012 Cardiac Nursing Symposium; Cleveland, Ohio; September 2012.
"Using Shared Governance Days to Highlight Quality Improvement Projects Across a System" at the 2011 ANCC Annual Magnet Conference; Baltimore, Maryland; October 2011.
"When the Benchmark isn't Good Enough: Using Innovative Fall Prevention Strategies to Drive Improvements" at the National Association of Clinical Nurse Specialists Conference; Baltimore, Maryland; March 2011.
"Fall Huddles: A New Patient Safety Strategy" at the Ohio Association for Healthcare Quality Annual Conference; Newark, Ohio; May 2010. [poster presentation]
"Using Nursing Morbidity and Mortality Conferences to Improve Patient Safety and Quality of Care" at the 2009 ANCC Magnet Conference; Louisville, Kentucky; October 2009. [poster presentation]
"Using Managing Towards Daily Compliance Methodology as a Pilot to Improve Hand Hygiene on an Oncology Nursing Unit" at SHEA; Orlando, Florida; April 2008. [poster presentation] "Implementation of a Falls Risk Assessment in an Emergency Department" at the Emergency Nurses Association Leadership Conference; Honolulu, Hawaii; February 2008. [poster presentation]
"Hand Hygiene Compliance – The United States Experience" at SOBECC; Sao Paulo, Brazil; July 2007.
"Preventing BSI and VAP in the ICU" and "Using National Patient Safety Goals in Clinical Practice" at Challenges in Cardiology; Cairo, Egypt; May 2007.
Publications
Parker, B., Henderson, M., Vitagliano, S., Nair, B., Petre, J., Maurer, W., Rozian, M., Weber, M., DeWitt, L., Beedlow, J., Fahey, B., Calvert, A., Ribar, K., Gordon, S. (2007). Six Sigma Methodology can be used to Improve Adherence for Antibiotic Prophylaxis in Patients Undergoing Noncardiac Surgery. Anesthesia & Analgesia, 104(1):140-146.
Shrestha, N.K., Banbury, M.K., Weber, M., Cwynar, R.E., Lober, C., Procop, G.W., Karafa, M.T., Gordon, S.M. (2006). Safety of Targeted Perioperative Mupirocin Treatment for Preventing Infections after Cardiac Surgery. Annals of Thoracic Surgery, 81(6):2183-2188.
Weber, M. (2004). Is your patient at risk for endocarditis? Cleveland Clinic Notable Nursing, 6-7.
Weber, M. (2000). Surgical Management of Unstable Angina and Symptomatic Coronary Artery Disease. Journal of Cardiovascular Nursing, 15(1):27-42.
Weber, M., McErlean, E. (2000). Stabilizing Unstable Plaque in Acute Coronary Syndromes: Implications for Cardiac Surgical Patients. Critical Care Nurse, 20(4):78-91.
Professional Involvement
Professional Involvement
Member, Ohio Association for Healthcare Quality
Member, National Association of Clinical Nurse Specialists
Member, American Heart Association
Member, Sigma Theta Tau International Honor Society of Nursing, Alpha Mu Chapter
Member, American Association of Critical-Care Nurses
Past President and President-Elect, Lake Erie Chapter
Past Co-Chair, Curriculum Committee, Lake Erie Chapter
Past Board of Directors Member, Northern New Jersey Chapter
Past Member, Association for Professionals in Infection Control And Epidemiology
Past Member and Co-Chair, Education Committee, Northeast Ohio Chapter
Past Member, Society of Critical Care Medicine
Past Member, America Trauma Society
Honors & Awards
Honors & Awards
Faces of Care Award, Greater Cleveland Nurses Association and Cleveland Magazine, 2013
Carolyn T. Nieman Excellence Award in Advanced Practice Nursing, Cleveland Clinic, 2010
Nurse of Note, Notable Nursing Magazine, Cleveland Clinic, 2007
Fellow, Cardiovascular Nursing Council of the American Heart Association, 1998