Summary
Summary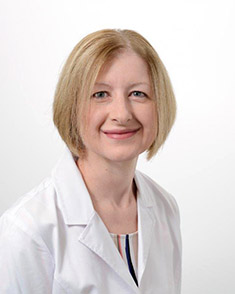 Angela K. Washer, MSN, WHNP-BC, C-EFM, is in the role of adult clinical nurse specialist for Cleveland Clinic Fairview Hospital's Obstetrical High Risk Unit, Mother/Baby Unit, and Family Birthing Center. In addition, Washer serves as a consultant and collaborator and provides support to the nursing staff of Cleveland Clinic Medina Hospital's Family Birthing Center. Washer is an experienced nurse with more than 20 years of professional experience, including clinical practice areas such as antepartum, labor and delivery, postpartum, and newborn care. Throughout her career, she has worked at Level I, Level II, and Level III hospitals in rural, urban, and suburban settings in both Michigan and Ohio.
Washer's lifelong passion has been to provide obstetric care and to make a difference in the lives of women. She is an expert consultant for Advance Practice Systems (GNOSIS™) for fetal monitoring and perinatal education and is a member of the Association of Women's Health, Obstetrics and Neonatal Nurses (AWHONN). Additionally, Washer has served as a clinical instructor at several colleges and universities.
Education
M.S.N., Kent State University, Kent, Ohio, 2000
B.S.N., Grand Valley State University, Allendale, Michigan, 1992
Certifications
Board-Certified Women's Health Nurse Practitioner (WHNP), National Certification Corporation
Certificate of Added Qualification in Electronic Fetal Monitoring (C-EFM), National Certification Corporation
Contact Information
Cleveland Clinic Fairview Hospital
18101 Lorain Ave.
Cleveland, OH 44111
216.476.7667
washera@ccf.org
Leadership
Leadership
In her role, Washer assists registered nurses in advancing their professional practice through evidenced-based practice, research and influencing obstetric care outcomes. Her responsibilities include staff development, nursing staff onboarding, ongoing education, process improvement initiatives and program development. Washer is also responsible for auditing processes, the development and implementation of unit-based and system quality projects and initiatives and policy/guideline development.
Clinical Practice & Teaching
Clinical Practice & Teaching
Clinical Practice
Washer is an advanced practice nurse with extensive experience in the field of obstetrics.
Teaching
Throughout her career, Washer has served as both a mentor and educator to nurses and healthcare teams, specifically in obstetrics. She has also served as an obstetrics instructor at the following institutions:
University of Akron College of Nursing, Akron, Ohio
Cleveland State University School of Nursing, Cleveland, Ohio
Kent State University College of Nursing, Kent, Ohio
Akron Institute of Herzing University, Akron, Ohio
Stark State College, North Canton, Ohio
Professional Involvement
Professional Involvement
Member, Association of Women's Health, Obstetrics and Neonatal Nurses (AWHONN)