Summary
Summary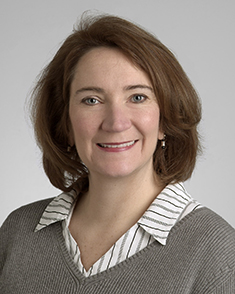 Anne O. Vanderbilt, MSN, RN, CNS, ANP-BC, is the director of Advanced Practice Nursing. She holds certification from the American Nurses Credentialing Center in gerontological nursing and as an adult nurse practitioner, Vanderbilt has been in advanced practicing nursing at Cleveland Clinic since 2000. Her CNS experience includes both internal medicine and geriatrics. Vanderbilt leads a group in the ARPN/PA transition to practice program for new graduate advanced practice nurses and physician assistants. Vanderbilt supervises the clinical nurse specialist in the nursing institute.
Vanderbilt began her career in 1988 as a staff nurse at Massachusetts General Hospital on a medical telemetry unit. She also spent time as a traveling nurse, working in academic and community hospital settings across the country, and in the medical and coronary intensive care units at Mt. Sinai Medical Center in Cleveland, Ohio. For five years, Vanderbilt was a staff educator and nurse practitioner in long-term care at Montefiore in Beachwood, Ohio, where she found her passion for elderly adult care. Vanderbilt has a special interest in dementia and delirium.
Education
APN Leadership Fellowship, Duke University, Durham, North Carolina, 2015
MSN, Kent State University, Kent, Ohio, 1997
BSN, Boston College, Chestnut Hill, Massachusetts, 1988
Certifications
Certified Adult Nurse Practitioner (ANP-BC), American Nurses Credentialing Center
Gerontological Nurse, American Nurses Credentialing Center
State of Ohio Certificate to Prescribe
Contact Information
Cleveland Clinic
9500 Euclid Avenue / HSB-118
Cleveland, Ohio 44195
216.444.3307
vandera@ccf.org
Leadership
Leadership
As Director of Advanced Practice Nursing, Vanderbilt supervises 39 clinical nurse specialists in the Office of Nursing Education and Professional Practice Development. As part of her role, she has developed an orientation program and provides ongoing mentoring and educational support for new clinical nurse specialists. Throughout her career she has taken active roles in numerous committees and councils, such as co-chair of Cleveland Clinic's patient falls committee, leader of the geriatric nurse resource program, and chair of the continuing education committee for the advance practice nurse council.
Clinical Practice & Teaching
Clinical Practice & Teaching
Clinical Practice
Vanderbilt's clinical expertise lies within the areas of gerontological and internal medicine nursing.
Teaching
Vanderbilt orients, mentors and supports new clinical nurse specialists into their roles. For five years, as a staff development coordinator at Montefiore, she was responsible for the continuing education and development of 500 employees, conducting a comprehensive geriatric assessment course for professional nurses. She has also taught as an adjunct faculty member at the following institutions:
University of Akron, Akron, Ohio
Case Western Reserve University, Frances Payne Bolton School of Nursing, Cleveland, Ohio
Notre Dame College, South Euclid, Ohio
Kent State University, Kent, Ohio
Research & Publications
Research & Publications
Vanderbilt's published works include topics such as restraints and geriatric nursing protocols best practices. She also co-authored an article about nutrition and hydration in the Journal of Infusion Nursing. Her primary area of research has been on the screening for delirium prior to orthopedic surgery, but has also participated in a multicenter study investigating catheter associated urinary tract infections, a study on the association of the designed environment to fall risk in hospitals, and more. Vanderbilt has presented locally and nationally on many nursing and geriatric-specific topics.
Professional Involvement
Professional Involvement
Member, National Association of Clinical Nurse Specialists
Member, American Geriatrics Association
Member, American Association of Nurse Practitioners