Summary
Summary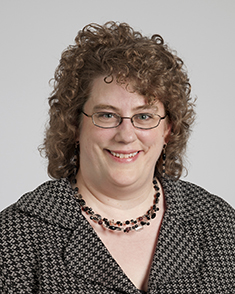 Christine Szweda, MSM, BSN, RN, CCRN, is senior director of operations for Cleveland Clinic's Office of Nursing Education and Professional Development. With more than 20 years of professional nursing experience, Szweda's expertise is rooted in the development of programs and processes designed to ensure a competent, confident and compassionate nursing workforce. Amidst her many accomplishments, Szweda has been instrumental in the research, planning, development and launch of Cleveland Clinic's New Graduate Nurse Residency program, orientation immersion program and more. She has standardized the competency assessment process throughout Cleveland Clinic health system and actively educates other large health systems on best practices in this area.
An engaged and driven leader, Szweda has spent the bulk of her career holding various nursing director positions within specialty areas such as trauma and critical care, emergency services, medical/surgical nursing, professional practice and nursing education. She is a board-certified nurse executive and critical-care nurse. Szweda frequently travels the country presenting and speaking on topics related to sustaining change initiatives, assessing competency in new graduate nurses, transition-to-practice models and more. In 2012, she was inducted into the Sigma Theta Tau International Society of Nursing.
Education
M.S. in Management, Indiana Wesleyan University, Marion, Indiana, 2004
B.S.N., Messiah College, Grantham, Pennsylvania, 1988
Credentials and Certifications
Critical Care Registered Nurse (CCRN), American Association of Critical-Care Nurses
Contact Information
Cleveland Clinic
9500 Euclid Avenue / HSB-111
Cleveland, Ohio 44195
216.445.9728
szwedac@ccf.org
Leadership
Leadership
Szweda is a visionary when it comes to nursing leadership, consistently driving change and fueling momentum in her team members. In all that she does, she aims to drive continuous clinical improvement with sustainable outcomes. Szweda focuses her work on staffing efficiency, nursing education and professional development. Among her current responsibilities, she is leading a health system nurse staffing model initiative to improve staffing efficiency, workload management, nursing staff responsiveness, communication and teamwork and ensure top-of-licensure practice for all caregivers and improved HCAHPS scores for Cleveland Clinic.
Clinical Practice & Teaching
Clinical Practice & Teaching
Clinical Practice
Szweda's clinical expertise lies within the areas of critical care and emergency nursing, including medical and surgical intensive care.
Teaching
Throughout her career, Szweda has created numerous development programs for both nursing leadership and staff, educated and mentored nursing leaders on methods and tools related to performance improvement and served as a consultant to other large health systems on the standardization of programs and processes. With a focus on better preparing new nursing graduates for the workforce, Szweda has researched and implemented various programs, including Cleveland Clinic's New Graduate Nurse Residency program.
Research & Publications
Research & Publications
Covering topics that span the nursing education spectrum and beyond, Szweda travels the country speaking to nurses, nursing leaders, new nurse graduates and more. She has been published multiple times in the Journal of Nursing Administration and the majority of her research work has been dedicated to a study, titled "Evaluating the Use of Human Patient Simulation (HPS) to Improve Critical Thinking Competencies and Perceived Self-Confidence of New Graduate Nurses in the Intensive Care Unit."
Professional Involvement
Professional Involvement
Advisory Board Member, Lakeland Community College School of Nursing
Advisory Board Member, Assessment Technologies Incorporated (ATI)
Advisory Board Member, American Sentinel University
Reviewer, Clinical Nursing Research
Member, Ohio Action Coalition Subcommittees
Healthcare Consultant, Specializing in Standardization of Nursing Education Across Large Health Systems; Evaluation of Competency
Honors & Awards
Honors & Awards
Sigma Theta Tau International Society of Nursing, 2012
Faces of Care Excellence Award, Cleveland Magazine, 2012
Vice-President Outstanding Leadership Award, MetroHealth Medical Center, 2009
Outstanding Improvement Award, LifeBanc, 2006