Summary
Summary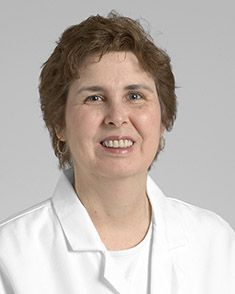 Deborah L. Solomon, MSN, RN, ACNS, BC, is a clinical nurse specialist for the women's health, urology and short-stay units at Cleveland Clinic's main campus location. Certified in adult health, Solomon's clinical expertise is in women's health as she has many years of experience caring for patients in postpartum, inpatient gynecology and urology. She is the clinical liaison for postpartum, oncology and benign gynecology, as well as benign and malignant urology patients. Solomon has also spent ample time studying the prevention of catheter associated urinary tract infection, which has aided in the development of an educational film on the catheter and leg bag, assisted in the writing of a catheter care protocol, and helped with physician, nurse and nursing assistant education on the topic.
A member of Cleveland Clinic's Office of Nursing Education and Professional Development, prior to her role as a clinical nurse specialist, Solomon spent five years as a clinical instructor within the Cleveland Clinic health system working to orient and retain talented nursing staff. Her career experience also includes healthcare organizations such as St. Joseph's Hospital in Lorain, Ohio, and Mt. Sinai Medical Center in Cleveland, Ohio. In 2013, Solomon received, through a peer nomination, the Cleveland Clinic Nursing Alliance Award for support of the bedside nurse.
Education
MSN, Kent State University, Kent, Ohio, 2006
BSN, Breen School of Nursing, Ursuline College, Pepper Pike, Ohio, 1989 (cum laude)
ADN, Lakeland Community College, Mentor, Ohio, 1979
Certifications
Certified Adult Clinical Nurse Specialist (ACNS), American Nurses Credentialing Center
Basic Cardiac Life Support (BLS) Instructor, American Heart Association
Contact Information
Cleveland Clinic
9500 Euclid Avenue / H70-39
Cleveland, Ohio 44195
216.444.0276
solomod1@ccf.org
Leadership
Leadership
An active member of the Academy of Medical-Surgical Nurses (AMSN), Solomon is a leader both within and outside of Cleveland Clinic. She sits on the AMSN's local chapter board in the arena of education, and also plans and organizes guest speakers for the chapter. Helping to further professional development opportunities for Cleveland Clinic nurses, Solomon has organized medical-surgical review courses so that nurses are well prepared to sit for the certification exam. She is presently the chair of the Nursing Institute's coordinating council. She is also a former chair of Cleveland Clinic's nursing practice council and the cultural competency committee, among others.
Clinical Practice & Teaching
Clinical Practice & Teaching
Clinical Practice
Solomon's clinical expertise lies within the area of women's health, specifically oncology and benign gynecology and urology, inpatient, with additional expertise in postpartum and malignant urology.
Teaching
Throughout her career, Solomon has served as a nursing program clinical instructor and as a teaching assistant for a web-based RN-to-BSN program. Her experience includes the following institutions:
Cuyahoga Community College, Cleveland, Ohio
Ohio University, Athens, Ohio
Research & Publications
Research & Publications
Solomon's research interests center on issues related to nurses' work environments, having published research works on the topic such as "Complexity in the role of the registered nurse," which was featured in Clinical Nurse Specialist Journal. Additional research efforts also include investigation into the perceived value of certification and the likelihood for nurses to become certified. Solomon has also served as a reviewer for the women's health chapter of the Academy of Medical-Surgical Nurses' Core Curriculum for Medical-Surgical Nursing (4th edition).
Professional Involvement
Professional Involvement
Member, National Association of Clinical Nurse Specialists
Member, Northeast Ohio Association of Clinical Nurse Specialists
Member, Academy of Medical-Surgical Nurses (National and Local Chapters)
Board Member, Education, Academy of Medical-Surgical Nurses
Reviewer, Academy of Medical-Surgical Nurses' Core Curriculum for Medical-Surgical Nursing (4th edition), Women's Health Chapter
Reviewer, International Journal of Nursing Studies
Honors & Awards
Honors & Awards
Nursing Alliance Award for support of the bedside nurse, Cleveland Clinic, 2013