Summary
Summary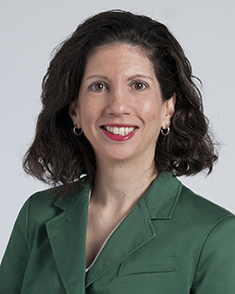 Catherine M. Skowronsky, MSN, RN, ACNS-BC, CMSRN, is a clinical nurse specialist (CNS) for the Cleveland Clinic Health System. Ms. Skowronsky focuses on care of the medical patient with co-morbid behavioral health needs. Her role includes offering expert consultation on care planning, therapeutic communication and safety to the bedside nurse. This role requires her to act as a vital connection between psychiatric and medical care providers. Quality improvement initiatives include delirium and authoring a nursing protocol to guide care of the patient who ingests foreign bodies. Skowronsky serves as the medical-surgical advisor on the team writing competencies for the medical-surgical nurse caring for the patient at risk for suicide.
Skowronsky began her career at the Cleveland Clinic in 2000 as a staff nurse on a 36-bed medical surgical unit. In 2005, she accepted a clinical instructor position, focusing on new hire orientation and professional development of incumbent staff. She is an experienced presenter and public speaker, often offering educational presentations within the health system and at local, national and international conferences. In 2011 she traveled overseas to provide continuing education for the U.S Department of State nurses who practice abroad. In subsequent years, Skowronsky serves as co-director of this conference.
Education
MSN, Kent State University, Kent, Ohio, 2010
BSN, Chamberlain College of Nursing, St. Louis Missouri, 2007
ADN, Cuyahoga Community College, Cleveland, Ohio, 1999
BS in Biology, John Carroll University, University Heights ,Ohio, 1991
Certifications
Certified Medical Surgical Registered Nurse (CMSRN), Academy of Medical-Surgical Nurses
Board certified Adult Clinical Nurse Specialist (ACNS-BC), American Nurses Credentialing Center
Certified in Basic Life Support (BLS),American Heart Association
Contact Information
Cleveland Clinic
9500 Euclid Avenue / H80-57
Cleveland, Ohio 44195
216.444.1678
skowroc@ccf.org
Leadership
Leadership
A consultant, clinical expert, educator and researcher, Skowronsky displays leadership abilities in many areas of her work. She is actively involved with the U.S. Department of State international nursing conference as co-director, where she is responsible for planning and coordinating continuing nursing education speakers, and more.
Clinical Practice & Teaching
Clinical Practice & Teaching
Clinical Practice
Skowronsky's clinical expertise lies within the area of medical-surgical nursing.
Teaching
As a clinical instructor Skowronsky educated newly hires registered nurses and incumbent staff. As a CNS, she continues to develop and provide education on evidence-based nursing practice for all nursing staff.
Research & Publications
Research & Publications
Skowronsky's publishing experience entails authoring the manuscript "Close Observation of Medical Patients with Complex Conditions to Prevent Falls and Minimize the use of Patient Care Companions." which was published in the Journal of Nursing Care Quality. She is a content reviewer for the AMSN Core Curriculum chapter on the respiratory system. Skowronsky is also the presenter of "But I'm not a Psych Nurse: Care of the psychiatric patient on the medical surgical unit".
Professional Involvement
Professional Involvement
Member, Academy of Medical Surgical Nurses
Education Director, Academy of Medical Surgical Nurses, Northeast Ohio Chapter
Member, National Association of Clinical Nurse Specialists
Member, American Psychiatric Nurses Association