Summary
Summary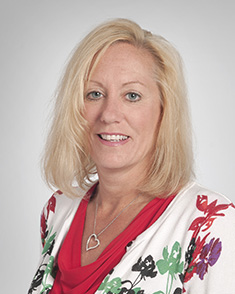 Leslie Simko, MS, BSN, RN, CHSE, is director of nursing education, simulation/AHA and administrator for Cleveland Clinic's Education Institute and Simulation and Advanced Skills Center. With 30 years of experience in the nursing profession and extensive expertise in critical care and intensive care nursing, Simko understands the complexities of today's intensive care environment. She uses her refined skills and deep knowledge to develop staff competency through human-patient simulation that encourages participants to evaluate simulated problems and provide appropriate interventions.
As an advocate for the use of simulation in nursing education across disciplines, Simko co-developed the Northern Ohio Simulation User Group Forum. She also collaborates internationally with Cleveland Clinic Abu Dhabi to train and educate caregivers on human-patient simulation. In 2011, Simko was awarded a National Council of State Boards of Nursing Center for Regulatory Excellence grant to advance the science of nursing regulation using simulation. She has received several professional awards and recognitions throughout her career and is a member of a selection of prominent industry associations, including the American Association of Critical-Care Nurses, Society for Simulation in Healthcare, National League for Nursing and International Nursing Association for Clinical Simulation and Learning.
Education
M.S. in Nursing Informatics, University of Maryland – Baltimore, Baltimore, Maryland, 2010
B.S.N., Cleveland State University, Cleveland, Ohio, 2005
Graduate Nurse Diploma, Fairview Hospital, Cleveland, Ohio, 1990
Licensed Practical Nurse, Jane Addams School of Practical Nursing, Cleveland, Ohio, 1983
Certifications
Certified Healthcare Simulation Educator (CHSE), Society for Simulation in Healthcare
Certified Critical Care Registered Nurse (CCRN), Alumnus, American Association of Critical-Care Nurses
Advanced Cardiovascular Life Support (ACLS) Instructor, American Heart Association
Basic Life Support (BLS) Certified, American Heart Association
Contact Information
Cleveland Clinic
Office of Nursing Education and Professional Development
9500 Euclid Avenue / HS1-133
Cleveland, Ohio 44195
216.445.5601
simkol@ccf.org
Leadership
Leadership
A driven leader, Pengel aims to effectively manage clinical operations while meeting capital and financial targets, maintaining turnover rates and more. Her career history includes the successful integration of numerous new nursing unit specialties throughout Cleveland Clinic health system, including vascular surgery intensive care, the cardiac float pool and central monitoring for telemetry. She was instrumental in facilitating the standardization of rapid response care across the health system and, in 2008, she assisted with the planning and successful activation of Cleveland Clinic's Miller Pavilion, the largest free-standing specialty hospital in the country, spanning more than 1-million square-feet.
Clinical Practice & Teaching
Clinical Practice & Teaching
Clinical Practice
Pengel's clinical expertise lies within the areas of cardiothoracic surgery, rapid response, transplantation and interventional cardiology.
Teaching
As a proponent of nursing staff education, Pengel has worked to support the offerings of on-site certification preparation courses, resulting in 105 nurses achieving certification as critical care registered nurses (CCRN) and 19 achieving certification for progressive care nursing (PCCN).
Research & Publications
Research & Publications
Pengel is an avid presenter at healthcare forums and conferences throughout the region. Her presentations include topics such as rapid response, nursing leadership in quality improvement, improving heart failure education and how to implement an accelerated recovery program in cardiac surgery. She also actively supports nurse managers and staff nurses in research initiatives, which has led to numerous publications in various nursing journals on topics ranging from patient perceptions of call lights and cardiac tamponade to chest tube clotting and infection rates from ECG leads.
Professional Involvement
Professional Involvement
Member, American Association of Critical-Care Nurses (AACN)
Member, Association Organization of Nurse Executives (AONE)
Past Member, American Association of Heart Failure Nurses (AHF)
Past Member, United Way of Greater Cleveland Generation Next Campaign
Past Cabinet Member, United Way Health Care Campaign
Honors & Awards
Honors & Awards
Excellence in Volunteerism, United Way of Summit County, 2011
Nominee, Abbie Porter Leadership Award, Cleveland Clinic,
First Place Poster Presentation Winner, Ohio Association of Healthcare Quality, 2010
Cardiothoracic Surgery Employee of the Year Award, Cleveland Clinic, 2001
Marilyn Tetonis Nursing Unit Excellence Award, Cleveland Clinic, 2001