Summary
Summary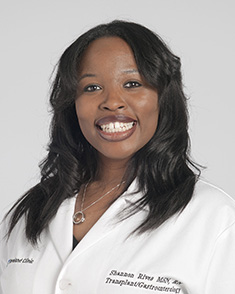 Shannon A. Rives, MSN, RN, ACNS-BC, CCRN, is a clinical nurse specialist with the medical-surgical telemetry, gastroenterology/hepatology and transplant special care units at Cleveland Clinic main campus. With nearly a decade of direct clinical nursing experience, Rives has concentrated her nursing career in the cardiovascular and critical care patient populations within the Cleveland Clinic health system. She became a registered nurse in 2005, working in the cardiothoracic step-down unit at main campus before joining the medical intensive care team in 2007. Prior to accepting her current position, Rives served as a clinical instructor within the Office of Nursing Education and Professional Practice Development.
With experience in higher education and clinical instruction, Rives is able to facilitate learning and development among nursing staff members through the combination of adult learning principles and teaching styles. She is an active member of various health system councils and committees, holding roles such as chair and co-chair, and is also a member of the American Association of Critical-care Nurses.
Education
MSN, The Breen School of Nursing, Ursuline College, Pepper Pike, Ohio, 2013
BSN, Cleveland State University, Cleveland, Ohio, 2005
Certifications
Certified Critical Care Registered Nurse (CCRN), American Association of Critical Care Nurses
Board Certified Adult Clinical Nurse Specialist (ACNS-BC), American Nurses Credentialing Center
Contact Information
Cleveland Clinic
Office of Nursing Education and Professional Practice Development
9500 Euclid Avenue / HSB-188
Cleveland, Ohio 44195
216.445.1724
rivess@ccf.org
Leadership
Leadership
Throughout her career, Rives has been able to effectively use different leadership styles to accomplish set goals and objectives. As a clinical leader and expert, she spearheads system change in ways that improve quality, such as research, education, theory and evidence, creating interventions that positively affect patients, nursing caregivers and the Cleveland Clinic health system.
Clinical Practice & Teaching
Clinical Practice & Teaching
Clinical Practice
Rives' clinical experience lies within the areas of cardiovascular and critical care nursing.
Teaching
With experience as a clinical instructor and adjunct faculty member, Rives is experienced in developing and delivering educational materials to both large and small groups in the classroom and in-service settings. She currently teaches in the nursing associate degree program at Bryant and Stratton College in Cleveland, Ohio. Course subject areas include introduction to nursing and development across the life span.
Research & Publications
Research & Publications
Rives has researched and presented on various topics surrounding the medical intensive care unit (MICU), including redefining roles, rebuilding teamwork and redirecting the future of the MICU, and decreasing double documentation in the MICU. She has also spoken at Cleveland Clinic's digestive disease nursing conference, a nursing forum at Cleveland State University, and many in-service sessions for novice and experienced nurses.
Professional Involvement
Professional Involvement
Member, American Association of Critical-Care Nurses (AACN)
Member, Sigma Theta Tau International Honor Society of Nursing
Honors & Awards
Honors & Awards
Inductee, Sigma Theta Tau International Honor Society of Nursing, 2012