Summary
Summary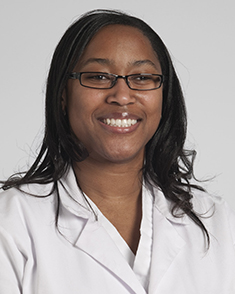 Myra A. Cook, MSN, RN, ACNS-BC, CCRN, CSC, is a board-certified adult clinical nurse specialist at Cleveland Clinic main campus. With clinical expertise in critical care, Cook's career successes include initiatives designed to reduce hospital-acquired infections and improve quality outcomes, patient safety and patient experience. For the first nine years of her career, Cook was a staff nurse and clinical instructor in the cardiovascular intensive care units at Cleveland Clinic. She became a clinical nurse specialist in 2009, upon the completion of her Master's degree, where she continues to assess complex patients in the cardiovascular intensive care units.
With a passion for professional development and education, Cook's career history also includes service as an adjunct faculty member for continuing education at Cleveland State University where she lectures on topics such as heart failure, peripheral vascular disease, hypertension and more. Cook was one of two authors, in 2011, who successfully applied for and won a Sustained Improvement Award for Achievement in Eliminating Central Line-Associated Bloodstream Infections from the U.S Department of Health and Human Services and Critical Care Societies Collaborative. The award was presented to the main campus cardiovascular intensive care units. She is an active member of the National Association of Clinical Nurse Specialists, American Association of Critical-Care Nurses and American Heart Association.
Education
M.S.N., College of Nursing, Kent State University, Kent, Ohio, 2009
B.S.N., Frances Payne Bolton School of Nursing, Case Western Reserve University, Cleveland, Ohio, 1998 (magna cum laude)
Certifications
Certified Critical Care Registered Nurse (CCRN), American Association of Critical-Care Nurses
Board Certified Adult Clinical Nurse Specialist (ACNS-BC), American Nurses Credentialing Center
Cardiac Surgery Certification
Basic Cardiac Life Support (BCLS), American Heart Association
Advanced Cardiac Life Support (ACLS), American Heart Association
Advanced Cardiac Life Support Instructor
Certificate to Prescribe
Contact Information
Cleveland Clinic
9500 Euclid Avenue / HSB-188
Cleveland, Ohio 44195
216.445.3416
cookm3@ccf.org
Leadership
Leadership
As a clinical nurse specialist, Cook assesses complex patients, evaluates their progress and identifies nursing interventions to promote positive patient outcomes. From the development or revision of protocols and procedures to the education of nursing staff on clinical practice changes, she strives to incorporate evidence-based interventions and best practice guidelines into her work, helping to guide and lead her colleagues to solutions that deliver the best patient care. Cook's leadership experience also includes serving as co-director for Cleveland Clinic's international nursing conference, Dimensions in Cardiac Care.
Clinical Practice & Teaching
Clinical Practice & Teaching
Clinical Practice
Cook's clinical expertise is in critical care with a focus on care of the cardiac and thoracic surgery patient populations.
Teaching
Since 2010, Cook has served as a faculty member for Cleveland State University where she has lectured students on the care of the cardiovascular patient. She has taught classes to nurses, nursing students, residents and fellows on the topics of cardiac surgery, acute coronary syndromes, heart failure, hypertension, hemodynamics, and intra-aortic balloon pump therapy. Cook is also an End-of-Life Nursing Education Consortium (ELNEC) instructor in which she teaches courses on end-of-life care within the intensive care setting. Additionally, Cook served as a Cleveland Clinic clinical instructor for two years, instructing critical care and electrocardiography (ECG) classes for registered nurse and licensed practical nurse central orientation while also aiding nursing caregivers in professional development goal attainment.
Research & Publications
Research & Publications
Cook has spoken locally and nationally on topics such as care of the lung transplant patient, cardiac surgery, and the mentor/mentee relationship. Her most recent research has focused on the nursing management of chest tubes in cardiac surgery patients.
Professional Involvement
Professional Involvement
Member, National Association of Clinical Nurse Specialists
Member, American Association of Critical-Care Nurses
Member, Lake Erie Chapter, American Association of Critical-Care Nurses
Member, American Heart Association
Member, Ohio Association for Healthcare Quality
Past Member, Sigma Theta Tau International Society of Nursing
Past Member, Golden Key National Honor Society
Inductee, Alpha Kappa Mu Honor Society
Honors & Awards
Honors & Awards
Caregiver Celebrations Excellence Award, Cleveland Clinic, 2013
Linnea Henderson Award for academic achievement, Kent State University, 2009
Sustained Improvement Award for Achievement in Eliminating Central Line-Associated Bloodstream Infections (awarded to intensive care units J56 and J64), U.S Department of Health and Human Services and Critical Care Societies Collaborative, 2011