Summary
Summary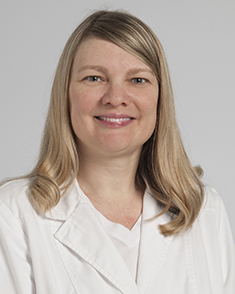 Visnja Maria Masina, MSN, RN, AGCNS-BC, is a board-certified adult clinical nurse specialist at Cleveland Clinic main campus. Masina's experience consists of nurse consulting, mentoring and education, with focused efforts on evidence-based practice, professional development and nursing research. She serves as a resource for nursing staff members on topics such as nursing best practices, quality monitoring and process improvement. Throughout her career, Masina has developed protocols, documentation measures and auditing tools that have aided in improved quality processes and core measures within the Cleveland Clinic health system.
Masina's skills and expertise deliver added value to her current position, from the implementation of new patient care initiatives to the advancement of the nursing profession. Masina is a member of several local and national organizations, including the National Association for Clinical Nurse Specialists and the Crohn's and Colitis Foundation of America. Her research interests include the pain experience of patients hospitalized with inflammatory bowel disease, quality improvement and nurse-driven protocols.
Education
MSN, Clinical Nurse Specialist, the Breen School of Nursing, Ursuline College, 2013
MSN, Frances Payne Bolton School of Nursing, Case Western Reserve University, Cleveland, Ohio, 2001
BSN, The Breen School of Nursing, Ursuline College, Pepper Pike, Ohio, 1994
Certifications
Board-Certified Adult-Gerontology Clinical Nurse Specialist, American Nurses Credentialing Center
Contact Information
Cleveland Clinic
9500 Euclid Avenue / HSB-188
Cleveland, Ohio 44195
216.444.8539
masinav@ccf.org
Leadership
Leadership
As a dedicated leader, Masina brings her clinical, managerial and educational expertise to the forefront, developing best practices and serving as a role model and mentor for nursing staff. She collaborates with all members of the multi-disciplinary care team, acting as a trusted physician partner and a known educator and consultant for evidence-based care. In an effort to continually serve as an expert reference for her colleagues, Masina regularly attends workshops, seminars and other educational offerings, such as courses on geriatric and vascular access resource nursing. She also participates on the nursing shared governance council for Cleveland Clinic's colorectal and bariatric nursing units and is a committee member for the Digestive Disease Institute's annual nursing symposium.
Clinical Practice & Teaching
Clinical Practice & Teaching
Masina's clinical expertise lies within the areas of colorectal surgery and bariatrics.
Teaching
Through education, Masina aims to institute new, forward-thinking initiatives that will improve nursing knowledge and patient outcomes, such as policy and procedure regulation. She is experienced in both unit-based and institute-based teaching and consulting, and actively mentors her nursing colleagues on clinical research, practice and professional development.
Research & Publications
Research & Publications
Having spent nearly a decade in the arena of clinical research, Masina is an experienced research participant and facilitator who works collaboratively within the patient care team to guide physicians and others on research related to clinical trials. She served as co-investigator for a study on the pain experience of patients hospitalized with inflammatory bowel disease, and participated in several pilot studies, one of which was a quality improvement project designed to decrease patient fall rates. The other was a nurse-driven protocol on the removal of Foley catheters. Masina works to elevate professional practice through manuscript discussions that follow the relationship-based care model.
Professional Involvement
Professional Involvement
Member, National Association for Clinical Nurse Specialists
Member, Ohio Association of Advanced Practice Nurses
Member, Crohn's and Colitis Foundation of America
Member, Society of Clinical Research Associates