Summary
Summary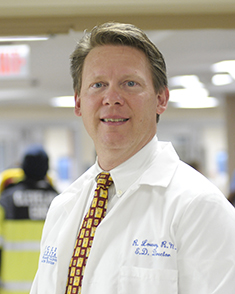 Richard Lowery, MBA, BSN, RN, NEA-BC, NHDC-BC, CHEP, is chief nursing officer (CNO) for Cleveland Clinic Euclid Hospital. In his role, Lowery leads nursing strategy, practice and operations, ensuring superior patient care and a positive, engaging caregiver environment. With an extensive nursing career that spans more than 35 years at Cleveland Clinic, Lowery is recognized for his strategic and operational leadership. Prior to his CNO position, Lowery served as senior nursing director of the Emergency Services Institute and director of nursing for emergency/EMS, geriatric behavioral medicine, and outpatient nursing services at Euclid Hospital. A valued leader, he oversaw seven regional emergency nursing operations, helped improve system integration across emergency services, and continually drove nursing excellence through process standardization.
Before that, for more than three decades, Lowery was director of nursing for Euclid Hospital where he provided 24-hour leadership of care providers in emergency services and behavioral medicine, as well as overseeing Disaster Emergency Management operations. He held operational responsibility for several ambulatory outpatient centers and, for a duration of time, directed protective services operations. In addition, for 3 years, he also led a hospital-based trauma center for Cleveland Clinic's previous Huron Hospital. Throughout his career history, Lowery's clinical leadership has repeatedly led to exceptional quality and safety outcomes. He holds a master's degree in business administration, a bachelor's degree in nursing, and a bachelor's degree in health service management. Lowery was named a Cleveland Clinic Lifetime Nursing Achievement Award recipient in 2014 and has received three U.S. patents in chemical electroplating and medical equipment.
Education
MBA, Health Management, Lake Erie College, Painesville, Ohio, 1998 [cum laude]
BHSM, Ursuline College, Pepper Pike, Ohio, 1995
BSN, Ohio University, Athens, Ohio, 2012
Credentials and Certifications
Board Certified Nurse Executive Advanced, American Nurses Credentialing Center
National Healthcare Disaster Certified, American Nurses Credentialing Center
Certified Healthcare Emergency Professional, International Board for Certification of Safety Managers
Advanced Cardiac Life Support (ACLS), American Heart Association
Basic Life Support (BLS), American Heart Association
Instructor, ALICE Active Shooter
Instructor, HERT Center for Domestic Preparedness
Contact Information
Euclid Hospital
18901 Lakeshore Boulevard
Euclid, Ohio 44119
216.692.8649
rlowery@ccf.org
Leadership
Leadership
Lowery is a dedicated, results-oriented administrative leader. Every day, his clinical, analytical and management skills positively impact a broad range of inpatient and outpatient nursing and operational functions. Among many strong leadership attributes, he has excellent problem-solving skills and a diverse background in quality outcomes, education and new program development. Lowery is a servant leader with a reputation for driving change through team building and employee engagement. His ability to collaborate with providers, colleagues and patients to promote well-being and ensure quality outcomes at all levels is immeasurable.
Clinical Practice & Teaching
Clinical Practice & Teaching
Clinical Practice
Lowery's clinical area of expertise is in emergency services and behavioral health nursing.
Teaching
For 4 years, Lowery served as an instructor within Ursuline College's Health Management program where he educated students on current topics in health management. Additionally, he is an advocate for strong leadership and continually encourages and coaches those on the leadership path to further develop their skills and abilities. Since 1991, Lowery himself has completed hundreds of classroom hours in management and leadership development courses and was a graduate nurse in Cleveland Clinic's accelerated development program.
Research & Publications
Research & Publications
Lowery's most notable published work is titled, "Readiness Near and Far: Regional Hospital Emergency Preparedness During the 2016 Republican National Convention." It was published in the Journal of Emergency Nursing's Trauma Notebook.
Professional Involvement
Professional Involvement
Member, Emergency Nurses Association (ENA)
Honors & Awards
Honors & Awards
Lifetime Nursing Achievement Award, Cleveland Clinic, 2014
Lake County Leadership, 2007
Graduation with Cum Laude honors, Lake Erie College, 1998
Honors Academic Achievement, Ursuline College, 1995