Summary
Summary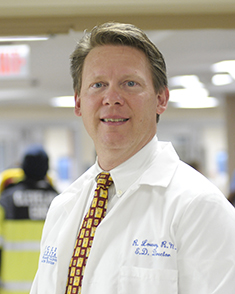 Richard K. Lowery, MBA, BHSM, BSN, RN, NEA-BC, is director of emergency and outpatient services for Cleveland Clinic Euclid Hospital. As a leading nurse executive, Lowery is responsible for the oversight of all nursing care and clinical support areas for emergency and outpatient nursing, as well as protective services operations. With nearly 35 years of professional nursing experience, Lowery's tenured career encompasses 30 years of management and leadership positions within Cleveland Clinic health system – from director of emergency nursing at two different community hospitals to an interim chief nursing officer position, which he held for 3 years, in addition to his director responsibilities. Lowery has also served as a nurse consultant for emergency medicine customer relations for Team Health in Florida.
An emergency services expert, Lowery is an accomplished professional with successes ranging from the successful redesign of a new state-of-the-art emergency department that effectively improves patient flow and reduces wait time to the establishment and implementation of Euclid Hospital's Longitudinal Care Center, an outpatient center for chronic disease care. Lowery is a 2014 recipient of Cleveland Clinic's prestigious Nursing Excellence Lifetime Achievement Award and an avid presenter and guest lecturer, frequently speaking to healthcare professionals across the nation on topics such as improving the patient experience and throughput design in emergency medicine.
Education
M.B.A., Health Management, Lake Erie College, Painesville, Ohio, 1998 [cum laude]
B.H.S.M., Ursuline College, Pepper Pike, Ohio, 1995
B.S.N., Ohio University, Athens, Ohio, 2012
R.N., St. Alexis Hospital School of Nursing, Cleveland, Ohio, 1981
Credentials and Certifications
Board Certified Nurse Executive Advanced NEA-BC, American Nurses Credentialing Center
Certified Basic Cardiac Life Support (BCLS), American Heart Association
Certified Critical Incident Stress Management Team Member
Certified ALICE Instructor (Active Shooter)
Contact Information
Euclid Hospital
18901 Lakeshore Boulevard
Euclid, Ohio 44119
216.692.8649
rlowery@ccf.org
Leadership
Leadership
A driven and visionary leader, Lowery works diligently to ensure excellence through evidence-based best practices that improve the patient experience. His leadership in the design and implementation of Euclid Hospital's state-of-the-art emergency department has achieved record-setting improvements in patient care, emergency management processes and more. Throughout his career, he has spearheaded several initiatives designed to improve patient satisfaction and turn-around time, including the implementation of Cleveland Clinic's split flow emergency care model, the adoption of a bedside registration and wireless triage program, and the development of a nurse ride-a-long program for emergency department staff and local EMS providers as well as a hospital emergency response team (HERT).
Clinical Practice & Teaching
Clinical Practice & Teaching
Clinical Practice
Lowery's clinical expertise lies within the field of emergency nursing.
Teaching
Throughout his career, Lowery has served as a nursing consultant and educator to nurses and other healthcare professionals and emergency services teams wishing to promote evidence-based nursing practices. In nearly 10 years as an emergency medicine customer relations consultant, Lowery conducted more than 100 nationwide public and private seminars. Additionally, for 4 years, he was also a clinical instructor for the Ursuline College Health Management Program in Cleveland, educating students on current topics in health management.
Research & Publications
Research & Publications
Lowery is an experienced lecturer and for more than two decades he has been sharing his expertise on the patient experience and throughput design in emergency medicine to healthcare organizations throughout the country. From hospital administrators and physicians to nurses and technical support caregivers, Lowery offers insight on topics such as patient flow in the emergency department, development of a HERT team for disaster management, reducing throughput times in the emergency setting and customer service in emergency medicine.
Professional Involvement
Professional Involvement
Member, Emergency Nurses Association (ENA)
Member, American Association of Nurse Executives (AONE)
Honors & Awards
Honors & Awards
Nursing Excellence Lifetime Achievement Award, Cleveland Clinic, 2014
Nursing Excellence Award for Improving the Cleveland Clinic Experience, 2013