Summary
Summary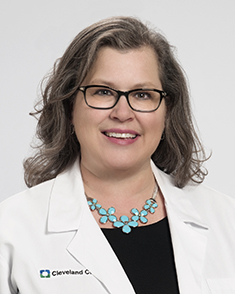 Jeanette Kubicki, MSN, RN, AGCNS, CRN, is a clinical nurse specialist for Cleveland Clinic's Imaging Institute, holding certifications in adult gerontology and radiology nursing. In her role, Kubicki provides evidence-based care to patients while simultaneously promoting the advancement of nursing practice. She actively offers clinical expertise, best practices and support for nurse managers, frontline nurses, and other caregivers to ensure delivery of superior patient care and achieve optimal patient outcomes. As part of her effort, she serves as an educator, coach and mentor, helping to identify and bridge knowledge gaps in nursing practice. Through her work, Kubicki aims to create and implement exceedingly high standards of care throughout Cleveland Clinic health system.
Kubicki began her professional nursing career in 1992 as a staff nurse in the medical intensive care and coronary care units at St. Luke's Medical Center in Cleveland. Since then, she has practiced in various clinical environments, including intensive care, emergency, and radiology at several local healthcare organizations and internationally at King Faisal Specialist Hospital and Research Centre in Riyadh, Saudi Arabia. A dedicated and engaged professional, Kubicki actively chairs and serves as a member on a number of Cleveland Clinic steering committees and councils – from the Patient Education Materials Committee to the Nursing Practice Council – as well as three national nursing associations. Additionally, she sits on the editorial review board for the Center for Consumer Health Information.
Education
M.S.N., Adult Gerontology Clinical Nurse Specialist, Kent State University, Kent, Ohio, 2016
B.S.N., Kent State University, Kent, Ohio, 1992
Certifications
Adult Gerontology Clinical Nurse Specialist (AGCNS), American Nurses Credentialing Center
Certified Radiology Nurse (CRN), Radiologic Nursing Certification Board
Advanced Cardiac Life Support (ACLS), American Heart Association
Basic Life Support (BLS), American Heart Association
Contact Information
Cleveland Clinic Imaging Institute
9500 Euclid Avenue
Cleveland, Ohio 44195
216.445.4361
kubickj@ccf.org
Leadership
Leadership
A known clinical leader, Kubicki supports and encourages multidisciplinary team collaboration to ensure quality patient care is delivered in accordance with Cleveland Clinic's professional practice model as well as industry accrediting bodies. She specializes in the development of procedures, protocols and guidelines that advance nursing practice by improving patient outcomes. She continually prioritizes patient, caregiver and organization needs when driving change and maintaining adherence to practice policies. As founder and chair of Cleveland Clinic's Imaging Nursing Affinity Group, she created and implemented an orientation program for radiology nurses, which was recognized by The Joint Commission as a best practice in developing the competency of nurses who take care of patients who present with acute ischemic or hemorrhagic stroke. She also led the unit-based education and skills verification of radiology nurses, technologists, advanced practice providers, and physicians as part of a Cleveland Clinic re-education initiative on alcohol-based skin preparation products in procedural and surgical-care areas.
Clinical Practice & Teaching
Clinical Practice & Teaching
Kubicki is an Adult Gerontology Clinical Nurse Specialist (AGCNS) whose clinical expertise lies in the area of radiology.
Teaching
With a passion for advancing nursing practice, Kubicki has spent much of her career identifying knowledge gaps in professional nursing practice and providing education, coaching and mentoring to nursing caregivers. She was a clinical instructor at Cleveland Clinic for 5 years, and during this time, she developed and implemented onboarding and orientation programs for radiology nurses, designed and wrote the nursing core curriculum for neurovascular interventional radiology, identified high-risk procedures and developed corresponding hands-on competencies to enhance nursing confidence and performance, conducted annual competency testing in the areas of critical skills and point-of-care, and more.
Professional Involvement
Professional Involvement
Member, National Association of Clinical Nurse Specialists
Member, Northeast Ohio Clinical Nurse Specialists
Member, Association of Radiologic and Imaging Nursing
Honors & Awards
Honors & Awards
Nominee, Professional Development and Education Award, Cleveland Clinic, 2015